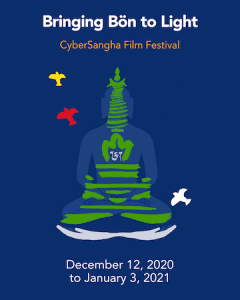 Dec 4, 2020
Welcome to the CyberSangha® Film Festival!
Geshe Tenzin Wangyal Rinpoche is pleased to present "Bringing Bön to Light," a series of wonderful documentaries related to the Tibetan Bön tradition, each offering its own, unique perspective of this rich and ancient tradition. Each online screening is immediately followed by a live discussion with the film's director, producer, or others featured in the documentary, hosted by Santiago Villaveces. The full schedule appears below.
How to View
All festival events are broadcast on the Facebook page of Tenzin Wangyal Rinpoche on Saturdays and Sundays beginning 11 a.m. New York time, from December 12, 2020, through January 3, 2021. You don't need a Facebook account to view them, and no registration is required. The festival events are also viewable here on cybersangha.net via the "Learn more " links below. In case you miss a screening, the films will remain viewable here through January 3; panel discussion recordings and selected films will remain viewable indefinitely.
About the Festival: A Message from Tenzin Wangyal Rinpoche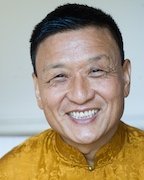 "I have organized this online film festival to highlight some exceptional documentaries that shed light on the richness of the ancient Tibetan Bön tradition. Many Westerners have never heard of Bön, and many Tibetans — even some high lamas — still harbor misconceptions about it. Bön is the indigenous spiritual tradition of Tibet. It has its roots in the teachings of the buddha Tonpa Shenrap in central Asia some 17,000 years ago, and from those beginnings until modern times, its teachings and practices have been passed from master to student in an unbroken lineage. Bön shares much in common with Tibetan Buddhism, including its teachings of sutra, tantra and dzogchen. At the same time it has its own, unique flavor and profound wisdom teachings. Today, Bön remains vibrant and relevant to students around the world. As the source of Tibetan civilization, it is a treasure. Preserving it is our collective responsibility."
— Geshe Tenzin Wangyal Rinpoche
Scheduled Events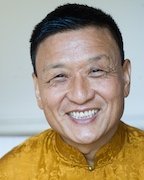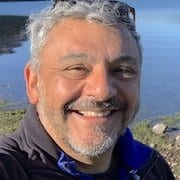 Saturday, December 12, 2020, 10:30 a.m. New York time: Brief welcoming remarks from Tenzin Wangyal Rinpoche and Santiago Villaveces. Scroll down to view recording.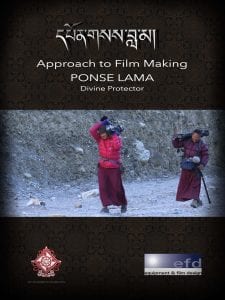 Saturday, December 12, 2020, 11 a.m. New York time: The Making of Ponse Lama: Divine Protector (16 minutes, 2020).
The short film The Making of Ponse Lama catalogues the making of a 2020 film documenting the life of His Eminence Yongdzin Tenzin Namdak Rinpoche and the importance of his effort and legacy for the Bön religion. In a separate broadcast immediately after the screening, Khenpo Tenpa Yungdrung Rinpoche, Khenpo Gelek Jinpa, and Geshe Tenzin Wangyal Rinpoche joined host Santiago Villaveces in discussion.
Learn more and view recordings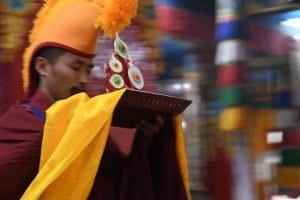 Sunday, December 13, 2020, 11 a.m. New York time: Bön and the West (91 minutes)
Thousands of years ago in ancient Tibet, there existed a vast kingdom known as Zhang Zhung, whose religion Bön has continued throughout history. Today, Western students embrace Bön methods and practices for finding compassion and joy, amidst the technological and often chaotic world. Bön and the West brings to life the evolving manifestations of Bön in France, Poland, Mexico, India, Nepal, and the United States. In a separate broadcast immediately after the screening, director Andrea Heckman, Latri Khenpo Nyima Dakpa Rinpoche, Geshe Yongdong, and Rob Patzig joined host Santiago Villaveces in discussion.
Learn more and view recordings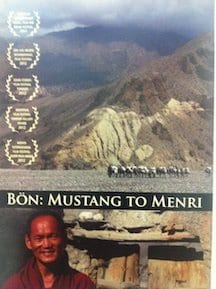 Saturday, December 19, 2020, 11 a.m. New York time: Bön: Mustang to Menri (53 minutes, 2011)
Bön: Mustang to Menri is the story of Asonam, a 10-year-old boy who made a journey from his homeland, the ancient kingdom of Mustang (now part of Nepal), to Menri Monastery in Northern India. After receiving his geshe degree, he returned to Mustang, where he established a cultural center to help sustain his people's ancient heritage. Asonam's life is interwoven with the story of Bön and the efforts of the 33rd abbot of Menri. In a separate broadcast shortly after the screening, Geshe Sonam Gurung, cinematographer Tad Fettig, and Gaetano Kazuo Maida joined host Santiago Villaveces in discussion.
Learn more and view recordings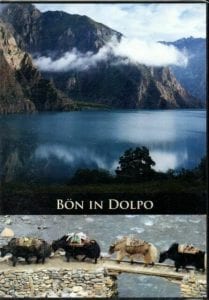 Sunday, December 20, 2020, 11 a.m. New York time: Bön in Dolpo (53 minutes, 2014)
Building on Bön: Mustang to Menri, the film Bön in Dolpo explores the story of ancient Zhang Zhung and Bön traditions that have persisted for centuries in Dolpo, where ancient texts and practices have been preserved. Geshe Nyima Kunchap of Dunai, Dolpo, guides us on this adventure, which is interwoven with the story of Bön's senior teacher, Yongdzin Lopon Tenzin Namdak Rinpoche. In a separate broadcast immediately after the screening, director Andrea M. Heckman, Dolpo Tulku Rinpoche, Geshe Yungdrung Gyatso, and Geshe Takla Tarwa join host Santiago Villaveces in discussion.
Learn more and view recordings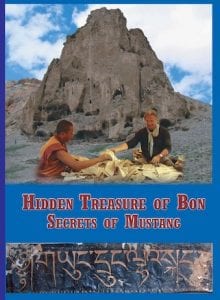 Saturday, December 26, 2020, 11 a.m. New York time: Hidden Treasure Of Bön: Secrets of Mustang (64 minutes, 2009)
In 2008 Geshe Gelek Jinpa traveled in Mustang where he reported on the cultural traditions of the local Bönpo population. Hidden Treasure Of Bön is based on Geshe Gelek's journey through Mustang, in particular to caves of Mardzang and several Bönpo settlements. In a separate broadcast immediately after the screening, director Khenpo Gelek Jinpa, Kalsang Norbu Gurung, and Charles Ramble join host Santiago Villaveces in discussion.
Learn more and view recordings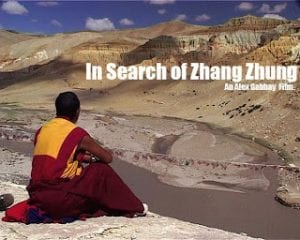 Sunday, December 27, 2020, 11 a.m. New York time: In Search of Zhang Zhung (61 minutes, 2003)
Bön teacher Geshe Gelek Jinpa teams up with an American photographer in a journey from Kathmandu to discover for himself the ancient kingdom of Zhang Zhung, where the Bön religion flourished centuries ago. Along the way they are joined by dhamis (oracles) and shaman priests. Throughout, Geshe Gelek contemplates what it means to be a Bön monk, struggles with doubts, and seeks to uncover the roots of his religion and identity. In a separate broadcast immediately after the screening, director Khenpo Gelek Jinpa, Charles Ramble, and Kalsang Norbu Gurung join host Santiago Villaveces in discussion.
Learn more and view recordings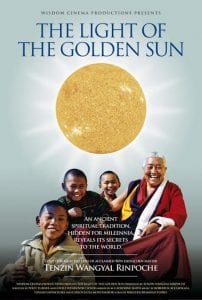 Saturday, January 2, 2021, 11 a.m. New York time: The Light of the Golden Sun (64 minutes, 2011)
More than 50 years ago, the Tibetan Bon Buddhist tradition was driven from its refuge deep within the Himalayas. The Light of the Golden Sun is the story of the long and difficult journey that followed, and of the efforts taken to preserve its rich, ancient heritage beyond the land of its birth. The story is told through the lens of one Bön teacher born in exile, Tenzin Wangyal Rinpoche. In a separate broadcast immediately after the screening, director Rogelio Jaramillo, Tulku Ponse Jigme Tenzin, Alejandro Chaoul-Reich, and John Jackson join host Santiago Villaveces in discussion.
Learn more and view recordings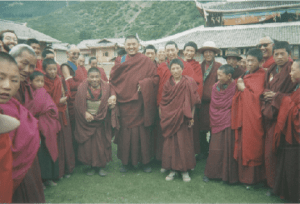 Sunday, January 3, 2021, 11 a.m. New York time: "His Holiness Returns to Tibet" (three short films, 47 minutes total, 1998)
In 1996, His Holiness the 33rd Menri Trizin, spiritual leader of Bön, was granted permission by the Chinese government to visit his family home in Tibet — his first visit there after 35 years in exile. Filmmaker Roslyn Dauber and a camerawoman chronicled parts of this remarkable journey in three short films. In a separate broadcast immediately after the screening, filmmaker Roslyn Dauber, Seiji Kumagai, and Kalsang Norbu Gurung joined host Santiago Villaveces in discussion.
Learn more and view recordings
Opening Remarks
Tenzin Wangyal Rinpoche and Santiago Villaveces welcome us all to the Film Festival