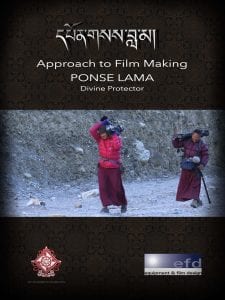 Dec 12, 2020
Welcome to the CyberSangha® Online Film Festival, and a screening of a short film about the making of the documentary Ponse Lama: Divine Protector, a 2020 film now premiering in select locations worldwide. In a separate broadcast immediately after the 16-minute screening, Khenpo Tenpa Yungdrung Rinpoche, director Khenpo Gelek Jinpa, and Geshe Tenzin Wangyal Rinpoche discussed the films with host Santiago Villaveces.
For more about the CyberSangha Film Festival and its full schedule of screenings, click here
Below: panel discussion (66 minutes — view recording on Facebook to join the chat)
Below: The short film (16 minutes) about The Making of Ponse Lama: Divine Protector
About The Making of Ponse Lama: Divine Protector: In this short film, Director Geshe Gelek Jinpa tells us about the making of Ponse Lama, a film that documents the life of His Eminence Yongdzin Tenzin Namdak Rinpoche, and the importance of his effort and legacy for the Bön religion.
Joining the Discussion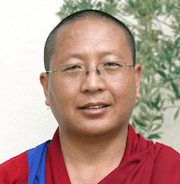 Khenpo Gelek Jinpa (director) was born in 1967 in Eastern Tibet, Khyungpo region, and became a monk at age 19. He studied meditation and dzogchen with the great master Bönying Rangdröl, and was trained in philosophy by the scholar Geshe Drangsong Yungdrung, founder of a college at Tsedrup Monastery. He left Tibet in 1992 and entered Menri Monastery in Dolanji, India, to study under H.H. the 33rd Menri Trizin, Lungtok Tenpai Nyima Rinpoche. From 1994 he continued his studies of sutra, tantra, dzogchen, and the five Tibetan sciences of philosophy, grammar, medicine, astrology, and poetry under the guidance of H.E. Yongdzin (Lopon) Tenzin Namdak Rinpoche at Triten Norbutse Monastery in Kathmandu, Nepal, where he obtained the geshe degree in 2001. He twice accomplished the tummo training — once before leaving Tibet, and again in Normandy, France, as part of a 2001 scientific research program investigating the effects of tummo practice. Khenpo Gelek has been teaching Bön philosophy and meditation at Triten Norbutse Monastery, and since 2005 has been teaching in numerous Western countries. In 2013 Geshe Gelek Jinpa was appointed as khenpo (abbot) of Shenten Dargye Ling, the Bönpo Monastery near Paris, France, by Khenpo Tenpa Yungdrung Rinpoche, abbot of Triten Norbutse. He is the author of Sacred Landscape and Pilgrimage in Tibet: In Search of the Lost Kingdom of Bön; Heart Essence of the Khandro: Experiential Instructions on Bönpo Dzogchen; Bön in Nepal: Traces of the Great Zhang Zhung Ancestors in the Himalayas; and numerous articles and publications in the Tibetan language and translations of the prayers and texts of the Bön doctrine into English. Khenpo Gelek has directed and/or is featured in several documentaries and videos including In Search of Zhang Zhung (2003), Life in Triten Norbutse Monastery (2009), Hidden Treasure of Bon: Secrets of Mustang (2009), Gyalwa Shentsang: The Living Descendants of Buddha Tönpa Shenrab (2018), and Pönse Lama – Divine Protector (2020).
More about Khenpo Gelek Jinpa and Shenten Dargye Ling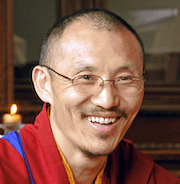 Khenpo Tenpa Yungdrung Rinpoche (featured) is the abbot (khenpo) of Triten Norbutse Monastery in Kathmandu, Nepal, one of the two main Bön monasteries outside Tibet, which was established in 1987 by H.E. Yongdzin Lopon Tenzin Namdak Rinpoche. He teaches frequently in Europe and North America. Khenpo Rinpoche was born in 1969 in Dhorpatan, a remote area of western Nepal that hosts a small Tibetan refugee settlement and a Bön monastery. He began studies at a local monastery at age 11, and then transferred to Menri Monastery in Dolanji, India. In 1986 during his 13-year course of study, he began teaching philosophy and general Tibetan sciences to younger students. From 1989–1992 he served as accountant, treasurer and then president of the school. He earned his geshe degree in 1994. After graduating, Khenpo Rinpoche went to Kathmandu to further his studies of tantra and dzogchen under the guidance of Yongdzin Rinpoche. In 1996, H.H. the 33rd Menri Trizin, Lungtok Tenpai Nyima Rinpoche, and H.E. Yongdzin Rinpoche appointed him as the head teacher of Triten Norbutse Monastery; and in 2001, as abbot of the monastery. Since 1998 Khenpo Rinpoche has regularly traveled in Europe and the United States giving teachings, including leading retreats with H.E. Yongdzin Rinpoche. Starting in 2005, with guidance from Yongdzin Rinpoche he undertook responsibility for establishing and furthering Shenten Dargye Ling near Paris, France, for the preservation, research, teaching, and practice of the Yungdrung Bön tradition.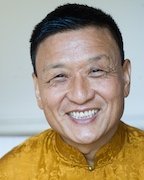 Tenzin Wangyal Rinpoche was born in India in 1961, following his parents' journey from Tibet to India in 1959. At age 11 he began formal studies as a monk at Menri Monastery near Dolanji, India, where he completed an 11-year course of traditional studies at the Bön Dialectic School. He was awarded his geshe degree in 1986. He now lives as a householder, and has been living and teaching in the West for more than 30 years. An accomplished scholar in all aspects of sutra, tantra and dzogchen, Rinpoche is an acclaimed author and a respected teacher of students worldwide. As the founder and spiritual director of Ligmincha International, he has established numerous centers and institutes of learning in the United States, Mexico, South America, Europe and India. Fluent in English, Rinpoche regularly offers online teachings in the form of live webcasts, online workshops and YouTube videos. He is renowned for his depth of wisdom; his clear, engaging teaching style; and his dedication to making the ancient Tibetan teachings highly accessible and relevant to the lives of Westerners.
More about Tenzin Wangyal Rinpoche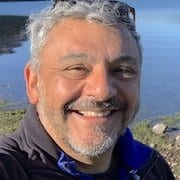 Santiago Villaveces (host) has been a student of Bön since 1993 and has received teachings from Tenzin Wangyal Rinpoche and H.E. Yongdzin Tenzin Namdak Rinpoche, among other Bön lineage holders. He currently divides his time between teaching dharma in South America and his work in international development.