Dec 19, 2020
Welcome to the CyberSangha® Online Film Festival, and the screening of the award-winning documentary Bön: Mustang to Menri. In a separate broadcast shortly after the screening, Geshe Sonam Gurung, cinematographer Tad Fettig, and Gaetano Kazuo Maida joined host Santiago Villaveces in discussion. For more about the CyberSangha Film Festival and its full schedule of screenings, click here
Below: panel discussion (45 minutes — view recording on Facebook to join the chat)
Below: Bön: Mustang to Menri (53 minutes, view on Facebook to join the chat)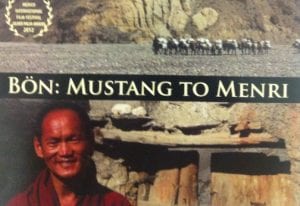 Bön: Mustang to Menri (2011) tells the story of Asonam, a 10-year-old boy who made a journey from his homeland, the ancient kingdom of Mustang (now part of Nepal), to Menri Monastery in Northern India. There Asonam committed to become a geshe, equivalent to a Ph.D., and after 13 additional years of education in languages, philosophy, debate, and Bön traditions, he achieved his goal. Asonam returns to Mustang to answer a critically emerging need of its people, by establishing a cultural center to help sustain their ancient heritage. Asonam's life is interwoven with the story of Bön and the efforts of the 33rd abbot of Menri, who built Menri Monastery in Northern India after the destruction of the old Menri monastery in Tibet. This remarkable abbot, as the head of an ancient lineage for more than 40 years, orchestrated the preservation of Tibetan Bön culture and the education of thousands of monks, nuns and Bön children. He granted his approval and blessings with access to the monastery for this project. Filmed on location in Mustang, Nepal, and India, the story illuminates the interconnectedness of education, commitment to service, and spiritual dedication. It communicates Bön's story and unique place in history while illuminating how and why the work monks do is important to the modern world. It is a universal message, one that reveals how inspired individuals can overcome challenges and adversity to order to have a positive impact on the world while giving back to the people, places and traditions that nurtured them.
More about the film | View on demand/view trailer
Joining the Discussion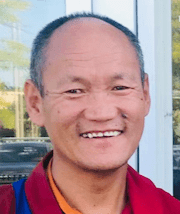 Geshe Sonam Gurung (featured) grew up in an indigenous Bön region of Nepal, in the Pangling Village area of Central Mustang. At age 9 he as sent by the local Bön lama to become a monk at Menri Monastery, the seat of the indigenous Bön religion near Dolanji, India. He spent 14 years obtaining his geshe degree (the equivalent of a doctorate in Bön spiritual studies) under the guidance of H.H. the 33rd Menri Trizin, the spiritual leader and lineage holder of Bön and head abbot of Menri. After obtaining his geshe degree he served as treasurer and guest master for the monastery and as personal assistant to His Holiness. Recently, Geshe Sonam has returned to the Jomson area of Central Mustang to reestablish and spread the indigenous Bön teachings of his country of origin. Two documentaries have been made about Geshe Sonam's life and work: Bön: Mustang to Menri; and a follow-up film about his return home, Returning the Blessings.
Geshe Sonam Gurung on Facebook | Mustang Culture & Education Center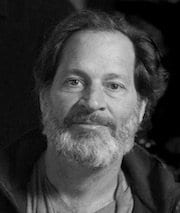 Tad Fettig is an award-winning director/cinematographer/producer who covers environmental, social, and spiritual issues, from shooting Liberia's civil war to capturing the spirit of the Shipibo Shamans in Peru. From 1993 to 2002 he was a freelance commercial producer, creating national campaigns for corporations such as Levi's, Nike, and Northface. In 2003 he produced the feature film Dopamine, winner of the Alfred P. Sloane Prize at the Sundance Film Festival. In 2004 he launched Kontentreal with the award-winning series e2: design, energy and transport, narrated by Brad Pitt and Morgan Freeman. The e2 series currently runs worldwide. Tad has directed and filmed projects for the Sundance Channel — Ecoist — and for Discovery: Fast Forward and Cities. Feature documentaries include Bön: Mustang to Menri, Bön in Dolpo, The Art and Ritual of Death, and Ausangate. In 2015 Tad was director of photography for Disruption (climate change), and in 2016 director of photography and producer for Disobedience (civil disobedience). In 2016 Tad launched Bhumi Films with the production of Even the Devil Gets the Blues — the American story of the blues, pain and perseverance — and Hunting for Healers, about searching the world for the last great indigenous Healers.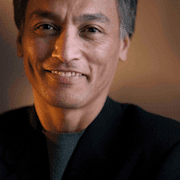 Gaetano Kazuo Maida has served as executive director and chief programmer of Buddhist Film Foundation since its founding in 2000. A filmmaker and photographer, he designed and initiated the foundation's International Buddhist Film Festival program and the Festival Media distribution service. He was a founding director of the U.S. Buddhist quarterly Tricycle, and he was producer/director of the Ben Kingsley-narrated Peace Is Every Step, the first film profile of Vietnamese Zen teacher and author Thich Nhat Hanh. A New York City native, for the past 30 years he has lived with his wife, Ayelet, in the San Francisco Bay area, where they are principals of book packaging firm A/M Studios. Photo by Bart Nagel
About Buddhist Film Channel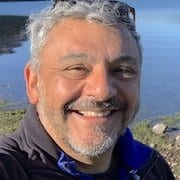 Santiago Villaveces (host) has been a student of Bön since 1993 and has received teachings from Tenzin Wangyal Rinpoche and H.E. Yongdzin Tenzin Namdak Rinpoche, among other Bön lineage holders. He currently divides his time between teaching dharma in South America and his work in international development.