Dec 20, 2020
Welcome to the CyberSangha® Online Film Festival, and the screening of the award-winning 53-minute documentary Bön in Dolpo. In a separate broadcast shortly after the screening, director Andrea M. Heckman, Dolpo Tulku Rinpoche, Geshe Yungdrung Gyatso, and Geshe Takla Tarwa joined host Santiago Villaveces in discussion.
For more about the CyberSangha Film Festival and its full schedule of screenings, click here
Below: panel discussion (51 minutes — view recording on Facebook to join the chat)
Below: Bön in Dolpo (53 minutes — view on Facebook to join the chat)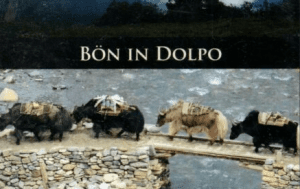 Bön in Dolpo (2014) explores the story of ancient Zhang Zhung and Bön traditions that have persisted for centuries in Dolpo, where ancient texts and practices have been preserved. Followers of Bön receive oral teachings and transmissions from teachers in a lineage unbroken from ancient times until the present day. While much in modern Bön is similar to Tibetan Buddhism, Bön retains the richness and flavor of its pre-Buddhist roots. With the help of Geshe Nyima Kunchap of Dunai, Dolpo, we investigate the importance of traditional Tibetan medicine, education, and ancient sacred sites in Dolpo and the continued importance of preserving Tibetan culture outside Tibet. The adventure is interwoven with the story of Bön's head senior teacher, Yongdzin Lopon Tenzin Namdak Rinpoche; the challenges he faced in leaving Tibet to help bring the teachings of Yungdrung Bön to the outside world, and his work in founding and maintaining Triten Norbutse Bön Monastery in Kathmandu, Nepal. The documentary continues and deepens the work of our 2011 film, Bön: Mustang to Menri.
More about the film | View trailer | Order DVD
Joining the Discussion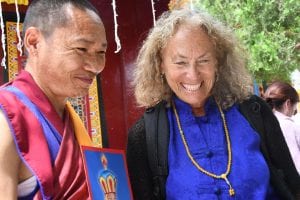 Andrea M. Heckman, Ph.D. (director), is a filmmaker, photographer, author and lecturer who for more than 35 years has researched indigenous traditions, festivals and rituals. In 1996 she was a Fulbright scholar in Peru. She is the author of Woven Stories: Andean Textiles and Rituals (UNM Press, 2003). She is the director of the award-winning films Ausangate (Peru 2003), Bön: Mustang to Menri (Nepal 2011), Bön in Dolpo (2014 Nepal), Woven Stories, Weaving Traditions of Northern New Mexico (USA 2011) as well as Crossing Bridges (USA), Behind the Mask (Peru), and Mountain Sanctuary (USA). She serves on the board of the Society for Visual Anthropology of the American Anthropology Association and the board of Chamma Ling Retreat Center, Crestone, Colorado. She lives in Taos, New Mexico, and has taught many years at the University of New Mexico-Taos. She received her Ph.D. in Latin American Studies – Anthropology and Art History from the University of New Mexico.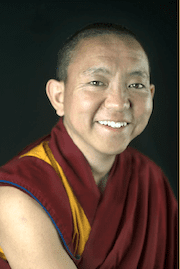 Dolpo Tulku Rinpoche, also known as Tulku Sherab Zangpo, was born into a lama family in Dho Tarap, Dolpo, in 1982. At age 9 he became a monk at Kanying Shedrub Ling Monastery, Nepal, and was soon recognized by Dilgo Khyentse Rinpoche as the reincarnation of the third Dolpo Nyingchung Drubthob. He was then sent to Namdroling Monastery, India, to receive his monastic education under the guidance of Penor Rinpoche. In 1994 he was officially enthroned at Shechen Monastery, Kathmandu, with more than 10,000 residents of Dolpo and adjacent regions in attendance. With this recognition he was given responsibility for guiding the three main monasteries, three retreat centers, and people of Dolpo. In 1997 at age 15, he entered Nyingma Ngagyur Institute, the prestigious monastic college of Namdroling Monastery, where for 10 years he studied, debated and researched all the sutra and tantra teachings of Lord Buddha under more than 40 scholars and masters including His Holiness Penor Rinpoche. Penor Rinpoche instructed him in the practices of the Namchö Cycle, which combines the practices of Mahamudra and Dzogchen, and which Dolpo Tulku Rinpoche now teaches. In 2007 after completing his advanced Buddhist studies, Dolpo Tulku Rinpoche was appointed as a full-fledged teacher at Ngagyur Nyingma Institute, and since then he has reached a status equivalent to a university professor. He is the subject of the film Dolpo Tulku: Return to the Himalayas, which documents his return to Dolpo for his enthronement. Rinpoche has traveled extensively in Europe and Asia to offer teachings and public talks and to raise awareness of the situation in Dolpo. In 2010 the Dolpo Tulku Charitable Foundation was registered with the Nepali government, with the primary aim of promoting environmental protection, health care improvements, and the integration of modern and traditional education.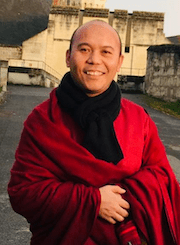 Geshe Yungdrung Gyatso serves as resident teacher of Ligmincha International's Chamma Ling Poland center in Wilga, near Warsaw. Born in the Dolpo region of Nepal, in 2009 he completed his geshe degree at Triten Norbutse Monastery in Kathmandu, Nepal. Around that time he visited Europe as part of a group from the monastery performing cham dance. After receiving his geshe degree, he was again invited to visit several countries in Europe, where he gave public talks and teachings, made Bönpo tormas, and conducted rituals and a cham dance. He has served on the board of Triten Norbutse Monastery. At the invitation of Geshe Tenzin Wangyal Rinpoche, in 2015 Geshe Gyatso officially became resident lama of Chamma Ling Poland. He also teaches throughout Europe.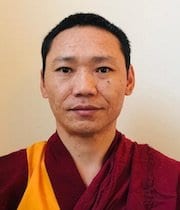 Geshe Takla Tarwa (featured) was born in 1984 to a family of both Bön and Buddhist background in the village of Bhijer, Dolpo, Nepal, next to Samling Monastery, the center of the Yangton lineage. At about 7 years old he was ordained under Yangton lineage Lama Namgyal Wangdue Rinpoche and became a tantric lama, following the age-old tradition of Samling Monastery. In 1991 he traveled to Kathmandu with his father and brother to receive blessings from H.E. Yongdzin Lopon Tenzin Namdak Rinpoche, and in 1992 he was admitted to Triten Norbutse Monastery, where he began his Tibetan elementary studies. In 1996 he took his monk's vows under Yongdzin Rinpoche, and was admitted to the Yungdrung Bön Academy of Higher Studies at Triten Norbutse. For 15 years there, he studied Tibetan Bön philosophy, astrology, astronomy, Tibetan literature and history, traditional Tibetan medicine, religious chanting, ritual art and practice, and meditation. During his studies he was chosen by Yongdzin Rinpoche to serve in the administration as guest master, which he did for three years. In 2011 he was honored with the geshe degree. For two years thereafter, he took charge of looking after young monks at the monastery, and for another three years served both as a member of the health and environment section and as secretary. During this period, Geshe Takla Tarwa also participated in a 100-day tsa lung retreat.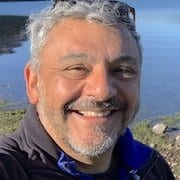 Santiago Villaveces (host) has been a student of Bön since 1993 and has received teachings from Tenzin Wangyal Rinpoche and H.E. Yongdzin Tenzin Namdak Rinpoche, among other Bön lineage holders. He currently divides his time between teaching dharma in South America and his work in international development.