Dec 27, 2020
Welcome to the CyberSangha® Online Film Festival, and a screening of the award-winning documentary In Search of Zhang Zhung. In a separate broadcast immediately after the screening, director Khenpo Gelek Jinpa, Charles Ramble, and Kalsang Norbu Gurung join host Santiago Villaveces in discussion.
For more about the CyberSangha Film Festival and its full schedule of screenings, click here
Below: panel discussion (view on Facebook to join the chat)
Below: In Search of Zhang Zhung (61 minutes, view on Facebook to join the chat)

In Search of Zhang Zhung (2003) features the Bön teacher Geshe Gelek Jinpa, who joins with an American photographer to undertake a journey from Kathmandu to discover for himself the ancient kingdom of Zhang Zhung, where the Bön religion flourished centuries ago. In search of mythical palaces and holy sites, the two journey to the shadows of Mount Kailash in far Western Tibet. Along the way they are joined by dhamis (oracles) and shaman priests. As these contrasting characters travel through the starkly beautiful landscape of Nepal and Tibet, their journey begins to shed light on Bön, a religion different and older than Tibetan Buddhism. Throughout the pilgrimage Geshe Gelek contemplates what it means to be a Bön monk, struggles with his doubts, and seeks to uncover the roots of his religion and identity. It is a pilgrimage where both the spiritual and temporal realms are fluid realities, and obstacles constantly need to be overcome.
More about the film/view trailer
Joining the Discussion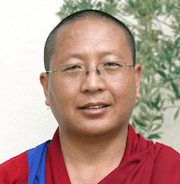 Khenpo Gelek Jinpa (director) was born in 1967 in Eastern Tibet, Khyungpo region, and became a monk at age 19. He studied meditation and dzogchen with the great master Bönying Rangdröl, and was trained in philosophy by the scholar Geshe Drangsong Yungdrung, founder of a college at Tsedrup Monastery. He left Tibet in 1992 and entered Menri Monastery in Dolanji, India, to study under H.H. the 33rd Menri Trizin, Lungtok Tenpai Nyima Rinpoche. From 1994 he continued his studies of sutra, tantra, dzogchen, and the five Tibetan sciences of philosophy, grammar, medicine, astrology, and poetry under the guidance of H.E. Yongdzin (Lopon) Tenzin Namdak Rinpoche at Triten Norbutse Monastery in Kathmandu, Nepal, where he obtained the geshe degree in 2001. He twice accomplished the tummo training — once before leaving Tibet, and again in Normandy, France, as part of a 2001 scientific research program investigating the effects of tummo practice. Khenpo Gelek has been teaching Bön philosophy and meditation at Triten Norbutse Monastery, and since 2005 has been teaching in numerous Western countries. In 2013 Geshe Gelek Jinpa was appointed as khenpo (abbot) of Shenten Dargye Ling, the Bönpo Monastery near Paris, France, by Khenpo Tenpa Yungdrung Rinpoche, abbot of Triten Norbutse. He is the author of Sacred Landscape and Pilgrimage in Tibet: In Search of the Lost Kingdom of Bön; Heart Essence of the Khandro: Experiential Instructions on Bönpo Dzogchen; Bön in Nepal: Traces of the Great Zhang Zhung Ancestors in the Himalayas; and numerous articles and publications in the Tibetan language and translations of the prayers and texts of the Bön doctrine into English. Khenpo Gelek has directed and/or is featured in several documentaries and videos including In Search of Zhang Zhung (2003), Life in Triten Norbutse Monastery (2009), Hidden Treasures of Mustang (2009), Gyalwa Shentsang: The Living Descendants of Buddha Tönpa Shenrab (2018), and Pönse Lama – Divine Protector (2020).
More about Khenpo Gelek Jinpa and Shenten Dargye Ling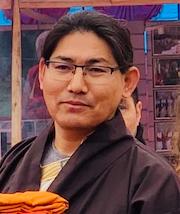 Kalsang Norbu Gurung was born in Jomsom, Mustang, Nepal as the eldest son of a Bönpo family. In 1982, following the advice of his first teachers Yungdrungling Geshe Sherab Tenzin Nyima and Zhula Geshe Yungdrung Gyaltsen, at age 8 he traveled to Menri Monastery in Dolanji, India. After completing 8th grade in 1990 at the Central School for Tibetans in Dolanji, he attended the Central Institute of Higher Tibetan Studies in Varanasi, U.P., where in 1999 he was awarded his master's degree in Bon philosophy. On the advice of H.H. the 33rd Menri Trizin Rinpoche, he continued his studies of Bön philosophy at the Bön Dialectic School. In 2001 he moved to the Netherlands to study at Leiden University, where in 2011 he received his doctorate of philosophy for his research on the founder of Bön, Tonpa Shenrab Miwo. That year he was offered a position to teach at the Department of Mongolian and Tibetan Studies at the University of Bonn, Germany. Since 2012 he has served as a member of a research team for two Bonn University projects related to the social history of Tibetan societies, and for another project with the Academy of Sciences and Humanities, Göttingen, Germany, cataloging Tibetan manuscripts for the Berlin State Library. He has participated in many academic conferences throughout Europe and Asia, and has presented papers on the Bön religion, Buddhist ritual, and Tibetan social and economic history. He served as president of the International Seminar of Young Tibetologists from 2012 to 2018.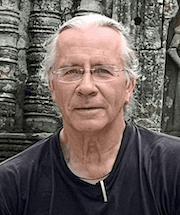 Charles Ramble (narrator) is directeur d'études in the History and Philology Section of the École Pratique des Hautes Études, PSL University, Paris; and director of the Tibetan Studies research team of the Centre for Research on East Asian Civilisations (CRCAO). From 2000 to 2010 he held the position of University Lecturer in Tibetan and Himalayan Studies, recently established at the University of Oxford, UK; and he remains associated with that role as a University Research Lecturer. From 2006 to 2013 he served as president of the International Association for Tibetan Studies. He is currently director of the European Society for the Study of Himalayan and Central Asian Civilisations (SEECHAC) and co-director of the Franco-German research project "Social Status in the Tibetan World." He is the author or co-author of eight books on Tibetan history and culture, and some 30 of his articles explore aspects of the Bön religion. His most recent book (with Agnieszka Helman-Ważny) is The Mardzong Manuscripts.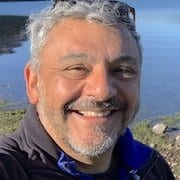 Santiago Villaveces (host) has been a student of Bön since 1993 and has received teachings from Tenzin Wangyal Rinpoche and H.E. Yongdzin Tenzin Namdak Rinpoche, among other Bön lineage holders. He currently divides his time between teaching dharma in South America and his work in international development.