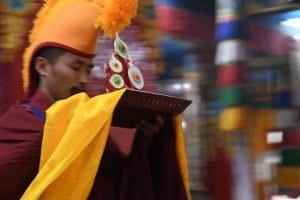 Dec 13, 2020
Welcome to the CyberSangha® Online Film Festival, and a screening of the award-winning, 91-minute documentary Bön and the West! In a separate broadcast immediately after the screening, filmmaker Andrea M. Heckman, Latri Khenpo Nyima Dakpa Rinpoche, Geshe Yongdong, and Rob Patzig discussed the film with host Santiago Villaveces.
For more about the CyberSangha Film Festival and its full schedule of screenings, click here
Below: panel discussion (67 minutes — view recording on Facebook to join the chat)
Below: Bön and the West (91 minutes)
About Bön and the West: Thousands of years ago in ancient Tibet, there existed a vast kingdom known as Zhang Zhung, whose religion Bön has continued throughout history. Today at Menri Monastery in Northern India and Triten Norbutse in Kathmandu Nepal, young monks and nuns carry on the Bön teachings and lineage, not only in the lands of the Himalayas, but also to countries around the world, where Western students now embrace Bön methods and practices for finding compassion and joy, amidst the technological and often chaotic world. The documentary brings to life the evolving manifestations of this ancient religion in France, Poland, Mexico, India, and the United States.
View trailer | Order DVD
Joining the Discussion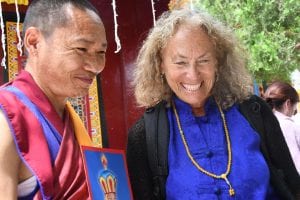 Andrea M. Heckman, Ph.D. (director), is a filmmaker, photographer, author and lecturer who for more than 35 years has researched indigenous traditions, festivals and rituals. In 1996 she was a Fulbright scholar in Peru. She is the author of Woven Stories: Andean Textiles and Rituals (UNM Press, 2003). She is the director of the award-winning films Ausangate (Peru 2003), Bön: Mustang to Menri (Nepal 2011), Bön in Dolpo (2014 Nepal), Woven Stories, Weaving Traditions of Northern New Mexico (USA 2011) as well as Crossing Bridges (USA), Behind the Mask (Peru), and Mountain Sanctuary (USA). She serves on the board of the Society for Visual Anthropology of the American Anthropology Association and the board of Chamma Ling Retreat Center, Crestone, Colorado. She lives in Taos, New Mexico, and has taught many years at the University of New Mexico-Taos. She received her Ph.D. in Latin American Studies – Anthropology and Art History from the University of New Mexico.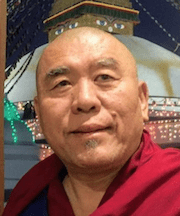 Latri Khenpo Nyima Dakpa Rinpoche is a senior geshe at Menri Monastery in Dolanji, India, and the lineage holder and abbot of Latri Monastery in the Kham region of eastern Tibet. Rinpoche received his geshe degree in 1987 from the Bön Dialectic School at Menri Monastery. Rinpoche's early education came from his father, a well-known lama and the lineage holder of the Latri lineage. Further education came from Tsultrim Nyima Rinpoche, the lama of Dorpatan Monastery in Nepal. Rinpoche later entered Menri Monastery in Dolanji, India, the main monastery of Bön religion and education. There, he was taught by His Holiness Lungtok Tenpai Nyima Rinpoche, the 33rd Menri Trizin; His Eminence Yongdzin Tenzin Namdak Rinpoche, head teacher of Bön; and Geshe Yungdrung Namgyal, a teacher of the Bön Dialectic School at Menri. At the request of His Holiness, Rinpoche founded and serves as president of the Bön Children's Home in Dolanji, which provides housing, clothing, food and education for orphaned and underprivileged Bön children from northern India, Nepal, Bhutan and Sikkim. He is also the vice-chairman of the LAC for the Central School for Tibetans in Dolanji. He is the author of Opening the Door to Bon, the premier guide to the Ngondro practices for Western students of Bon, and of The Inner Mirror, about A-tri Dzogchen. Rinpoche has taught in the United States, Europe, and Asia since 1989. Rinpoche is an immensely respected monk and teacher throughout the world for his authoritative, compassionate, and engaging teaching of Bön, and his ceaseless service to Bön. He is the founder and spiritual director of Yeru Bön Center (headquartered in Minneapolis, with a branch in Los Angeles); Shen Chen Ling Bon Center in Minsk (Belarus); Sharza Ling Institute in Poland (with headquarters in Poznan and a retreat center in Pyszki, Poland); the Bön Shen Ling Center in Moscow; the Bön Shen Drup De Center in Kharkow, Ukraine; and Yeru Canada.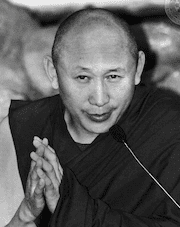 Lama Geshe YongDong was born in the Amdo Ngawa, Tibet. In 1982 at age 13, he entered Nangzhig Bön Monastery in Amdo, East Tibet, and took his vows as a monk under his root master, Jawob Tenzin Wangyal Rinpoche. There, he studied teachings of Bön and various Buddhist traditions, and in 1992 he became the youngest monk ever to be awarded the geshe degree by the monastery. After graduating, Geshe YongDong along with 10 other Tibetans escaped from Tibet into Kathmandu, Nepal. With the help of a Nepalese guide, they walked for 10 days through the Himalayan Mountains. He received blessings and teachings from H.E. Lopon Tenzin Namgdak Rinpche at Triten Norbutse Monastery, and later traveled to Dharamsala in Northern India, where he received teachings and blessings from H.H. the 14th Dalai Lama. Geshe YongDong furthered his studies and practice at Menri Monastery in Northern India under the guidance of H.H. the 33rd Menri Trizin and H.E. Menri Ponlop Trinley Nyima Rinpoche. For three years at Sera Monastery (of the Gelugpa school of Tibetan Buddhism), Geshe YongDong studied middle path philosophy Madhyamika with Master Geshe Thupten Rinchen. In fall 1999 he moved to British Columbia, Canada, where he began teaching Bön Buddhist philosophy in English. Since then he has traveled to teach throughout North America, South America, Europe, and Asia. He is the founding resident spiritual director of Sherab Chamma Ling, Vancouver Island, Canada; and has founded two other Bön Buddhist centers in Costa Rica and Columbia. He has written several books in Tibetan and English, including Calm Breath, Calm Mind.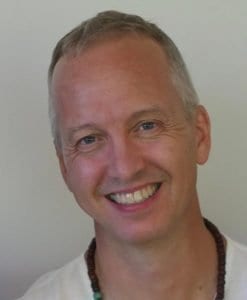 Rob Patzig (featured) encountered Yungdrung Bön for the first time in 2007 and met Tenzin Wangyal Rinpoche in 2009. Since then he has been attending retreats in the Bön tradition and offering service to Ligmincha International. In 2014 Rinpoche asked him to become more active in the organization's leadership, and Rob became president of Ligmincha International in 2015. Rob also teaches Tibetan yoga (trul khor) and hatha yoga. Previously he has worked as an investment manager, a director of market research, an English instructor at the university level, script writer, bicycle mechanic, short-order cook, and dishwasher. He lives in Charlottesville, Virginia, with his wife, Eileen, and their two dogs, and has two grown children.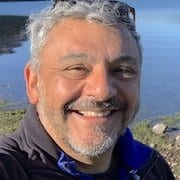 Santiago Villaveces (host) has been a student of Bön since 1993 and has received teachings from Tenzin Wangyal Rinpoche and H.E. Yongdzin Tenzin Namdak Rinpoche, among other Bön lineage holders. He currently divides his time between teaching dharma in South America and his work in international development.