Jul 21, 2022
A live online conversation with Kenpo Pema Tashi (Nyingma tradition of Tibetan Buddhism) and co-hosts Geshe Tenzin Wangyal and Jhama Lhamo. Conversation is in Tibetan language only.

The major Buddhist traditions of Tibet have distinctly different teachings and rituals, yet they also share many commonalities, among them the jewel-like teachings of the Five Wisdoms. In Part 4 of an ongoing series of live online broadcasts, our panelists go deeper into the previous discussions — dialogs between esteemed teachers of six Buddhist traditions of Tibet — to further clarify the essence of these ancient teachings.
View on Facebook to join the chat
About the Five Wisdoms
Many ancient Tibetan traditions refer to wisdom according to five characteristic aspects known as the five wisdoms. For example, the Yungdrung Bön tradition describes wisdom as a state of open awareness that is absent of ego identity, or the mistaken belief in one's own inherent existence; and it refers to the five wisdoms as the wisdom of emptiness, mirror-like wisdom, wisdom of equanimity, discriminating wisdom and all-accomplishing wisdom. In each broadcast of the series, invited presenters will each present the teachings according to their own tradition's unique perspective, quoting from original texts and offering commentary and heart advice.
Full Schedule
April 30, 2022: Part 1 (six teachers, introduction to the Five Wisdoms) — view recording
June 16, 2022: Part 2 (Bön teacher's perspective) — view recording
June 25, 2022: Part 3 (six teachers, Mirror-Like Wisdom) — view recording
July 21, 2022: Part 4 (Nyingma teacher's perspective). View above on this page.
August 20, 2022: Part 5 (six teachers, Wisdom of Equanimity) — view recording
September 18, 2022: Part 6 (Kagyu teacher's perspective) — view recording
November 5, 2022: Part 7 (six teachers, Discriminating Wisdom) — view recording
December 17, 2022: Part 8 (Sakya teacher's perspective) — view recording
February 26, 2023: Part 9 (six teachers, All-Accomplishing Wisdom & Wisdom of Emptiness) — view recording
About the Panelists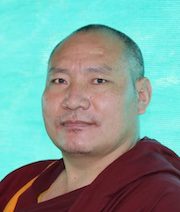 Khenpo Pema Tashi (Nyingma) was born in 1974 in Nangchen, in the upper region of Kham, Tibet. His father's name is Bu Mang tsang Karma Konchog and his mother's name is Lang Za Pe cho. In 1992 he joined the order of monks at Ngagyur Ru non drag ser phuntsok cho ling monastery. In 1998, he entered the dialectic school of Palyul monastery of Kyabje Drubwang Pema Norbu in Tibet, one of the branch monasteries of the six mother monasteries of the Nyingma tradition, where he learned and studied the great texts of the Nyingma tradition. In 2004 he arrived in India and entered the Thegchog Namdrol Shedrub Dargye ling monastery of Kyabje Drubwang Pema Norbu. There, he studied sutra, tantra, and all the great texts of Tibetan sciences; and in 2009 he graduated and attained the great title of Lopon. Until 2018 he taught the great texts of the Nyingma tradition at a dialectic school of Namdrol ling monastery, Tsogyal Shedrub thosam gawe tsal nunnery, Drolma ling nunnery, and the monastic college of the Nyingma tradition. On April 30, 2018, in the presence of thousands of monks and nuns, he was enthroned as abbot of Thegchog Namdrol Shedrub Dargye Ling monastery. He additionally received precious teachings from His Holiness the 14th Dalai Lama and Kyabje Drubwang Yidzhin Norbu, as well as a great treasure teaching of Nyingma and numerous initiations, transmissions, teachings, and sacred instructions of precious teachings of Buddha from many eminent masters of other Buddhist schools from Tibet and India. He is currently director of Tsogyal Shedrub Dargye ling nunnery.
མཁན་པོ་པདྨ་བཀྲ་ཤིས།
༈ མཁན་པོ་པདྨ་བཀྲ་ཤིས།
སྤྱི་ལོ་༡༩༧༤ལོར་ཡབ་བུ་མང་ཚང་ཀརྨ་དཀོན་མཆོག་དང་། ཡུམ་རླངས་བཟའ་སྤེས་ཅོ་གཉིས་ཀྱི་སྲས་སུ་ཁམས་སྟོད་ནང་ཆེན་ལུང་པར་འཁྲུངས། སྤྱི་ལོ་༡༩༩༢ལོར་སྔ་འགྱུར་རུ་གནོན་བྲག་སེར་ཕུན་ཚོགས་ཆོས་གླིང་དགོན་དུ་ཚོགས་གྲལ་ཞུགས།
སྤྱི་ལོ་༡༩༩༨ལོར་སྔ་འགྱུར་བའི་གདན་ས་ཆེན་པོ་དྲུག་གི་ཡ་གྱལ་༧སྐྱབས་རྗེ་གྲུབ་དབང་པདྨ་ནོར་བུའི་གཞིས་ཀྱི་གདན་ས་དཔལ་ཡུལ་དགོན་ཆེན་གྱི་བཤད་གྲྭར་ཞུགས་ཤིང་གཞུང་ཆེན་ཁག་ལ་ཐོས་བསམ་བྱས།
སྤྱི་ལོ་༢༠༠༤ལོར་རྒྱ་གར་འཕགས་ཡུལ་དུ་འབྱོར་ཞིང་༧སྐྱབས་རྗེ་གྲུབ་དབང་པདྨ་ནོར་བུའི་བྱེས་ཀྱི་གདན་ས་ཐེག་མཆོག་རྣམ་གྲོལ་བཤད་སྒྲུབ་དར་རྒྱས་གླིང་དུ་ཞུགས་ཏེ་མདོ་སྔགས་རིག་གནས་ཀུན་ལ་སྦྱང་བརྩོན་བྱས་ཤིང་རིམ་བཞིན་སྤྱི་ལོ་༢༠༠༩ལོ་མཐོ་སློབ་ཆེན་མོ་ནས་བསླབ་པ་མཐར་སོན་ཏེ་སློབ་དཔོན་གྱི་མཚན་གནས་ཐོབ།
དེ་ནས་རྣམ་གྲོལ་གླིང་བཤད་གྲྭ་དང་། བཙུན་དགོན་མཚོ་རྒྱལ་བཤད་སྒྲུབ་ཐོས་བསམ་དགའ་བའི་ཚལ། བཙུན་དགོན་སྒྲོལ་མ་གླིང་། རིགས་ལམ་སློབ་གཉེར་ཁང་སྟེ་མཚན་ཉིད་གྲྭ་ཚང་སོགས་ལ་སྤྱི་ལོ་༢༠༡༨ལོའི་བར་གཞུང་ཆེན་ཁག་འཆད་ཁྲིད་དགེ་རྒན་གྱི་ལས་ཁུར་གནང། སྤྱི་ལོ་༢༠༡༨ལོའི་ཟླ་༠༤ཚེས་༣༠ཉིན་ཐེག་མཆོག་རྣམ་གྲོལ་བཤད་སྒྲུབ་དར་རྒྱས་གླིང་དུ་འདུས་པ་སྟོང་ཕྲག་དུ་མའི་དབུས་སུ་མཁན་པོར་ཁྲི་སྟོན་མངའ་གསོལ་མཛད། གཞན་ཡང་༧གོང་ས་༧སྐྱབས་མགོན་རྒྱལ་དབང་ཐམས་ཅད་མཁྱེན་པ་མཆོག་དང་། ༧སྐྱབས་རྗེ་གྲུབ་དབང་ཡིད་བཞིན་ནོར་བུ་སོགས་འཕགས་བོད་ཀྱི་བླ་མ་དམ་པ་སྐྱེས་ཆེན་མཚན་ཉིད་དང་ལྡན་པ་དུ་མ་ལས་རིས་སུ་མ་ཆད་པའི་བཀའ་དང་བསྟན་བཅོས། རྙིང་མ་བཀའ་གཏེར་སོགས་ཀྱིས་མཚོན་བསྟན་པ་རིན་པོ་ཆེའི་དབང་ལུང་ཁྲིད་མན་ངག་བསམ་གྱི་མི་ཁྱབ་པ་ཞིག་ཐོབ།
ད་ལྟའི་ཆར་བཙུན་དགོན་མཚོ་རྒྱལ་བཤད་སྒྲུབ་དར་རྒྱས་གླིང་གི་འགན་འཛིན་གྱི་ལས་ཁུར་བཞེས་བཞིན་མཆིས།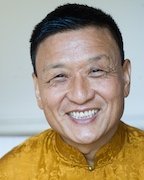 Geshe Tenzin Wangyal Rinpoche (co-host) was born in India in 1961, following his parents' journey from Tibet to India in 1959. At age 11 he began formal studies as a monk at Menri Monastery near Dolanji, India, where he completed an 11-year course of traditional studies at the Bön Dialectic School. He was awarded his geshe degree in 1986. He now lives as a householder, and has been living and teaching in the West for more than 30 years. An accomplished scholar in all aspects of sutra, tantra and dzogchen, Rinpoche is an acclaimed author and a respected teacher of students worldwide. As the founder and spiritual director of Ligmincha International, Rinpoche has established numerous centers and institutes of learning in the United States, Mexico, South America, Europe and India. Fluent in English, he regularly offers online teachings in the form of live webcasts, online workshops and YouTube videos. He is renowned for his depth of wisdom; his clear, engaging teaching style; and his dedication to making the ancient Tibetan teachings highly accessible and relevant to the lives of Westerners. More about Tenzin Wangyal Rinpoche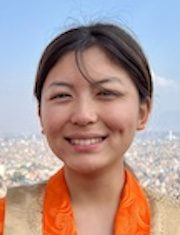 Jhama Lhamo (co-host) of Solan, India, completed her high school education at Tibetan Children's Village School in Bangalore, South India. She is now pursuing her bachelor of pharmacy degree at Shoolini University, Himachal Pradesh, India.