Apr 30, 2022
A live online conversation with esteemed teachers of six spiritual traditions of Tibet. Conversation is in Tibetan language with simultaneous interpretation into English and multiple other languages.
Access interpretation in English | other languages

The major Buddhist traditions of Tibet have distinctly different teachings and rituals, yet they also share many commonalities, among them the jewel-like teachings of the Five Wisdoms. In Part 1 of a six-part series of live online broadcasts, prominent teachers from six Tibetan spiritual traditions come together to discuss an overview of the Five Wisdoms. Later, in Parts 2 to 6, they will discuss each wisdom in more depth.
View on Facebook to join the chat.
Joining the conversation are Menri Shedrup Khenpo Geshe Nyima Dhondup Rinpoche (Bön), Khenpo Pema Tashi (Nyingma), Khenchen Tsultrim Nyima (Kagyu), Khenpo Dakpa Senge (Sakya), Yangten Rinpoche (Gelug), and Khenpo Lhakyab (Jonang). Hosted by Geshe Tenzin Wangyal and Khenpo Gyurmey Dorgee.
Full Schedule
April 30, 2022: Part 1 (six teachers, introduction to the Five Wisdoms) — view above on this page
June 16, 2022: Part 2 (Bön teacher, introduction) — view recording
June 25, 2022: Part 3 (six teachers, Mirror-Like Wisdom) — view recording
July 21, 2022: Part 4 — view recording
August 20, 2022: Part 5 (six teachers, Wisdom of Equanimity) — view recording
September 18, 2022: Part 6 (Kagyu teacher's perspective) — view recording
November 5, 2022: Part 7 (six teachers, Discriminating Wisdom) — view recording
December 17, 2022: Part 8 (Sakya teacher's perspective) — view recording
Dates/times of additional broadcasts will be announced.
About the Five Wisdoms
Many ancient Tibetan traditions refer to wisdom according to five characteristic aspects known as the five wisdoms. For example, the Yungdrung Bön tradition describes wisdom as a state of open awareness that is absent of ego identity, or the mistaken belief in one's own inherent existence; and it refers to the five wisdoms as the wisdom of emptiness, mirror-like wisdom, wisdom of equanimity, discriminating wisdom and all-accomplishing wisdom. In each broadcast of the series, invited presenters will each present the teachings according to their own tradition's unique perspective, quoting from original texts and offering commentary and heart advice.
About the Teachers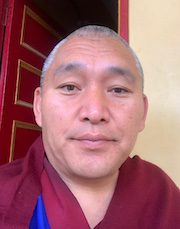 Menri Shedrup Khenpo Geshe Nyima Dhondup Rinpoche (Bön) is abbot of the Bön Dialectic School at Menri Monastery in Dolanji, India. He was born in 1978 in Delhi, India. His birth name, Tsering Dhondup, was bestowed on him by Tsondue Rinpoche, one of the greatest Bön masters of the 20th century. After completing more than 15 years' study of Bön sutra, tantra, dzogchen and the five major and minor sciences of the Bön tradition, Nyima Rinpoche received his geshe Degree in the spring of 2006. In 2008 Rinpoche was enthroned as Menri Shedrup Lopon, the principal master of the Bön Dialectic School at Menri Monastery, where he has been teaching for more than 15 years. In February 2012 he was enthroned as the Menri Shedrup Khenpo, the Abbot of the Bön Dialectic School. Rinpoche has served as invited speaker for several major Bön and Buddhist conferences. He is author of three books covering the main philosophical teachings of Bön, and has contributed several articles to Bon-sGo, the journal of Menri Monastery in India; and the Himalayan Bön website in Tibet. He has taken on additional responsibilities as General Secretary of the Governing Council of Menri Monastery, and since 2011, as director of Menri's official website, www.theyungdrungbon.com. In 2014 he visited Tibet and blessed many Bon followers and practitioners.
About Bön and its lineage | About Menri Monastery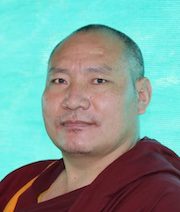 མཁན་པོ་པདྨ་བཀྲ་ཤིས།
Khenpo Pema Tashi (Nyingma): ༈ མཁན་པོ་པདྨ་བཀྲ་ཤིས།
སྤྱི་ལོ་༡༩༧༤ལོར་ཡབ་བུ་མང་ཚང་ཀརྨ་དཀོན་མཆོག་དང་། ཡུམ་རླངས་བཟའ་སྤེས་ཅོ་གཉིས་ཀྱི་སྲས་སུ་ཁམས་སྟོད་ནང་ཆེན་ལུང་པར་འཁྲུངས། སྤྱི་ལོ་༡༩༩༢ལོར་སྔ་འགྱུར་རུ་གནོན་བྲག་སེར་ཕུན་ཚོགས་ཆོས་གླིང་དགོན་དུ་ཚོགས་གྲལ་ཞུགས།
སྤྱི་ལོ་༡༩༩༨ལོར་སྔ་འགྱུར་བའི་གདན་ས་ཆེན་པོ་དྲུག་གི་ཡ་གྱལ་༧སྐྱབས་རྗེ་གྲུབ་དབང་པདྨ་ནོར་བུའི་གཞིས་ཀྱི་གདན་ས་དཔལ་ཡུལ་དགོན་ཆེན་གྱི་བཤད་གྲྭར་ཞུགས་ཤིང་གཞུང་ཆེན་ཁག་ལ་ཐོས་བསམ་བྱས།
སྤྱི་ལོ་༢༠༠༤ལོར་རྒྱ་གར་འཕགས་ཡུལ་དུ་འབྱོར་ཞིང་༧སྐྱབས་རྗེ་གྲུབ་དབང་པདྨ་ནོར་བུའི་བྱེས་ཀྱི་གདན་ས་ཐེག་མཆོག་རྣམ་གྲོལ་བཤད་སྒྲུབ་དར་རྒྱས་གླིང་དུ་ཞུགས་ཏེ་མདོ་སྔགས་རིག་གནས་ཀུན་ལ་སྦྱང་བརྩོན་བྱས་ཤིང་རིམ་བཞིན་སྤྱི་ལོ་༢༠༠༩ལོ་མཐོ་སློབ་ཆེན་མོ་ནས་བསླབ་པ་མཐར་སོན་ཏེ་སློབ་དཔོན་གྱི་མཚན་གནས་ཐོབ།
དེ་ནས་རྣམ་གྲོལ་གླིང་བཤད་གྲྭ་དང་། བཙུན་དགོན་མཚོ་རྒྱལ་བཤད་སྒྲུབ་ཐོས་བསམ་དགའ་བའི་ཚལ། བཙུན་དགོན་སྒྲོལ་མ་གླིང་། རིགས་ལམ་སློབ་གཉེར་ཁང་སྟེ་མཚན་ཉིད་གྲྭ་ཚང་སོགས་ལ་སྤྱི་ལོ་༢༠༡༨ལོའི་བར་གཞུང་ཆེན་ཁག་འཆད་ཁྲིད་དགེ་རྒན་གྱི་ལས་ཁུར་གནང། སྤྱི་ལོ་༢༠༡༨ལོའི་ཟླ་༠༤ཚེས་༣༠ཉིན་ཐེག་མཆོག་རྣམ་གྲོལ་བཤད་སྒྲུབ་དར་རྒྱས་གླིང་དུ་འདུས་པ་སྟོང་ཕྲག་དུ་མའི་དབུས་སུ་མཁན་པོར་ཁྲི་སྟོན་མངའ་གསོལ་མཛད། གཞན་ཡང་༧གོང་ས་༧སྐྱབས་མགོན་རྒྱལ་དབང་ཐམས་ཅད་མཁྱེན་པ་མཆོག་དང་། ༧སྐྱབས་རྗེ་གྲུབ་དབང་ཡིད་བཞིན་ནོར་བུ་སོགས་འཕགས་བོད་ཀྱི་བླ་མ་དམ་པ་སྐྱེས་ཆེན་མཚན་ཉིད་དང་ལྡན་པ་དུ་མ་ལས་རིས་སུ་མ་ཆད་པའི་བཀའ་དང་བསྟན་བཅོས། རྙིང་མ་བཀའ་གཏེར་སོགས་ཀྱིས་མཚོན་བསྟན་པ་རིན་པོ་ཆེའི་དབང་ལུང་ཁྲིད་མན་ངག་བསམ་གྱི་མི་ཁྱབ་པ་ཞིག་ཐོབ།
ད་ལྟའི་ཆར་བཙུན་དགོན་མཚོ་རྒྱལ་བཤད་སྒྲུབ་དར་རྒྱས་གླིང་གི་འགན་འཛིན་གྱི་ལས་ཁུར་བཞེས་བཞིན་མཆིས།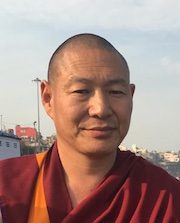 མཁན་ཆེན་ཚུལ་ཁྲིམས་ཉི་མ།
Khenchen Tsultrim Nyima (Kagyu) studied Buddhist philosophy for 30 years in Tibet and India. He is currently head teacher for Nalanda Institute of Rumtek Dharma Chakra Centre in Sikkim, India, the Kagyu tradition's primary high institution for Buddhist dialectics.
མཁན་པོ་ཚུལ་ཁྲིམས་ཉི་མ་ནི། བོད་དང་རྒྱ་གར་སོགས་སུ་རིས་མེད་ཆོས་སྡེ་ཁག་ཏུ་ལོ་སུམ་ཅུ་ལྷག་ཙམ་ལ་ནང་ཆོས་ལ་སློབ་སྦྱོང་བྱས། ད་ལྟ་ཀརྨ་པའི་བྱེས་ཀྱི་གདན་ས་འབྲས་ལྗོངས་རུམ་བཏེག་དགོན་དུ་མཁན་པོའི་མིང་ཐོག་ནས་སློབ་ཁྲིད་བྱེད་བཞིན་མཆིས་སོ།།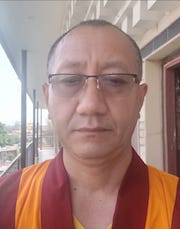 མཁན་པོ་གྲགས་པ་སེངྒེ།
Khenpo Dakpa Senge (Sakya) was ordained in childhood as a monk at the residence monastery of the great Pal Sakya. He has received major initiations and sacred teachings of the Great Five Founding Masters of Pal Sakya from His Holiness the Sakya Gongma Trichen Rinpoche and other esteemed teachers. At age 20 he received full ordination in the Bhikshu Sangha, and was later admitted to Sakya College where he studied the Six Volumes of Fundamental Buddhist Scriptures and 18 Major Volumes of Buddhist Philosophy. There, he received the acharya degree and was appointed as philosophy teacher. In 2001 he became a lecturer of Sakya Sampradaya at the Central Institute of Higher Tibetan Studies in Sarnath, Varanasi, India, where he continues to teach philosophy.
ཐོག་མར་ཐུབ་བསྟན་ལྷ་ཁང་ཆེན་མོའི་སྒྲིག་ཁོངས་སུ་འཛུལ་ཞུགས་ཀྱིས་འདོན་ཆོག་སོགས་སྒྲིག་ཁོངས་སྦྱང་དགོས་རིམ་པ་སྦྱངས་ཟིན་རྗེས་ས་སྐྱ་མཐོ་སློབ་ཏུ་གཞུང་ཆེན་ཁག་ལ་སློབ་གཉེར་མཐར་ཕྱིན་ཏེ། དེ་གར་སྐྱོར་དཔོན་དང་། དགེ་རྒན་གྱི་ལས་འཁུར་ལོ་ཤས་ཁུར་ཞིང་། དེ་ནས་༧སྐྱབས་མགོན་༧ས་སྐྱ་གོང་མ་ཁྲི་ཆེན་རིན་པོ་ཆེའི་བཀའ་དགོངས་བཞིན་ཝཱ་ན་དབུས་བོད་ཀྱི་གཙུག་ལག་སློབ་ཁང་དུ་སློབ་འཁྲིད་དགེ་རྒན་ལོ་ཉི་ཤུ་ལྷག་ཙམ་ཞུས། ད་ལྟའི་འཆར་ཡང་ཞུ་མུས་ལགས། ལོ་རྒྱུས་སྙིང་བསྡུས་སུ།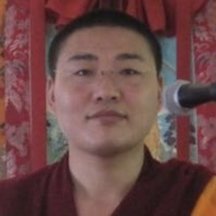 ཡང་སྟེང་རིན་པོ་ཆེ།
Yangten Rinpoche (Gelug) entered a monastery at an early age, and felt very fortunate there to be able to study Buddhism. In 1990 he was admitted to the prestigious University Monastery of SIRMA and was awarded the geshe degree with honor. In 2008 he was called to Dharamsala by His Holiness the 14th Dalai Lama and was appointed a religious attendant. Since then he has been in charge of a department where he looks after its Tibet section. His responsibilities include regular meetings to with eight masters from other major schools of Tibetan Buddhism, engaging in work and discussion and offering advice. Yangting Rinpoche and his team write and edit courses on Buddhism, for which they consult ancient texts and other reference materials. He works closely with His Holiness the Dalai Lama, who helps him to improve his work. Currently Yangting Rinpoche is teaching in France and has plans to teach all over the world.
Expanded biography | Yangten Rinpoche on Facebook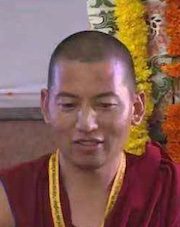 མཁན་པོ་ལྷ་སྐྱབས།
Khenpo Lhakyab (Jonang): དགེ་རྒན་ལྷ་སྐྱབས་མཆོག་ནི་མདོ་སྨད་འཛམ་ཐང་ནས་སྐྱེས་པ་ཡིན་ལ། ཆུང་དུས་ནས་ཆོས་རྗེ་བླ་མ་ཡོན་ཏན་བཟང་པོ་མཆོག་གི་དྲུང་ནས་རབ་ཏུ་བྱུང་ནས་འཛམ་ཐང་ཇོ་ནང་དགོན་ཆེན་དུ་ཞུགས། དེར་ཁུ་བོ་སོགས་ཀྱི་དྲུང་ནས་ཡི་གེ་འབྲི་ཀློག་སོགས་རིག་གནས་ཆུང་བ་དག་ལ་བསླབས་པ་དང་། ལོ་ངོ་དྲུག་གི་རིང་དུས་འཁོར་སྦྱོར་དྲུག་ཉམས་ལེན་བྱས་རྗེས་མཚན་ཉིད་སྐོར་ལ་སློབ་སྦྱོང་བྱས། ཕྱི་ལོ་༢༠༠༥་ ལོར་ཕུ་བོ་སོགས་དང་མཉམ་དུ་ཧི་མ་ལ་ཡི་རི་རྒྱུད་ལྡོག་པས་གནན་ནས་རྒྱ་གར་འཕགས་ཡུལ་དུ་སླེབ་ནས་༧གོང་ས་ཐམས་ཆད་མཁྱེན་པ་མཆོག་གི་གསེར་ཞལ་དངོས་སུ་མཇལ་རྒྱུའི་བསྐལ་བཟང་ཤར་བ་མ་ཟད་ཇོ་ནང་རང་ལུགས་གསལ་བའི་གཞུང་ཆེན་སྐོར་ལ་སློབ་སྦྱོང་བྱེད་པའི་གོ་སྐབས་ཐོབ་པ་དང་། དཔལ་ལྡན་འབྲས་དཀར་སྤུངས་བ་ནས་རྒན་ཐུབ་བསྟན་ཡར་འཕེལ་སོགས་ཀྱི་དྲུང་ནས་གཞུང་ཆེན་བཀའ་བོད་ལྔ་ལ་སློབ་སྦྱོང་བྱེད་པའི་གོ་སྐབས་ཐོབ་པ་མ་ཟད། ཇོ་ནང་དུས་འཁོར་གྲྭ་ཚང་དུ་དགེ་རྒན་ཆེན་མོའི་ལས་འགན་དང་། སྨོན་ལམ་ཚིག་མཛོད་ཁང་གི་རྩོམ་བསྡུ་ལས་མིའི་ཕྱག་ལས་གནང་ཡོད་ལ་དེ་མིན་ཨ་རི་དང་ཨུ་རུ་སུའི་ཚན་རིག་པ་མཉམ་འབྲེལ་གྱི་རྣམ་ཤེས་ཉམས་ཞིབ་ཀྱི་ལས་མི་དང་། རང་གཞུང་ཆོས་རིག་ལས་ཁུངས་ཀྱིས་འདེམས་པའི་གཞུང་ཆེན་རིགས་གཅིག་རྐང་འཛིན་གྱི་སློབ་མ་སོགས་སློབ་སྦྱོང་གི་སྣ་ཚོགས་ཀྱི་ལམ་བུར་ཞུགས་མུས་ཡིན།
About the Hosts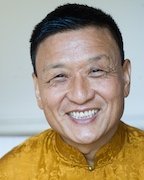 Geshe Tenzin Wangyal is an acclaimed author and a respected teacher of students worldwide. As the founder and spiritual director of Ligmincha International, he has established numerous centers and institutes of learning in the United States, Mexico, South America, Europe and India. Fluent in English, Rinpoche regularly offers online teachings in the form of live webcasts, online workshops and YouTube videos. He is renowned for his depth of wisdom; his clear, engaging teaching style; and his dedication to making the ancient Tibetan teachings highly accessible and relevant to the lives of Westerners.
More about Tenzin Wangyal Rinpoche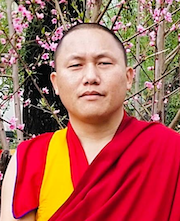 Khenpo Gyurmey Dorjee (Sakya) began reading, writing, and memorizing at the tender age of 5 or 6. In 1996 he was admitted to Sakya College, where he received his Shastri and Acharya degrees. For the past 13 years he has been teaching Buddhist philosophy at Dolma Ling Nunnery and Institute of Buddhist Dialectics, a non-sectarian nunnery near Dharamsala, northern India. On several occasions organized by the Department of Religion and Culture (Central Tibetan Administration), Khenpo Gyurmey Dorjee served as speaker and Sakya representative, as well as a member of a special committee for professional research. He is presently a standing member of the International Association of Non-Sectarian Tibetan Religious Traditions, and served as its chairman for the first and second terms. He considers himself fortunate to have this opportunity to serve the community and society at large. He writes, "My flesh, blood, and bone, and also my lung, heart and chest are cast of the Mugpo Dong lineage. My navel was cut in the land of snow. I polished my knowledge in the Holy Land of India."