Music from the Heart: a CyberSangha Series of Online Concerts. Session 4: "Out into the World."
In this concert series we highlight accomplished singers and musicians from Ligmincha International's worldwide community. Featured artists of Session 4 are William Marcozzi, Ellen Silva, Laura Dziaba, and Maria Paula & Jorge Alejandro. Hosted by Santiago Villaveces, a senior student of Tenzin Wangyal Rinpoche.
View recordings of Session 1 | Session 2 | Session 3
The Performances
"Lo Specchio d'acqua (The Mirror of Water)" — William Marcozzi
"&" (free improvisation) — William Marcozzi
"Azul é Infinito" — Ellen Silva
"Nosso Filme" — Ellen Silva
"I'd Rather Go Blind" — Laura Dziąba
"Dance Monkey" — Laura Dziąba
"Derecho de Nacimiento" — Maria Paula & Jorge Alejandro
"Hallelujah" — Maria Paula & Jorge Alejandro
The Performers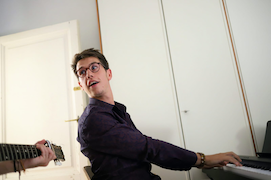 William Marcozzi, a native of Tuscany, Italy, began playing piano at age 5. From the start, William writes, he felt deeply confident with musical improvisation and composition. He studied classical music and jazz at various schools of music in Florence, Italy, and then started creating his own compositions. William has performed in concerts both in groups and as a solo pianist. Now 24 years old, he doesn't think of himself as a professional musician — his university major is philosophy — but he considers music to be "an entire domain of life and consciousness, in which creativity spreads out spontaneously and where we can explore new dimensions, connect with deeper aspects of ourselves, and also recover and heal from painful experiences. Music is a profound doorway to joy, inner wisdom, and beauty, through which anyone can enter regardless of culture, language, or any other limitation."
Ellen Silva, age 26, is a resident of Maceió in northeast Brazil. She notes that her deepest emotions of love and wholeness arose when she first encountered the dharma (Buddhist teachings). "I've combined those feelings with my love of music," she adds. "Since I was little I have sung. I received this gift from my father, who in turn received it from my dearest grandmother. My gift to you is my own compositions, inspired by this personal history."
Ellen Silva on YouTube: "Nosso Filme"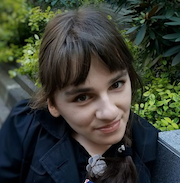 Laura Dziaba of Poland has participated in Tenzin Wangyal Rinpoche's retreats from infancy. She enjoys drawing and painting, and plays piano in her free time, but "Singing has always been my true passion, and I couldn't imagine my life without it," she explains. "To me, performing is all about sharing emotions and energy with others." Laura has suffered from brittle bone disease since birth, but despite all her challenges, she has never given up. "When I was a child no one wanted to develop my voice. That's why I taught myself to sing pop, soul, and other genres." She describes her voice as coloratura soprano. Now age 19, Laura plans to graduate this year from music school in Bydgoszcz, Poland. "This stage in my life will end soon. I would love to continue my music education and develop my voice. My dream is giving others joy and happiness. I want to move their hearts through my singing."
Laura Dziaba on YouTube: "Skyfall"
Laura Dziaba on Instagram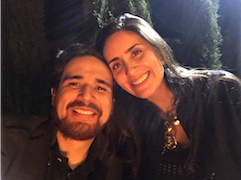 Maria Paula & Jorge Alejandro live together in the beautiful mountains of La Calera near Bogota, Colombia, and love singing together as a duo. A record producer, Jorge helps new artists discover their true sound; and he also produces podcasts, jingles, and radio shows for the National Federation of Coffee Growers of Colombia. Maria spends half of her time in private practice in Bogota as a music therapist and Gestalt therapist, listening to people who have the urge to heal, transform or accept difficult life situations. During the rest of her time she creates projects and workshops that utilize music, meditation, or Gestalt toward the well-being of work teams and communities. For today's performance, the duo have chosen two songs that "inspire our hearts and minds because of their music and lyrics": Hallelujah by Leonard Cohen and Derecho de Nacimiento by Natalia Lafourcade.
Maria and Jorge invite you to follow the lyrics and sing along:
"Derecho de Nacimiento" by Natalia Lafourcade
Voy a crear un canto para poder existir
Para mover la tierra a los hombres y sobrevivir
Para curar mi corazón y a la mente dejarla fluir
Para el espíritu elevar y dejarlo llegar al fin
Yo no naci
Sin causa
Yo no naci
Sin fe
Mi corazón pega fuerte
Para gritar a los que no sienten
Y así perseguir a la felicidad
Voy a crear un canto para el cielo respetar
Para mover las raíces de este campo y hacerlo brotar
Para mover las aguas y el veneno verde que hay por ahí
Para el espíritu elevar y dejarlo vivir en paz
Yo no naci
Sin causa
Yo no naci
Sin fe
Mi corazón pega fuerte
Para gritar a los que nos mienten
Y así perseguir a la felicidad
Y así perseguir a la felicidad
Es un derecho de nacimiento
Es el motor de nuestro movimiento
Porque reclamo libertad de pensamiento
Si no lo pido es porque estoy muriendo
Es un derecho de nacimiento
Comer los frutos que dejan los sueños
En una sola vos y sentimiento
Y que este grito limpie nuestro viento
Voy a crear un canto para poder exigir
Que no le quiten a los pobres lo que tanto les costó construir
Para que el oro robado no aplaste nuestro porvenir
Y a los que tienen de sobra nos les cueste tanto repartir
Voy a elevar mi canto para hacerlos despertar
A los que van dormidos por la vida sin querer mirar
Para que el río no lleve sangre, lleve flores y el mal sanar
Para el espíritu elevar y dejarlo vivir en paz
Yo no naci
Sin causa
Yo no naci
Sin fe
Mi corazón pega fuerte
Para gritar a los que no sienten
Y así perseguir a la felicidad
Es un derecho de nacimiento
Es el motor de nuestro movimiento
Porque reclamo libertad de pensamiento
Si no la pido es porque estoy muriendo
Es un derecho de nacimiento
Mirar los frutos que dejan los sueños
En una sola vos un sentimiento
Y que este grito limpie nuestro viento
Es un derecho de nacimiento
Es el motor de nuestro movimiento
Porque reclamo libertad de pensamiento
Si no la pido es porque estoy muriendo
Es un derecho de nacimiento
Mirar los frutos que dejan los sueños
En una sola vos un sentimiento
Y que este grito limpie nuestro viento
Es un derecho de nacimiento
Porque reclamo libertad de pensamiento
Si no la pido es porque estoy muriendo
Es un derecho de nacimiento
Fuente: Musixmatch
Compositores: Maria Natalia Lafourcade Silva
Letra de Derecho de Nacimiento © Universal Music Publishing Mgb S.a. De C
"Hallelujah" by Leonard Cohen
I've heard there was a secret chord
That David played and it pleased the lord
But you don't really care for music, do you?
It goes like this: the fourth, the fifth
The minor fall, the major lift
The baffled king composing Hallelujah
Hallelujah, hallelujah
Hallelujah, hallelujah
Your faith was strong, but you needed proof
You saw her bathing on the roof
Her beauty and the moonlight overthrew you
She tied you to a kitchen chair
And she broke your throne and she cut your hair
And from your lips she drew the Hallelujah
Hallelujah, hallelujah
Hallelujah, hallelujah
Now, maybe there's a god above
As for me, all I ever learned from love
Is how to shoot at someone who outdrew you
But it's not a crime that you're here tonight
It's not some pilgrim who claims to have seen the light, no
It's a cold and it's a very broken Hallelujah
Hallelujah, hallelujah
Hallelujah, hallelujah
Oh, people, I've been here before
I know this room and I've walked this floor
You see, I used to live alone before I knew you
And I've seen your flag on the Marble Arch
But listen love, love is not some kind of victory march, no
It's a cold and it's a very lonely Hallelujah
Hallelujah, hallelujah
Hallelujah, hallelujah
Hallelujah, hallelujah
Hallelujah, hallelujah