Music from the Heart: a CyberSangha Series of Online Concerts. Session 3: "Inner Journeys."

In this concert series we highlight accomplished singers and musicians from Ligmincha International's worldwide community. Featured artists of Session 3 are Inner Moon, Connection, and Taramaria & Philipp. Hosted by Santiago Villaveces, a senior student of Tenzin Wangyal Rinpoche.
View recording on YouTube (46 minutes)
View recording of Session 1 | Session 2
The Performances
"Song of Prayer" — Inner Moon
"Voeten in het Zand" (Dancing in the Sand) — Inner Moon
"A Om Hung Ram Dza" — Connection
"Enjoy your Freedom" — Connection
"Sherab Chamma Mantra" — Taramaria and Philipp
The Performers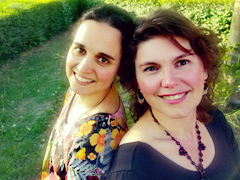 Inner Moon is a duo formed by Dutch singers Elke Brouwers and Emily van Orsouw. From a young age, music showed them each the door within. Elke writes her own songs, inspired by traditional mantras. Her first encounter with singing mantras was in 2009. Doing so felt like coming home, she explains. Her longing to open her voice made singing her sadhana — her means of achieving realization. She considers her voice to be an offering of sacred vibration into the world. Like a raw flame, Elke's pure and warm sound burns deep within the heart and soul.
Emily is singer, songwriter, music teacher, and multi-instrumentalist. To her, singing mantras is an invitation to find the quiet place within, to take rest, and to explore. She sings straight from the heart. When she does, she takes you on her wings, flying through a tender landscape of light and love, in the space where the soul can dance and trust in whatever is.
Recently, Elke and Emily merged their love for mantras into their duo, Inner Moon. Inner Moon shares mantras and heart songs in a dance of silence, sound, and light. Their music invites one to listen deeply within and to allow the pure vibration of sound to arise from the heart. Elke and Emily invite you, as well, to use your own voice in this way as an instrument to connect, purify, and heal.
You can find Inner Moon on: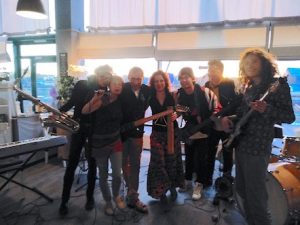 Connection was founded in 2018 by Ryszard Adamiak and Karol Stróżyk in Poznań, Poland. Before leaving for a retreat with Tenzin Wangyal Rinpoche at Chamma Ling Poland, the two decided to prepare a musical performance to share with retreatants. To their surprise, they learned that quite a few members of their local meditation group were also musicians, and so a larger group came into being. The name "Connection" was inspired by Rinpoche´s teachings. With his encouragement, together these musicians have been sharing their meditative experiences through music in performances throughout Poland.
Band members:
Karol Stróżyk (Guitar)
Ewa Adamiak (Vocal)
Jan Łopatka (Bass Guitar)
Ewa Wiosna-Malas (Saxophone)
Piotr Literski (Drums)
Aneta Budzińska (Drums Instrument)
Ryszard Adamiak (Guitar)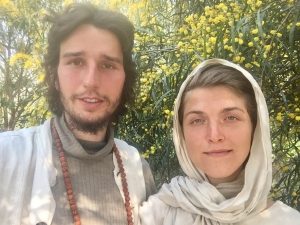 Taramaria and Philipp chant mantras as a vehicle to invoke the inner space. They keep their chanting as simple and pure as possible, so that others may focus on the syllables while allowing waves of rhythm to carry them to a deep connection with their inner space and light. In today's performance, the two invite you to chant the Sherap Chamma mantra with them for 54 repetitions. As we open up together, we can all feel our collective awareness expanding and the blessings of the universal, loving mother descending into our hearts and bodies.
In these times of change on earth, Taramaria and Philipp feel it is important to take refuge within and come to peace with the cycle of life and death. They invite you to come together with them in invoking the dynamic, water-like, all-embracing energy of Sherap Chamma.
Join their mantra recitations:
Live on Facebook each day at 1 p.m. New York time, 108 repetitions of the Sherap Chamma mantra
On YouTube, 108 repetitions of the Sherab Chamma Mantra
Lyrics and Mantra
"Song of Prayer"
Lyrics and music by Elke Brouwers
Listen to the Song of Prayers in the night
Listen to the Song of Prayers in the night
Om, Om, Om, Om
Listen, listen, listen
Hear it, hear it, hear the Song
Om, Om, Om, Om
"Voeten in het Zand"
Lyrics and music by Emily van Orsouw
Wind ligt stil in dromenland
Wind ligt stil in dromenland
Ga mee met mij
Ga mee met mij
Mijn hart bloeit op met jou in mij
Mijn hart groeit op vertrouw in mij
Voeten in het zand, voeten in het zand, voeten
in het zand
Voeten in het zand, voeten in het zand, voeten
in het zand
English translation: "Dancing in the Sand":
Windstill nights in wonderland
Windstill nights in wonderland
Come home with me
Come home with me
Heart grows fast just trust in me
My heartflow lasts with you in me
Dancing in the sand, dancing in the sand, dancing in the sand
Dancing in the sand, dancing in the sand, dancing in the sand
Sherab Chamma Mantra, performed by Tamaria and Philip
Om Ma-Wa Ma-De Ma-Hi Mo-Ha E Ma Ho Ma-Ye Ru-Pa Ye-Ta Du-Du So-Ha
An introduction to Sherap Chamma, Mother of Wisdom and Love, by Tenzin Wangyal Rinpoche — View PDF