At the time of worldwide COVID-19 pandemic, six lamas (teachers) from six spiritual traditions of Tibet offer an online session of prayers and rituals toward physical and emotional healing on both individual and collective levels. In the Tibetan language with limited translation to English and multiple other languages. Hosted by Tenzin Wangyal Rinpoche.
English audio translation
Access other translations
View recording on Facebook (86 minutes) to join the chat. While listening to a translation, it's recommended that you view the recorded broadcast with its sound turned down or muted.
The Prayers and Rituals
You are welcome to join the lamas in reciting these texts.
Sidpa Gyalmo Healing Practice with Khenzur Nyima Wangyal Rinpoche (Bön)
View PDF
Sampa Lhundrupma—The Prayer to Guru Rinpoche that Spontaneously Fulfills All Wishes with Tulku Yeshi Rinpoche (Nyingma)
View web version | PDF Part 1 | PDF Part 2
The Parnashavari Sadhana from the Collected Works of Kyobpa Jigten Sumgön with Khenpo Samdup Rinpoche (Kagyu)
View PDF Part 1 | Part 2 | Part 3
The Prayer Which Saved Sakya from Epidemics with Venerable Khenpo Jampa Rinpoche (Sakya)
View PDF
Prayer for Peace and Stability in Tibet and Prayer to the Eight Tathagata Medicine Buddhas
with Khenpo Ngawang Dorjee (Jonang)
View PDF of Prayer for Peace and Stability in Tibet
View Prayer to the Medicine Buddhas in Tibetan only | explanation in English
Supplication Prayer to Tara with Geshe Kalsang Rapgyal (Gelug)
View PDF
About the Teachers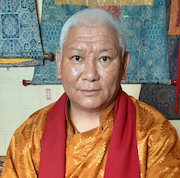 Khenzur Nyima Wangyal Rinpoche (Bön) was born in 1961 and raised and educated by his uncle Khenpo Khyungtsün Dongrig Sonam Gyaltsen Rinpoche, second abbot of Dhorpaten Monastery, the first Bön monastery in exile. In 1976 Nyima Wangyal received from his root master and main spiritual teacher Yongdzin Lopon Tenzin Namdak Rinpoche the Dzogchen Atri teaching instructions and transmission and the initiation of Du Tri Su. In 1977 he entered Menri Monastery, in Dolanji, India, where he received teachings from, served as personal assistant to, and lived with Yongdzin Rinpoche.
In 1978 Nyima Wangyal joined the newly opened dialectic school at Menri. There, he received the initiation of the complete Shardza Tashi Gyaltsen Dzogchen cycle and other Dzogchen initiations from Drupwang Tsondü Rinpoche, the Drupdra Khenpo of Khyungpo Ri Tse Druk Monastery in Tibet. In 1984 Nyima Wangyal received all the initiations (outer, inner, secret) and transmissions of all the yidams of the Bön tradition from His Holiness the 33rd Abbot of Menri Lungtok Tenpai Nyima Rinpoche and Yongdzin Rinpoche.
In 1986 Nyima Wangyal was awarded the geshe degree from Menri Monastery. He then received many rare initiations from the great Dzogchen practitioner Ragshi Togden Drimed Yungdrung Rinpoche at Luphuk Gön Monastery (Hor in Kham). Later that year Yongdzin Rinpoche founded the Triten Norbutse Monastery on the northern hill of Kathmandu, Nepal. At the very beginning only Rinpoche and Geshe Nyima Wangyal lived there.
In 1992, Geshe Nyima Wangyal was selected by Yongdzin Rinpoche and Menri Trizin Rinpoche as the first abbot of Triten Norbutse Monastery, where he took care of all the daily needs of the monks. In 1995, Khenpo Nyima Wangyal chose to leave the monastery in order to live as a Tibetan yogi. In 2001-2 at Triten Norbutse Monastery, he had the great opportunity to receive again from Yongdzin Rinpoche all the Bön initiations and teachings on the Dzogchen Zhang-Zhung Nyen-Gyüd, the Dzogchen Namkha Trul-Dzöd, and the Bön Mother Tantra.
In 2013, Khenzur Nyima Wangyal Rinpoche and his family settled near Paris, France. Since November 2015, as organized by Shenten Dargye Ling (Blou, France), he has been teaching meditation on a regular basis in Paris, as well as in other countries abroad.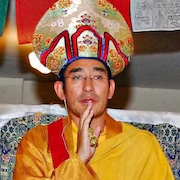 Tulku Yeshi Rinpoche (Nyingma) is a dzogchen master, poet, author, healer, artist, and astrologer. Recognized as the reincarnation of Dzogchen Gyalt-sab Thodo Rinpoche, in one of Tulku Yeshi Rinpoche's past lives in 8th century Tibet, the great master met Guru Rinpoche. He received Tibetan Buddhist teachings and instruction in traditional Tibetan medicine from 45 masters representing all five schools of Tibetan Buddhism. Tulku Yeshi Rinpoche is a highly trained lama within an authentic and powerful lineage. He gives teachings and empowerments extensively across North America and internationally. He has written several Tibetan Buddhist poetry books and novels, and 15 books about Tibetan Buddhism and about his journeys around the world. His works have been translated into many languages, including English, Chinese, Vietnamese and Japanese.
Tulku Yeshi Rinpoche founded the Heruka Institute, a dharma center in Seattle, Washington; and 14 other international Heruka Institute centers and groups. A chod master, Rinpoche has given many teachings and empowerments around the world.
Tulku Yeshi Rinpoche Heruka on Facebook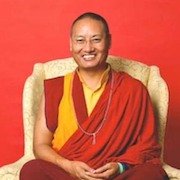 Khenpo Samdup Rinpoche (Kagyu) was born in Tibet and is a longtime student of His Eminence Garchen Rinpoche. He studied the philosophy of the four schools of Tibetan Buddhism under numerous khenpos, including Khenpo Munsel and Khenpo Jigme Phunsok. He taught for five years at Kagyu College in India, founded by His Holiness Drikung Kabgyon Chetsang, from whom he received the vast teachings and transmissions of the Drikung Kagyu lineage. Khenpo Samdup Rinpoche wrote a commentary on Jigten Sumgon's Gong Chik, a significant philosophical text of the Kagyu lineage. He is currently the dharma teacher at Gar Drolma Choling in Dayton, Ohio, USA.
About Gar Drolma Buddhist Learning & Meditation Center
About Drikung Dharma Surya Center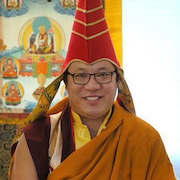 Ven. Khenpo Jampa Rinpoche (Sakya) comes to us from the Dzongsar Insitute in North India, where he taught and served as library director for many years. He received his Acharya degree after nine years of study and graduated from Dzongsar University with a Ph.D. in philosophy. After 13 years of study, he was ordained an abbot (khenpo) in 2004 by His Holiness the Dalai Lama. He studied for 17 years with his main teacher, H.E. Khenchen Kunga Wangchuk. He also spent three years in silent retreat in Tibet. He has received empowerments from all four schools of Tibetan Buddhism and from many great masters including H.H. the Dalai Lama, H.H. Sakya Trichen, H.H. Dagchen Sakya Dorje Chang Rinpoche, H.H. Karmapa, and H.E. Dzongsar Khyentse. He now teaches intermediate and advanced-level classes all over the world in Buddhist philosophy, sutra, and highest yoga tantra. He is also the founder and president of Tibetan Education Foundation, as well as the former president (2014-5) of the International Association of Non-sectarian Tibetan Religious Traditions (IANTRT) of North America. Additionally, he is the president (2017-9) of the North America Sakya Monlam World Peace Foundation.
Live online practice sessions, Sakya Monastery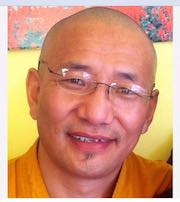 Khenpo Ngawang Dorjee (Jonang) was born in 1967 in Golok, Amdo, in eastern Tibet. At a young age he was ordained as a Buddhist monk, and in 1985 entered Lungkya Monastery. For three years under the guidance of His Eminence Ngawang Pema Namgyel Pelzangpo, he trained in the Generation and Completion Stages of Glorious Supreme Kalacakra and perfected the practice of the Completion Stage teachings of the Six Branches of Yoga.
In 1988, under the guidance of a great teacher of multitudes, Ngawang Delek Rabgye, he studied Tibetan grammar, poetry, astrology, and the Five Key Scriptures of exoteric Buddhism (sutra) and Four Classes of esoteric Buddhist teachings (tantra) for eight years, as well as ordinary arts and sciences. In 1996 he passed the monastic examinations with distinction. In accordance with the unanimous wishes of the teachers, reincarnated lamas, and monks of Lungkya Monastery, he received the rank of Donak Rabjampa (Doctor of Exoteric and Esoteric Buddhist Studies) and was enthroned as a khenpo (abbot).
In 1999, Khenpo Ngawang Dorjee went to India where he complied with the wishes of His Holiness the Dalai Lama and H.E. the ninth Khal-ka Jetsun Dampa to assume responsibility of teaching Buddhist philosophy at the Takten Phuntsok Choeling Monastery in Shimla, Northern India, for three years as Khenpo. Thereafter, in 2000 at the invitation of the Cultural Ministry of the Tibetan Government in Exile in Dharamsala, Khenpo Ngawang Dorjee worked at the Research Branch for two years and authored a book containing information about various Budddhist monasteries throughout Nepal, Bhutan, and India. He also composed a poetic account of the life of H.H. the Dalai Lama and a life story of Khal-ka Jetsun Dampa, among others.
In 2003, at the request of the Jonang religious institute Dorje Ling, Khenpo Ngawang Dorjee came to the United States. For the next three years he gave teachings at centers in New York and Atlanta .
In 2006, Khenpo Ngawang Dorjee transitioned to the University of Virginia where he worked in the Tibetan and Himalayan Digital Library as an editor for collected Tibetan writings. After a year, he was given the responsibility of teaching colloquial Tibetan classes at the University of Virginia . In May of 2007, he founded the Tashi Choeling Buddhist Center in Charlottesville, Virginia, where he serves as the abbot and director.
More about Khenpo Ngawang Dorjee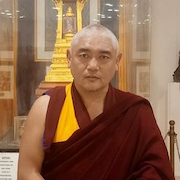 Geshe Kalsang Rabgyal (Gelug) was born in 1969 in northeastern Tibet. In 1991, he came to exile in India and joined Palden Drepung Monastery in South India, one of the three great seats of the Gelug tradition of Tibetan Buddhism. It is also known as "second Nalanda" of Tibet.
Geshe Kalsang Rabgyal studied for more than 16 years under great spiritual tutors of Drepung Gomang Monastery, including the late ex-abbot Jetsun Yonten Dhamchoe and the great throne holder and Vajradhara Jetsun Losang Tenpa. He was bestowed his Geshe Lharamapa degree in 2007.
In 2010, according to the instruction of the sacred monastery, Geshe Kalsang Rabgyal assumed responsibility as executive director and spiritual teacher at Drepung Gomang Center for Engaging Compassion in Louisville, Kentucky, USA. Since his arrival at the center, while maintaining impartial practices of all Tibetan Buddhist traditions he has been continuously engaged in various spiritual activities. These include promoting understanding, harmony and unity among various religious traditions and inviting to the city and center great spiritual leaders, such as His Holiness the Dalai Lama in 2013.
About Drepung Gomang Center for Engaging Compassion
About the Host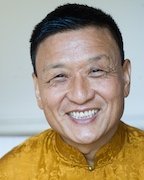 Geshe Tenzin Wangyal is an acclaimed author and a respected teacher of students worldwide. As the founder and spiritual director of Ligmincha International, he has established numerous centers and institutes of learning in the United States, Mexico, South America, Europe and India. Fluent in English, Rinpoche regularly offers online teachings in the form of live webcasts, online workshops and YouTube videos. He is renowned for his depth of wisdom; his clear, engaging teaching style; and his dedication to making the ancient Tibetan teachings highly accessible and relevant to the lives of Westerners.