Fear as a Doorway to Liberation, Part 3: The Tibetan Practice of Chöd. Practices led by nuns of Redna Menling Nunnery —Tsondru Zangmo, Samten Palzin, Tsultrim Zangmo, Namdak Lhamo and Tashi Tsomo — and by Dr. Yangdon Tenzin and Dolma Lhamo. Hosted by Tenzin Wangyal Rinpoche. View Part 1 | Part 2

View recording on Facebook (78 minutes) to join the chat.
According to the Tibetan tradition, our false sense of ego identity brings us into disharmony with the natural world and all sentient beings. The global challenges emerging during the worldwide COVID-19 pandemic can all be viewed as a karmic consequence of this disharmony. In a live Internet broadcast, teachers from various Tibetan traditions perform the Chöd practice, a meditation technique used to overcome fear and one's attachment to the ego identity.
Accompanied by melody, drumbeat and chanting, the practitioner visualizes cutting up his or her own body and offering it as a sacred feast to all beings, giving them everything they need to be perfectly satisfied. On both an individual and collective level, performing this practice helps us to cut the root of ignorance and the ego, to open our hearts, and to exercise generosity.
Resource: Chöd Practice in the Bön Tradition, by Alejandro Chaoul
The Chöd Practices
You are welcome to join the practitioners in reciting from these texts:
The Laughter of the Khandros: The Offering of the Body from The Great Treasury of the Ultra Profound Sky, performed by Bönpo nuns from Redna Menling Nunnery
View PDF
The Longchen Nyingthig Chod Practice: The Hearty Laughter of Dakini Chöd, performed by Dr. Yangdon Tenzin and Dolma Lhamo
View PDF
About the Practitioners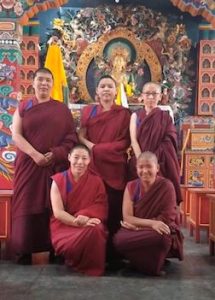 Tsondru Zangmo (top middle) is joined by fellow Bönpo nuns Samten Palzin, Tsultrim Zangmo, Namdak Lhamo, and Tashi Tsomo, all from Redna Menling Nunnery, near Menri Monastery in Northern India. Tsondru Zangmo was born to the Yangton family lineage at Sibchok Monastery of Tarap, Dolpo, Nepal. In 2006, she received her ordination at Menri Monastery from His Holiness the 33rd Menri Trizin, Lungtok Tenpai Nyima Rinpoche; and went on to study at Redna Menling. Since 2011 she has been fully engaged there in the Geshema curriculum and has reached the Vinaya class level. Besides studying philosophy, meditation, and other sciences, she served as a ritual chant leader (umdze) of the nunnery until 2018.
Video: nuns of Redna Lenling perform the Chöd practice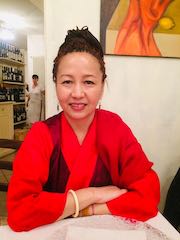 Dr. Tenzin Yangdon graduated in 1992 from Men-Tsee-Khang Tibetan Medical College in Dharamsala, India, where she studied traditional herbal medicine, acupuncture, and holistic healing. She practiced for many years under the guidance of the esteemed Dr. Kunga Gyurmey Nyerongsha, personal physician of His Holiness the 14th Dalai Lama. In 2001, she established the White Tara Tibetan Healing Clinic in the San Francisco Bay Area. Dr. Tenzin Yangdon is a dedicated practitioner of the Yuthok Nyingthig as well as the Zhije and Chöd lineages of Padampa Sangye and Machig Labdron. She travels worldwide seeing patients, teaching, and guiding retreats as a senior instructor for Sorig Khang International.
About White Tara Tibetan Healing Clinic
Dr. Tenzin Yangdon performs Chöd practice (video, 6 minutes)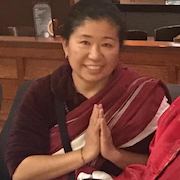 Dolma Lhamo is from Darjeeling, India. She met her guru, Lama Tsering Wangdu Rinpoche, in 1987 in Nepal. She received Shije Chod empowerment from him in 2009 and, with the kind help of her teacher Lama Kunsang Thondo Dorjee, established the Phadampa Chod Group in the Bay Area at the same time. Dolma works for a non-profit organization in San Francisco and lives with her mother and daughter in the East Bay.
About the Host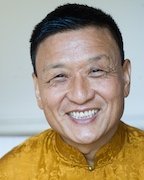 Geshe Tenzin Wangyal is an acclaimed author and a respected teacher of students worldwide. As the founder and spiritual director of Ligmincha International, he has established numerous centers and institutes of learning in the United States, Mexico, South America, Europe and India. Fluent in English, Rinpoche regularly offers online teachings in the form of live webcasts, online workshops and YouTube videos. He is renowned for his depth of wisdom; his clear, engaging teaching style; and his dedication to making the ancient Tibetan teachings highly accessible and relevant to the lives of Westerners.
More about Tenzin Wangyal Rinpoche