Fear as a Doorway to Liberation: The Tibetan Practice of Chöd, Part 1. Practices led by Anam Thubten, Ani Yangchen Ghlan, and Dr. Tenzin Yangdon; hosted by Tenzin Wangyal (107 minutes).

According to the Tibetan tradition, our false sense of ego identity brings us into disharmony with the natural world and all sentient beings. The global challenges emerging during the worldwide COVID-19 pandemic can all be viewed as a karmic consequence of this disharmony. In a live Internet broadcast, teachers from various Tibetan traditions perform the Chöd practice, a meditation technique used to overcome fear and one's attachment to the ego identity.
Accompanied by melody, drumbeat and chanting, the practitioner visualizes cutting up his or her own body and offering it as a sacred feast to all beings, giving them everything they need to be perfectly satisfied. On both an individual and collective level, performing this practice helps us to cut the root of ignorance and the ego, to open our hearts, and to exercise generosity.
The broadcast is in English with translation to multiple languages.
Access translations
Resource: Chöd Practice in the Bön Tradition, by Alejandro Chaoul
The Chöd Practices
You are welcome to join the teachers in reciting from these texts.
The Heart Essence of the Vast Expanse: The Roar of the Dakini's Laughter Chöd Practice, with Anam Thubten
View PDF*
The Longchen Nyingthig Chöd Practice: The Loud Laugh of the Dakini, with Ani Yangchen Ghlan
View PDF
From the Longchen Nyingthig: The Hearty Laughter of Dakini Chöd Practice, with Dr. Tenzin Yangdon
View PDF*
*Note that Anam Thubten and Dr. Tenzin Yangdon recite from the same text, even though the titles of their practices are different.
About the Teachers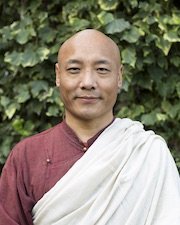 Anam Thubten grew up in Tibet and at an early age began to practice in the Nyingma lineage of Tibetan Buddhism. He currently resides in the San Francisco Bay Area. He is the founder and spiritual advisor of Dharmata Foundation and teaches widely in the United States, Europe, and Asia. He is the author of several books, including Embracing Each Moment; No Self, No Problem; The Magic of Awareness; and The Fragrance of Emptiness. Through sharing his wisdom and personal experience on the spiritual path, Anam Thubten brings alive the timeless teachings of Buddhism.
About Anam Thubten and Dharmata Foundation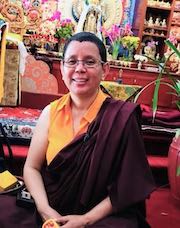 Ani Yangchen Ghlan was born in the Sindhupalchok District of Nepal in 1967 and ordained at age 12 by Tulku Urgyen Rinpoche. At Nagi Gompa, Nunnery of Tulku Urgyen Rinpoche, she received all her teachings directly from Tulku Urgyen Rinpoche and was one of the close disciples who received his daily teachings and meditation instructions. By age 16 she was appointed to serve as a chant master at Nagi Gumba. She was directed to enter retreat there by Tulku Urgyen Rinpoche after his passing in 1996. After completing her six years of retreat, in 2005 she started teaching in Nepal and then the United States. She has taught in Urgyen Samten Ling, Salt Lake City, where her teachings focus primarily on daily application of Buddhist practice and include Samatha, Vipassana, and Guru practice in daily matters. She speaks fluent English, Tibetan, Nepali, Tamang, and Hindi. Currently, she lives in Menlo Park, California, where she teaches Buddhist practices in the Buddhist Wisdom Foundation Bodhi Path.
Ani Yangchen Ghlan on Facebook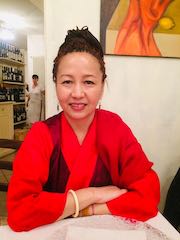 Dr. Tenzin Yangdon graduated in 1992 from Men-Tsee-Khang Tibetan Medical College in Dharamsala, India, where she studied traditional herbal medicine, acupuncture, and holistic healing. She practiced for many years under the guidance of the esteemed Dr. Kunga Gyurmey Nyerongsha, personal physician of His Holiness the 14th Dalai Lama; and in 2001 established the White Tara Tibetan Healing Clinic in the San Francisco Bay Area. Dr. Tenzin Yangdon is a dedicated practitioner of the Yuthok Nyingthig as well as the Zhije Chöd lineages of Padampa Sangye and Machig Labdron. She travels worldwide seeing patients, teaching, and guiding retreats as a senior instructor for Sorig Khang International.
About White Tara Tibetan Healing Clinic
Dr. Tenzin Yangdon performs Chöd practice (video, 6 minutes)
About the Host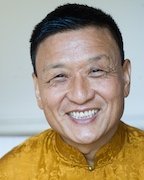 Geshe Tenzin Wangyal is an acclaimed author and a respected teacher of students worldwide. As the founder and spiritual director of Ligmincha International, he has established numerous centers and institutes of learning in the United States, Mexico, South America, Europe and India. Fluent in English, Rinpoche regularly offers online teachings in the form of live webcasts, online workshops and YouTube videos. He is renowned for his depth of wisdom; his clear, engaging teaching style; and his dedication to making the ancient Tibetan teachings highly accessible and relevant to the lives of Westerners.
More about Tenzin Wangyal Rinpoche