Fear as a Doorway to Liberation, Part 2: The Tibetan Practice of Chöd. Practices led by Tenzin Dolma, Tenzin Wangyal, and his wife, Tsering Wangmo. View Part 1

View recording on Facebook to join the chat (49 minutes)
Access translations
In a live Internet broadcast, Tenzin Wangyal Rinpoche introduces Tenzin Dolma, who performs the ancient Bön practice of chöd. Rinpoche and his wife, Tsering Wangmo, then perform the practice, and Rinpoche shares a few brief words of explanation.
According to the Tibetan tradition, our false sense of ego identity brings us into disharmony with the natural world and all sentient beings. The global challenges emerging during the worldwide COVID-19 pandemic can all be viewed as a karmic consequence of this disharmony. Chöd is a meditation technique used to overcome fear and one's attachment to the ego identity. Accompanied by melody, drumbeat and chanting, the practitioner visualizes cutting up his or her own body and offering it as a sacred feast to all beings, giving them everything they need to be perfectly satisfied. On both an individual and collective level, performing this practice helps us to cut the root of ignorance and the ego, to open our hearts, and to exercise generosity.
You are welcome to join the teachers in reciting from the text The Laughter of the Khandros: The Offering of the Body from the Great Treasury of the Ultra Profound Sky — View PDF
Resource: Chöd Practice in the Bön Tradition, by Alejandro Chaoul
About the Practitioners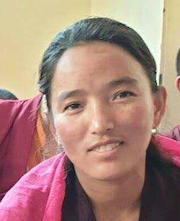 Tenzin Dolma was born in 1991 in the region of the Snow Land, Dolpo, Nepal, to her father, Chimed Tenzin, and her mother, Kunsang Lhamo. Her grandfather Tenzin Choekyab was a well-known practitioner known as Trephuk Kyabgyon. From early childhood until age 21, Tenzin Dolma unwillingly had to remain at home and engage in household activities without the opportunity to practice the Buddhadharma or receive general education. However, she learned the local Tibetan alphabet and basic reading with her friends while shepherding in the mountains. Later in life Tenzin Dolma had the opportunity to serve as an assistant to the Venerable Kyabje Margom Rinpoche for two winters. Under his guidance she learned religious rituals and basic reading of both uchen and umed, the two kinds of Tibetan scripts. Afterward she received direct transmission of the Tersar teachings from the well-known practitioner Ven. Gyelong Dhargye of the holy retreat center and monastery Pal Jangchub Gyephel Ling. She started the Tersar preliminary practice and completed 100,000 prostrations within seven months. In the same year, during Saga Dawa she completed a silent retreat of the Eight Pair Nyungney Karpo. Under the guidance of Ven. Kyabje Jigmed Trogyal Rinpoche, Tenzin Dolma received the teachings of three roots of Dudjom Tersar and completed the three-year, three-month retreat (Lo Sum Da Sum) at the holy Margom Cave together with the great practitioner Ven. Gyelong Dhargye and her dharma friends. She completed the white nyungney silent retreat three times. After her 25th birthday, in 2015 she started to serve her root guru, Ven. Kyabje Margom Rinpoche, in Kathmandu. Since then she has been trying her best to engage in the holy practice of Buddhadharma.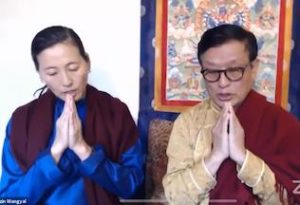 Tsering Wangmo Khymsar is a Bönpo by birth from the Shutsang bloodline. She attended school in India and continued her higher education in Charlottesville, Virginia, USA. Tsering grew up watching her mother and maternal uncle, a Bönpo lama, prepare and practice a variety of Tibetan Bön rituals. Her faith in these rituals grew through her experience in observing, learning, and assisting. From 2011-3 she applied this knowledge in assisting with Ligmincha International's first two-year Soul and Life-Force Retrieval Training Program. She hosts many visiting Bönpo and other monks, and assists them in performing rituals for Western students. In 2004 she married Tenzin Wangyal Rinpoche, founder and spiritual director of Ligmincha International. An important role in her life is raising their son, Senghe Wangyal.
Geshe Tenzin Wangyal is an acclaimed author and a respected teacher of students worldwide. As the founder and spiritual director of Ligmincha International, he has established numerous centers and institutes of learning in the United States, Mexico, South America, Europe and India. Fluent in English, Rinpoche regularly offers online teachings in the form of live webcasts, online workshops and YouTube videos. He is renowned for his depth of wisdom; his clear, engaging teaching style; and his dedication to making the ancient Tibetan teachings highly accessible and relevant to the lives of Westerners.
More about Tenzin Wangyal Rinpoche