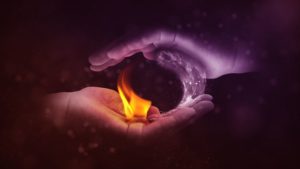 In this series of recorded Facebook Live broadcasts, Tenzin Wangyal Rinpoche uses simple, accessible terms to introduce students to the teachings of the Four Lamps. These teachings are taken from the 11th nail of "The Twenty-One Nails" of the Zhang Zhung Nyen Gyu, one of the most important dzogchen teachings of the Tibetan Bön tradition.
According to the teachings, our own eyes are considered a doorway to innate self-awareness. Through this doorway we are introduced to the four lamps, which together have the capability to clear all darkness. In each broadcast of the series, Tenzin Rinpoche explains one of the lamps and its intended experience, and guides a meditation practice that offers a glimpse of that experience.
These teachings are part of Tenzin Wangyal Rinpoche's ongoing series of Pith Instructions. In these teachings and guided meditations, Rinpoche draws from his own years of personal practice and reflection on the heart-essence of the teachings of dzogchen, or "great perfection." The practice of dzogchen can transport the practitioner directly into the nature of mind, our real essence.
Related: The Four Lamps Through the Eyes of Neuroscience: Investigating an ancient Tibetan dzogchen teaching from the perspectives of modern science and direct meditative experience. A conversation with neurobiologist, psychologist, and cognitive scientist David E. Presti. April 25, 2018, 46 minutes. View recording