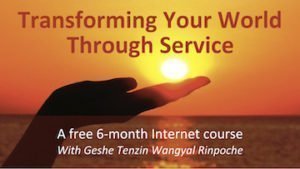 Jul 9, 2016
Serving others is fundamental to our personal spiritual development. Our commitment to making a difference for others and the world can fill our life with love and joy, but requires a strong foundation of wisdom and compassion. This course will help you become as effective as possible in your service to others. You will learn:
• The fundamentals of enlightened leadership.
• Meditation practices for cultivating wisdom and compassion.
• How to rise above your ego to connect with a sense of collective purpose.
• The best ways to inspire others to serve.
This six-part series of recorded live webcasts with Geshe Tenzin Wangyal Rinpoche was originally presented as a six-month course. However, there is no need to view previous videos in the series before watching any given video.
Part 1: The Value of Enlightened Leadership. February 13, 2016, 86 minutes
Part 2: Cultivating Wisdom. March 12, 2016, 90 minutes
Part 3: Generating Compassion. April 16, 2016, 96 minutes
Part 4: Service and Spirituality. May 14, 2016, 83 minutes
Part 5: Inspiring Others to Serve. June 11, 2016, 88 minutes
Part 6: Questions and Answers. July 9, 2016, 68 minutes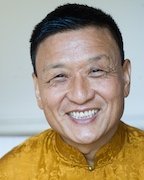 This series of recorded webcasts is also available as a free, self-paced online course through Ligmincha Learning that includes videos, MP3 audio recordings, and supplementary materials.
Learn more & register  /  Login to course site