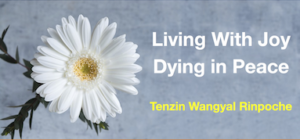 View recording (47 minutes)
This recorded live webcast is Part 6 of Living with Joy, Dying in Peace, a six-part series with Tenzin Wangyal Rinpoche.
The time may come when you feel called to support a friend or loved one through the struggles of aging, sickness, and death. According to the Tibetan traditions, to be of true service a helper needs three beneficial qualities: openness, awareness, and warmth. Geshe Tenzin Wangyal Rinpoche explains how to:
Open yourself more fully to your friend or loved one without being driven by fears or expectations.
Connect more fully with the person, rather than disengaging due to stress, emotion, or compassion fatigue.
Host the other person in the warmth of loving-kindness, to nurture a genuine sense of acceptance, comfort, protection, and trust.