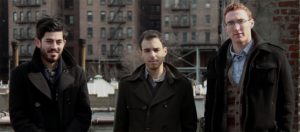 View recording (65 minutes)
A Conversation with Thomas Peisel, Jared Zeizel and Dylan Tuccillo, co-authors of A Field Guide to Lucid Dreaming. This is Session 3 of Tenzin Wangyal Rinpoche's series on Dream Yoga: Deepening Your Awareness Night and Day.
Tenzin Wangyal Rinpoche hosts a conversation with the co-authors of the bestselling A Field Guide to Lucid Dreaming: Mastering the Art of Oneironautics. Together, they discuss the basics of lucid dreaming — how to be aware that you're dreaming while you're dreaming — explain their favorite lucid dreaming techniques, and describe how they have personally benefited from this profound nighttime practice.
Thomas, Jared and Dylan are are award-winning writers and filmmakers based in Manhattan and Los Angeles, each with their own story. Thomas had his first, spontaneous lucid dream as a young child, and as a teenager he read everything he could about this unique experience. Today he studies under the 'Drukama' tradition, whose practitioners aim to attain a radiantly clear, realized mind through meditation and face-to-face transmissions with a teacher. Jared also learned about lucid dreaming during his teenage years. Through lucid dreaming he's bathed in the sunlight while flying, battled giant robot ninjas, conversed with the darker aspects of himself, and practiced controlling energy. He sees lucid dreaming as a chance to step through the mirror of dreaming, an opportunity to push the veil of our realityaside and glimpse at the nature of the universe. He also likes hanging out with baby tiger cubs.
Dylan was exposed to lucid dreaming by Thomas and Jared after meeting in college. He gawked at this amazing ability and soon found himself flying over the ocean, talking with guides and exploring Mexican villages. A Field Guide to Lucid Dreaming was a product of their friendship and conversations about lucid dreaming. Moved to share with others their techniques and experiences, the trio raised funds for their book through Kickstarter.com. Picked up by Workman Publishing, the book has since been translated into 11 languages, with more than 50,000 copies sold worldwide.
Learn more about the authors' book and projects on their Facebook page: https://www.facebook.com/fieldguidetoluciddreaming and website: http://www.dreamlabs.io/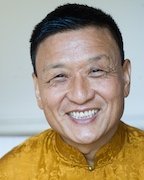 Geshe Tenzin Wangyal (host) is the author of the bestselling The Tibetan Yogas of Dream and Sleep and numerous other books, and a respected teacher of students worldwide. As the founder and spiritual director of Ligmincha International, he has established numerous centers and institutes of learning in the United States, Mexico, South America, Europe and India. Fluent in English, Rinpoche regularly offers online teachings in the form of live webcasts, online workshops and YouTube videos. He is renowned for his depth of wisdom; his clear, engaging teaching style; and his dedication to making the ancient Tibetan teachings highly accessible and relevant to the lives of Westerners.