May 30, 2022
A dialog with virtual reality (VR) designer Sid Desai, Dr. Linda Carlson, Tenzin Wangyal Rinpoche and host Dr. Alejandro Chaoul-Reich
As the digital technology of virtual reality (VR) becomes more available, carefully designed VR programs have the potential to change states of mind and attitude. The immersive nature of VR may be one of the solutions to support people in their meditation and mindfulness practices. It may help users to focus, or shift their attention, but there has been little research in the use of virtual reality as a therapeutic tool. Dr. Carlson and Sid Desai are pioneers in this area, and in a first-of-its-kind study they are assessing the results of a virtual reality guided mindfulness (VRGM) intervention program in adult cancer patients with chronic cancer-related pain. In this Science & Spirituality dialog, our esteemed panel discuss exciting possibilities of VR in integrative health care, its abilities to introduce users to expanded awareness, as well as its challenges and limitations.
View live on the Facebook page of Tenzin Wangyal Rinpoche to join the chat, or view here on this page. [Editor's note: Firefox browser had some difficulty earlier today with this video. Safari and Chrome seem to be fine.]
The CyberSangha broadcast is part of "Bring Body, Speech & Mind to Life," a free yearlong program of live teachings, practices, and science & spirituality dialogs. Learn more
About the Presenters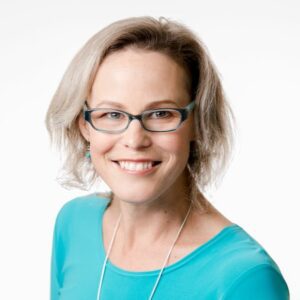 Linda E. Carlson, Ph.D., R. Psych, is a full professor in psychosocial oncology in the Department of Oncology, Cumming School of Medicine at the University of Calgary, and adjunct professor in the Department of Psychology. She is the director of research and works as a clinical psychologist at the Department of Psychosocial Resources at the Tom Baker Cancer Centre (TBCC), where she has worked since 1997. 

Dr. Carlson's research in psychosocial oncology, integrative oncology and mindfulness-based cancer recovery has been published in many high-impact journals and book chapters. She published a patient manual in 2011 with Michael Speca entitled: Mindfulness-Based Cancer Recovery: A Step-By-Step MBSR Approach to Help You Cope with Treatment and Reclaim Your Life, in addition to a professional training manual in 2009 (2nd Edition 2017) with Shauna Shapiro entitled The Art and Science of Mindfulness: Integrating Mindfulness Into Psychology and the Helping Professions. Dr. Carlson's work and research have garnered many awards. Learn more.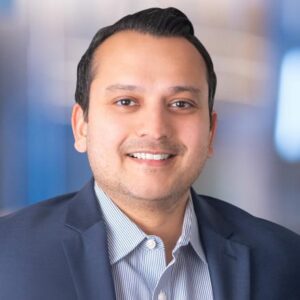 Sid Desai is the co-founder and CEO of Rocket VR Health, a start-up company that is developing immersive prescription digital therapeutics to address unmet mental health needs in cancer patients and survivors. His ideas take clinically validated treatments and transform them into on-demand virtual reality programs that provide psychosocial care for cancer patients.
Sid started Rocket VR Health after noticing the lack of engaging mind-body tools accessible and available to his dad who passed away due to cancer a few years ago. He is passionate about developing novel digital tools to help people augment their self-care practices using mindfulness-based frameworks. Rocket VR Health is partnered with multiple large cancer-focused health systems in the United States and is dedicated to conducting cutting-edge research in order to enable the broad adoption of virtual reality in cancer care. Learn more.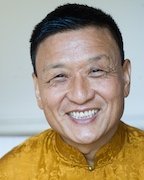 Geshe Tenzin Wangyal Rinpoche was born in India in 1961, following his parents' journey from Tibet to India in 1959. At age 11 he began formal studies as a monk at Menri Monastery near Dolanji, India, where he completed an 11-year course of traditional studies at the Bön Dialectic School. He was awarded his geshe degree in 1986. He now lives as a householder, and has been living and teaching in the West for more than 30 years. An accomplished scholar in all aspects of sutra, tantra and dzogchen, Rinpoche is an acclaimed author and a respected teacher of students worldwide. As the founder and spiritual director of Ligmincha International, Rinpoche has established numerous centers and institutes of learning in the United States, Mexico, South America, Europe and India. Fluent in English, he regularly offers online teachings in the form of live webcasts, online workshops and YouTube videos. He is renowned for his depth of wisdom; his clear, engaging teaching style; and his dedication to making the ancient Tibetan teachings highly accessible and relevant to the lives of Westerners. More about Tenzin Wangyal Rinpoche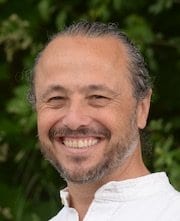 Alejandro Chaoul-Reich, Ph.D. (host) has studied in the Tibetan traditions since 1989, and for nearly 30 years in the Bön Tradition with Yongdzin Tenzin Namdak Rinpoche, His Holiness Lungtok Tenpai Nyima Rinpoche, and Tenzin Wangyal Rinpoche. He holds a Ph.D. in Tibetan religions from Rice University and is the director of the Mind Body Spirit Institute at the Jung Center of Houston. For the last 20 years he has been teaching and researching the benefits of Tibetan mind-body practices for people touched by cancer. Alejandro is a Contemplative Fellow at the Mind & Life Institute, and is the author of Chöd Practice in the Bön Tradition (Snow Lion, 2009), Tibetan Yoga for Health & Well-Being (Hay House, 2018), and Tibetan Yoga: Magical Movements of Body, Breath, and Mind (Wisdom Publications, 2021).