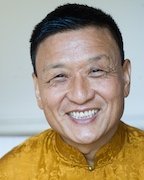 Jul 29, 2018
This is the third broadcast in a three-part series:
July 15, 2018: Finding Fullness in Emptiness
July 22, 2018: Discovering Light in the Darkness
July 29, 2018: Unification of the Three Spaces
In these teachings and associated guided meditations, Tenzin Wangyal Rinpoche helps you realize that even in feelings of emptiness one can discover a sense of fullness and completeness; even in the deepest darkness one can find the light of awareness; and within all levels of experience — no matter how painful or blocked — one can discover the ultimate refuge: the single vast space of wisdom from which love, joy, and other positive qualities naturally arise.
The teachings are part of Tenzin Wangyal Rinpoche's ongoing series of Pith Instructions. In these teachings and guided meditations, Rinpoche draws from his own years of personal practice and reflection on the heart-essence of the teachings of dzogchen, or "great perfection." The practice of dzogchen can transport the practitioner directly into the nature of mind, our real essence.