Sep 6, 2018
English audio translation
Access other translations
A Facebook Live conversation with esteemed teachers Sangmo Yangri, Ph.D. (Bön), Dolpo Tulku (Nyingma), Yongey Mingyur Rinpoche (Kagyu), Khenpo Dakpa Senge (Sakya), Jonang Gyaltsab Rinpoche (Jonang), and Geshe Rinchen Ngudup (Gelug). The broadcast begins with words of welcome from host Geshe Tenzin Wangyal and opening remarks by Chakung Jigme Wangdrak Rinpoche (IANTRT – The International Association of Non-Sectarian Tibetan Religious Tradition).

Many ancient Tibetan traditions refer to wisdom according to five characteristic aspects known as the "five wisdoms." For example, the Yungdrung Bön tradition refers to these five as the wisdom of emptiness, mirror-like wisdom, wisdom of equanimity, discriminating wisdom and all-accomplishing wisdom. In this conversation, knowledgeable representatives of diverse Tibetan Buddhist traditions are invited to present the teachings of the five wisdoms according to their own tradition's unique perspective. Transcending sectarian interests, each guest quotes from original texts and offer commentary and heart advice. In Tibetan with simultaneous translation into English and multiple other languages.
• Related conversation: "Common Ground Among Six Spiritual Traditions of Tibet," recorded January 3, 2018 (95 min.)
PARTICIPATING TEACHERS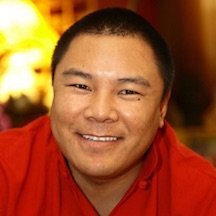 Chakung Jigme Wangdrak Rinpoche (IANTRT – The International Association of Non-Sectarian Tibetan Religious Tradition) was born in the Golok region of eastern Tibet as the fourth descendant of the great Tibetan master Dudjom Lingpa, one of the foremost spiritual masters of 19th century Tibet. At age 15 he was recognized by Choktrul Tamdrin Wangyal as the reincarnation of Rigzin Longsal Nyingpo. He attended Larung Gar Monastery in Tibet and studied Buddhist teachings in great depth, including sutra, tantra, and dzogchen. He received dzogchen pith instructions and empowerment from Khenchen Jigmed Phuntsok, who formally requested that Rinpoche teach within and preserve the lineage of Dudjom Lingpa. In addition to his training at Larung Gar, Rinpoche received teachings from a well-known female teacher and descendant of Dudjom Lingpa, Dakini Kunzang Wangmo, who also encouraged him to preserve and teach within the Dudjom lineage. Since 2011 Rinpoche has lived primarily in the San Francisco Bay area where he gives teachings to several Buddhist communities. Learn more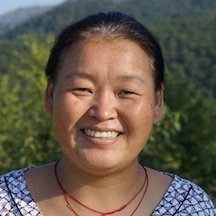 Dr. Sangmo Yangri (Bön) received her master's degree in Bön philosophy in 2007 from Central University of Tibetan Studies (CUTS) in Varanasi, India, where she wrote her thesis on "The 12 Interdependent Origination in Bön Tradition." She then completed her master of philosophy degree in Buddhist philosophy, writing a thesis on "The Lineage of Bhikshuni Ordination in Bön Tradition." In 2013 she was the second female student of the five Tibetan schools, and the first of the Bön tradition, to complete a Ph.D. at CUTS; her PhD. thesis dealt with the "Analysis of the Traditional Exposition of the Way in Which the World Came into Existence According to Bön Tradition and Buddhism." Since then several of her articles have been published in journals, and she has participated in several international Bön and Buddhism conferences. An acharya in Bön philosophy, Sangmo Yangro taught philosophy to nuns at Redna Menling Nunnery near Menri Monastery. In 2015 she was appointed by Geshe Tenzin Wangyal Rinpoche as a teacher at Lishu Institute near Dehradun, India. In charge of the curriculum of Lishu Institute, she has given lectures on the Nine Ways of Bön, the hagiography of Buddha Tonpa Sherab Miwo, and Tibetan language. Learn more / Sangmo Yangri, Ph.D., on Facebook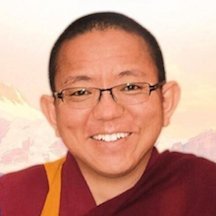 Dolpo Tulku Rinpoche (Nyingma), also known as Nyinchung Tulku Rinpoche, was born in 1982 into a lama family in Dho Tarap, Dolpo. At age 9 he became a monk at Kanying Shedrub Ling Monastery, Nepal, and was soon recognized by Dilgo Khyentse Rinpoche as the reincarnation of the third Dolpo Nyingchung Drubthob. He received his monastic education at Namdroling Monastery, India, under the guidance of Penor Rinpoche. In 1994 the Dolpo People's Welfare Association sponsored his grand enthronement at Shechen Monastery, Kathmandu, at which time he assumed responsibility for guiding the three main monasteries, three retreat centers and people of Dolpo. While studying tantric rites and rituals in the monastery, he assumed the responsibilities of a Vajracharya. In 1997 at 15 years old, he entered Nyingma Ngagyur Institute, the prestigious monastic college of Namdroling Monastery, where for 10 years he studied, debated and researched all the sutric and tantric teachings of Lord Buddha under more than 40 scholars and masters including His Holiness Penor Rinpoche. He also studied Tibetan literature, poetry, history and religious history. As an eighth-year student he was appointed junior teacher and a member of the Rigdzod Editorial Committee. Penor Rinpoche instructed him in the practices of the Namchö Cycle, which combines the practices of Mahamudra and Dzogchen. Dolpo Tulku Rinpoche now teaches the instructions according to his students' abilities. He finished his advanced Buddhist studies in 2007, after which he was appointed as a full-fledged teacher at Ngagyur Nyingma Institute. Since then he has reached a status equivalent to a university professor. In 2008 he returned to Dolpo for the first time in 17 years to visit his monasteries and be enthroned. He was accompanied by a German film team, which produced an award-winning documentary "Dolpo Tulku — Return to the Himalayas." Since then, Rinpoche has traveled extensively throughout Asia and Europe to teach Buddhist philosophy, give public talks on mind training, conduct seminars on stress and burnout, and raise awareness about the situation in Dolpo. Since 2007 he has joined Dolpo residents in implementing projects. The Dolpo Tulku Charitable Foundation was registered with the Nepali government in 2010, with the primary goal of promoting the protection of the environment, improving health care, and effectively combining modern and traditional education. Learn more / Dolpo Tulku Rinpoche on Facebook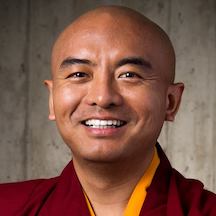 Yongey Mingyur Rinpoche (Kagyu) was born in 1975 in the Himalayan border regions between Tibet and Nepal and spent many years of his childhood in strict retreat. At age 17 he was invited to serve as a teacher at his monastery's three-year retreat center. After completing the traditional Buddhist training in philosophy and psychology, he founded a monastic college at his home monastery in northern India. Mingyur Rinpoche has had a lifelong interest in Western science and psychology. In 2002, he was invited to the Waisman Laboratory for Brain Imaging and Behavior at the University of Wisconsin-Madison, where Richard Davidson and other scientists examined the effects of meditation on the brains of advanced meditators. The results of this groundbreaking research were reported worldwide. In early June 2011 Mingyur Rinpoche walked out of his monastery in Bodhgaya, India, to begin a "wandering retreat" through the Himalayas and the plains of India, which lasted four-and-a-half years. When not attending to the monasteries under his care in India and Nepal, Rinpoche spends time each year traveling and teaching worldwide at his centers on five continents. Learn more / Yongey Mingyur Rinpoche on Facebook
Khenpo Dakpa Senge (Sakya) was ordained in childhood as a monk at the residence monastery of the great Pal Sakya. He has received major initiations and sacred teachings of the Great Five Founding Masters of Pal Sakya from His Holiness the Sakya Gongma Trichen Rinpoche and other esteemed teachers. At age 20 he received full ordination in the Bhikshu Sangha, and was later admitted to Sakya College where he studied the Six Volumes of Fundamental Buddhist Scriptures and 18 Major Volumes of Buddhist Philosophy. There, he received the acharya degree and was appointed as philosophy teacher. In 2001 he became a lecturer of Sakya Sampradaya at the Central Institute of Higher Tibetan Studies in Sarnath, Varanasi, India, where he continues to teach philosophy.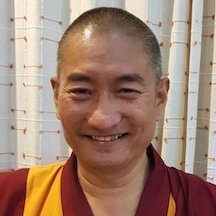 Jonang Gyaltsab Rinpoche (Jonang). Learn more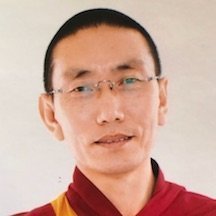 Geshe Rinchen Ngudup (Gelug) was born in Tibet in 1965. In 1984 he received ordination from Khen Rinpoche Jetsun Losang Jamyang, followed in 1990 by full ordination in India from His Holiness the Dalai Lama. Since completing the highest degree of Geshe Lharampa in 1998, he has written about 15 books in Tibetan and engaged in social work. Following the advice of His Holiness the Dalai Lama, Geshe Rinchen Ngudup started supporting and teaching Buddhist philosophy to nuns, and he continues to help nuns achieve their geshe degrees. He currently serves in the United States as an advisor for His Holiness the 17th Karmapa Orgyen Trinley Dorje.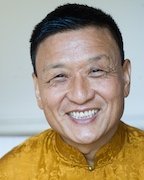 Geshe Tenzin Wangyal (host) is an acclaimed author and a respected teacher of students worldwide. As the founder and spiritual director of Ligmincha International, he has established numerous centers and institutes of learning in the United States, Mexico, South America, Europe and India. Fluent in English, Rinpoche regularly offers online teachings in the form of live webcasts, online workshops and YouTube videos. He is renowned for his depth of wisdom; his clear, engaging teaching style; and his dedication to making the ancient Tibetan teachings highly accessible and relevant to the lives of Westerners.