Jun 20, 2023
A live online conversation with Roshi Joan Halifax, Tenzin Wangyal Rinpoche, and host Alejandro Chaoul-Reich
To be truly generous of spirit, we must loosen our attachments — not only to what we are giving, but also to our expectations for an outcome. What is the true meaning of generosity? How can we know if it's spontaneous or effortful? What are the benefits of giving from the heart? Are there healthier forms of attachment or detachment? Our esteemed panelists discuss the how's and why's of living a compassionate, generous life, through to life's end.
View live on Facebook to join the chat.
Related: Archbishop Desmond Tutu and H.H. the Dalai Lama offer a eulogy to Nelson Mandala (video 30 minutes)
This dialog is part of Month 4 of a yearlong program, and is open to all. Related offerings this month include:
Thursday, June 1, 2023, 12 noon New York time: "Embracing Attachment, Cultivating Generosity," a teaching with Tenzin Wangyal Rinpoche. View recording
Saturday, June 3, 10 a.m. New York time: 24-Hour Full Moon Practice, "Embracing Attachment, Cultivating Generosity." Opens with a meditation guided by Lourdes Hinojosa. Registration closed.
Begins Wednesday, June 14: "Embracing Attachment, Cultivating Generosity," a free, three-week interactive online course. Three Wednesdays at 12 noon New York time with Aleezé Sattar Moss, via Zoom. Class size is limited. Learn more & register
About the Presenters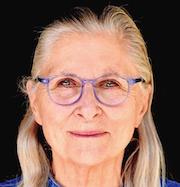 Roshi Joan Halifax, Ph.D., is founder and head teacher of Upaya Zen Center in Santa Fe, N.M.; a social activist; an author; and a pioneer in the field of end-of-life care. She has received many awards and honors from institutions around the world for her work as a social and environmental activist and in the end-of-life care field. From 1972-75 she worked with psychiatrist Stanislav Grof at the Maryland Psychiatric Research Center with dying cancer patients. She has continued to work with dying people and their families, and to teach health care professionals and family caregivers the psycho-social, ethical and spiritual aspects of care of the dying. She is director of the Project on Being with Dying and Founder of the Upaya Prison Project, which develops programs on meditation for prisoners. She is also founder of the Nomads Clinic in Nepal. Her books include The Human Encounter with Death (with Stanislav Grof); The Fruitful Darkness, A Journey Through Buddhist Practice and Tribal Wisdom; Being with Dying: Cultivating Compassion and Fearlessness in the Presence of Death; and Standing at the Edge: Finding Freedom Where Fear and Courage Meet. She has been involved with the Mind and Life Institute since its inception and is founder of the Varela International Symposium.
More about Roshi Joan Halifax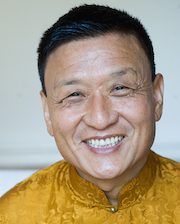 Geshe Tenzin Wangyal Rinpoche is an acclaimed author and a respected teacher of students worldwide. He completed an 11-year course of traditional studies at the Bön Dialectic School at Menri Monastery near Dolanji, India, and was awarded his geshe degree in 1986. He now lives as a householder, and has been living and teaching in the West for more than 30 years. As the founder and spiritual director of Ligmincha International, he has established numerous centers and institutes of learning in the United States, Mexico, South America, Europe and India. He regularly offers online teachings in the form of live webcasts, online workshops and YouTube videos, and is renowned for his clear, engaging teaching style and his dedication to making the ancient Tibetan teachings highly accessible and relevant to the lives of Westerners. His many books include Awakening the Luminous Mind: Tibetan Meditation for Inner Peace and Joy; The True Source of Healing: How the Ancient Tibetan Practice of Soul Retrieval Can Transform and Enrich Your Life; and Spontaneous Creativity: Meditations for Manifesting Your Positive Qualities.
More about Tenzin Wangyal Rinpoche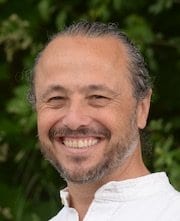 Alejandro Chaoul-Reich, Ph.D. (host) serves as director of research for Ligmincha International. He has studied in the Tibetan traditions since 1989, and for nearly 30 years in the Bön Tradition with Yongdzin Tenzin Namdak Rinpoche, His Holiness Lungtok Tenpai Nyima Rinpoche, and Tenzin Wangyal Rinpoche. He holds a Ph.D. in Tibetan religions from Rice University and is the director of the Mind Body Spirit Institute at the Jung Center of Houston. For the last 20 years he has been teaching and researching the benefits of Tibetan mind-body practices for people touched by cancer. He is a Contemplative Fellow at the Mind & Life Institute, and is the author of Chöd Practice in the Bön Tradition (Snow Lion, 2009), Tibetan Yoga for Health & Well-Being (Hay House, 2018), and Tibetan Yoga: Magical Movements of Body, Breath, and Mind (Wisdom Publications, 2021).