Jul 4, 2023
A live online conversation with Marina and Bob Felix, Larissa Scherbatow, Marion Chaygneaud-Dupuy, Erick Rinner, and Tenzin Wangyal Rinpoche.

Our panelists share with host Tenzin Wangyal Rinpoche two very personal stories of organ donation as an expression of selfless love and generosity. Last February Marion Chaygneaud-Dupuy of Lhasa, China, offered one of her kidneys to her partner, Erick Rinner. Larissa Scherbatow of North Carolina donated a kidney in 2013 to her daughter, Marina Felix. Marina's husband, Bob, joins us in this inspiring discussion of uncertainty, challenge, giving, and acceptance.
View on Facebook to join the chat.
Related:
Thursday, June 1, 12 noon New York time: "Embracing Attachment, Cultivating Generosity," a teaching with Tenzin Wangyal Rinpoche.
Saturday, June 3, 10 a.m. New York time: 24-Hour Full Moon Practice, "Embracing Attachment, Cultivating Generosity." Opens with a meditation guided by Lourdes Hinojosa.
About the Panelists
Larissa Scherbatow, also known as Princess Alexis Scherbatow, is a journalist, author, poet, and painter. From an early age she had an interest in the psychology of creativity and innovation, and after receiving her undergraduate degree in engineering from the Ural University of the Means of Communication, she pursued graduate studies in inventions and patenting processes. For years she worked with new inventors, helping them to harness and develop their creative talents and educating them in competitive analysis and international patenting processes. After serving for 13 years as director of the School of Technological Innovations and Patents, she found a new passion and career in journalism and writing. In 2005 she published a biography with her late husband, Prince Alexis Scherbatow. When she learned that her daughter, Marina, needed a kidney transplant, she offered her own kidney. She is now retired and lives in North Carolina with Marina and her son-in-law, Bob, and continues to live a healthy and productive life.
Marina Felix was born in Russia and educated at the Ural Pedagogical University in Yekaterinburg, at the New York Institute of Finance, and at the Institute of Directors in London. She holds an MBA from Fordham University in New York. Her varied career included teaching business English to young students in Russia and working on Wall Street. Marina was an interactive business development manager at American Express in New York when she learned that her kidney function was sub-optimal. Although doctors were initially optimistic, both her kidneys eventually failed for unclear reasons in 2012. Her mother, Larissa, offered to donate a kidney, and Marina had a successful kidney transplant in 2013.
Marion Chaygneaud-Dupuy has lived in the Himalayas for 22 years. After four years of practicing meditation near a monastery at Darjeeling, India, she studied Tibetan Buddhism in Lhasa, China. A Himalayan mountain guide, she was the first European woman to reach the summit of Mount Everest three times. She has led Clean Everest expeditions with large groups of Tibetan mountain guides, setting up a waste management model to maintain the water purity of Himalayan glaciers. Eighteen years ago she set up a project on the Tibetan nomadic plateau to restore the cultural values of Tibetan nomads as guardians of the environment. She now resides in Lhasa and manages a network of Tibetan travel agencies. Her company Global Nomad certifies and promotes sustainable travel in partnership with dozens of international tour operators. Since 2002, with her NGO Highland Initiatives, she has led more than 50 local projects to restore the Tibetan ecosystem. Last February she offered one of her kidneys to her partner, Erick Rinner.
Erick Rinner lives between Switzerland and his native country, Luxembourg. He has 33 years of experience in private equity and corporate governance. He is chairman of his own investment firm, Milestone Investisseurs in Luxembourg, and serves as a partner of Impact Expansion, a social and environmental fund. Erick's core skills include initiating change at the board level, negotiating, and advising management teams on value creation and leadership. He sits on the board of private companies and trusts in Luxembourg, London, Paris, and Geneva. Erick has had a daily mindfulness practice for 17 years and is regularly in silent retreat. He is executive-in-residence at IMD in Lausanne, Switzerland; and teaches mind training to corporate leaders and at the University of Strasbourg In France in the Medicine, Meditation and Neurosciences master's degree program. He received his MBA from Columbia Business School in New York and is an executive coach and mindfulness teacher (trainer at Bangor University, UK). He has been studying Buddhist psychology and philosophy for 16 years and practicing dharma since 2006, including with Tenzin Wangyal Rinpoche since 2016.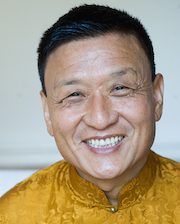 Geshe Tenzin Wangyal Rinpoche (host) is an acclaimed author and a respected teacher of students worldwide. He completed an 11-year course of traditional studies at the Bön Dialectic School at Menri Monastery near Dolanji, India, and was awarded his geshe degree in 1986. He now lives as a householder, and has been living and teaching in the West for more than 30 years. As the founder and spiritual director of Ligmincha International, he has established numerous centers and institutes of learning in the United States, Mexico, South America, Europe and India. He regularly offers online teachings in the form of live webcasts, online workshops and YouTube videos, and is renowned for his clear, engaging teaching style and his dedication to making the ancient Tibetan teachings highly accessible and relevant to the lives of Westerners. His many books include Awakening the Luminous Mind: Tibetan Meditation for Inner Peace and Joy and The True Source of Healing: How the Ancient Tibetan Practice of Soul Retrieval Can Transform and Enrich Your Life (Hay House, 2015).
More about Tenzin Wangyal Rinpoche