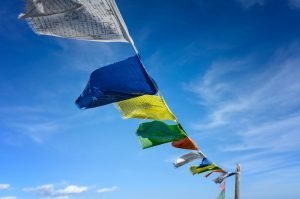 View live
Listen to English translation
Access translations in other languages
Tips for participating
In this special Facebook Live broadcast, two of the best-known living poets of Tibet — Tsering Kyi and Jangbu — are joined by Tenzin Wangyal in reciting from their bodies of work. The broadcast will be in Tibetan with simultaneous translation to English. While listening to the English translation, it's recommended that you view the Facebook Live event in a separate tab with the sound turned down.
Tsering Kyi will read four of her poems, entitled "རྒྱང་རིང་། (Far Away)," "མེ་ལྕེ་དང་རྣམ་ཤེས་འཐབ་པར་རྗེས་དྲན་ཞུ། (The Recollection of the Battle Between the Flame and Consciousness)," "གྱེས་རྗེས་ན་ཟུག་བྱུང་། (The agony Occurred After  the Separation)," and "རྣམ་ཤེས་ཀྱི་རྨུ་ཐག (The Sacred String of Consciousness)." From her perspective as a Tibetan woman, she will speak about her experiences in exile.
Jangbu (Dorje Tsering Chenaktsang) will read his poem "དྲན་པ་ཆུ་མིག་ཡང་སོས། (The Reawakening of the Fountain of Memory)" and share from his experience as a Tibetan and refugee who now divides his life between France and Tibet.
Tenzin Wangyal will read his recently published poem "ང་སུ་རེད། (Who Am I?)." He will discuss how poetry can be a sacred expression of spiritual wisdom gained through meditation practice.
In this reading of contemporary poetry, the three presenters will tap into deep feelings, emotions, and other experiences, and will relay awareness of those experiences to the reader or listener. Together, they will discuss how poetry contributes to societal transformation.
About the Presenters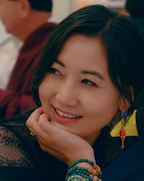 Tsering Kyi is a journalist, blogger, and poet. Born and raised in Amdo, eastern Tibet, Tsering Kyi has studied in Tibet, India, England, and Germany. While in India she became Miss Tibet in the early 2000s and later traveled to many countries to speak on the life experiences of Tibetan women and children. Afterward in Europe, Tsering Kyi studied English, Chinese, and journalism. For the past 15 years she has written poetry, musical lyrics, and articles in Tibetan, and published three books of poetry. Reflecting the high regard in Tibet for her poetry, her collected works have also been published. Tsering Kyi has been blogging longer than any other female Tibetan and has a readership of more than 1 million. She was was the sole woman in the well-known writers group Mirab Sumpa in Tibet. Her work reaches a wide audience of mainstream readers, including pastoralists, monks, nuns, students, and educators. She is active with several writers associations and works as a broadcast journalist for television and radio.
ཚེ་རིང་སྐྱིད། སྙན་ངག་འབྲི་དུས་ཆུ་མིག་ཅེས་ཀྱང་སྤྱད་མྱོང་།
སྤྱི་ལོ་༡༩༨༣ ལོར་བོད་མདོ་སྨད་ཨ་མཆོག་ས་ཆར་སྐྱེས་ཤིང་བོད་དུ་མཐོ་འབྲིང་བར་སློབ་གྲྭ་རིམ་པས་འགྲིམས་རྗེས་༡༩༩༩ལོ་རྒྱ་གར་ལ་ཡོང་ནས་བོད་ཁྱིམ་སུ་ཇ་སློབ་གྲྭ་སོགས་སློབ་གཉེར་བྱས་མྱོང་། སྤྱི་ལོ་༡༩༩༨ལོ་ནས་སྙན་ངག་ཐོག་མ་འབྲི་མགོ་བཙུགས་ཤིང་། བོད་ཀྱི་དམངས་ཁྲོད་ངག་རྒྱུན་སྙན་ངག་གིས་བག་ཆགས་ཆེན་པོ་བཞག
ཚེ་རིང་སྐྱིད་ཀྱིས་འདས་པའི་ལོ་ངོ་ཉི་ཤུའི་སྐྱབས་བཅོལ་བའི་མི་ཚེ་གཞི་ལ་བཞག་པའི་རྩོམ་རིག་གི་དེབ་གསུམ་དང་གློག་རྡུལ་འཕྲུལ་དེབ་གཅིག་བཅས་དཔར་བསྐྲུན་བྱེད་མྱོང་ལ། བོད་ནང་དུ་ཁོང་གི་སྙན་ངག་ལ་དགའ་མཁན་ཚོས་སྙན་ངག་ཕྱོགས་སྒྲིག་གིས་བོད་ནང་དུ་ཆུ་མིག་གི་བཞུར་རྒྱུན་དང་དབྱངས་ཅན་མའི་ཟླ་མཚན་གཉིས་དཔར་བསྐྲུན་བྱེད་མྱོང་།  སྤྱི་ལོ་༢༠༠༥ལོ་ནས་བོད་ཕྱི་ནང་གི་དྲ་ལམ་དུ་རྩོམ་ཡིག་བརྒྱ་ཕྲག་བརྒལ་བ་སྤེལ་ཏེ་གནད་དོན་མང་པོའི་སྒང་གླེང་གཞི་འཁྲུག་ཆ་དོད་པོ་བཟོ་མཁན་ཞིག་ཡིན་པ་མ་ཟད་སྤྱི་ལོ་༢༠༠༧ལོར་བོད་ནང་གི་ཟིན་བྲིས་ཀློག་མཁན་མང་ཤོས་ཀྱི་ཟིན་བདག་ཅིག་ཡིན།
༢༠༠༩ལོ་ནས་བཟུང་ཨ་རིའི་རླུང་འཕྲིན་ཁང་དུ་བརྙན་འཕྲིན་དང་རླུང་འཕྲིན་གྱི་གཙོ་སྐྱོང་བ་དང་གསར་འགོད་པའི་ཕྱག་ལས་གནང་བཞིན་ཡོད།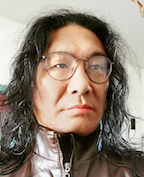 Dorje Tsering Chenaktsang Dorje, commonly known by his pen name, Jangbu, was born in a nomadic community in northeastern Tibet and graduated from the Northwest University for Nationalities (Xibei minzu daxue) in Lanzhou. He then worked as a teacher at a Tibetan middle school before becoming editor of the Tibetan-language literary journal Tibetan Art and Literature in Lhasa. From 2002 to 2008 he taught Tibetan at the National Institute for Oriental Languages and Civilizations (INALCO) in Paris.
Jangbu is one of the best-known poets in contemporary Tibet and has won numerous literary awards at both regional levels (Qinghai province and Tibet Autonomous) and national levels. His works, which have been translated into many languages, include The Nine-Eyed Agate (2010), a collection of poetry and stories translated into English by Heather Stoddard; and Le Hachoir invisible (2012), a collection of poems translated into French by Françoise Robin et Élise Mandine. Jangbu is the founder and organizer of Waterfall of Youth (2003 until present), the first and only independent Tibetan poetry festival in Tibet.
Jangbu also has directed documentary films about contemporary Tibet including Tantric Yogi (2005), Kokonor (2005), Ani Lachem (2005), Yartsa Rinpoche (2014), and his work-in-progress Voices of the Stone. He is the father of two children and divides his life between France and Tibet.
ལྗང་བུ། རུས་མིང་དངོས་ལྕེ་ནག་ཚང་།རྡོ་རྗེ་ཚེ་རིང་།
ཕྱི་ལོ ༡༩༦༣ལོར་བོད་མདོ་སྨད་རྨ་ཆུའི་བཞུར་རྒྱུད་བོད་སོག་འདྲེས་མའི་ཡུལ་སོག་པོ་མདའ་བཅུ་གཅིག་ཟེར་པ་དེའི་ལུང་ཁུག་ཅིག་གི་བྲག་མཆོད་རྟེན་གྱི་ཞོལ་སྐུ་ཁང་བྱ་བའི་གནས་དེ་རུ་སྐྱེས།    ཁྱོན་མིང་སྲིང་བཅུ་ཡོད་་པ་ལས་གསུམ་པ་དེ་ཡིན་འདུག
ཕ་འཇམ་དབྱངས་ཐུབ་བསྟན་དང་མ་ཨ་དགེ་སྒྲོན་དཀར་སྐྱིད་གཉི་ག་བོད་ཀྱི་རུས་རྒྱུད་དང་སོག་པོའི་ཁྲག་རྒྱུན་ཡོད་པ་རེ་ཡིན་འདུག
ལོ ༧བར་དུ་འབྲོག་པ་ཤ་སྟག་གི་འཚོ་བར་རོལ། དེ་ནས་ལོ ༢༥ བར་བོད་དང་རྒྱ་ནག་ནས་སློབ་གྲྭ་འགྲིམ།  ལུང་ཁུག་ཅིག་གི་སློབ་གྲྭའི་དགེ་རྒན་ལོ་གསུམ་དང་ལྷ་ས་རུ་སྔ་རྗེས་ལོ་བཅུ་བཞིའི་རིང་་སྲིད་གཞུང་གི་དྲུང་ཡིག་དང་རྒྱ་ཡིག་ཚགས་པར་གཅིག་དང་བོད་ཡིག་དུས་དེབ་གཉིས་ནང་ཡིག་རྫི་ལྟ་བུའི་རྩོམ་སྒྲིག་པ་བཅས་བྱས་མྱོང་། ཧྥ་རན་སིའི་སློབ་གྲྭ་ཆེན་མོ་ཞིག་ལ་ཀ་ཁའི་དགེ་རྒན་ལོ་དྲུག་བྱས། སྙན་ངག་གིས་མཚོན་དེབ་ཁ་ཤས་སྐད་རིགས་དུ་མའི་ནང་པར་སྐྲུན་བྱས་མྱོང་། གློག་བརྙན་ཁ་ཤས་བཟོས་མྱོང་། སྙན་ངག་དུས་ཆེན་ཞིག་གཉེར་མྱོང་། གློག་བརྙན་འཁྲབ་གཞུང་ཁ་ཤས་བྲིས་མྱོང་། རིག་གཞུང་ཁྱབ་སྤེལ་དང་། འཁོར་ཡུག་སྲུང་སྐྱོབས། བྱིས་པའི་སློབ་གསོའི་སྐོར་ལ་དང་བླང་གི་ལས་ཀ་མང་ཙམ་གཉེར་མྱོང་། ཕ་རན་སིའི་རྒྱལ་ཁབ་ཏུ་བུ་གཅིག་དང་བུ་མོ་གཅིག་ཡོད་པར་། བོད་དང་ཡུ་རོབ་བར་དུ་འགྲུལ་སྐྱོད་ཀྱི་རྣམ་པས་འཚོ་བ་རོལ་གྱིན་ཡོད།།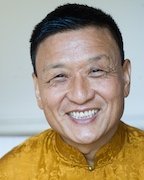 Tenzin Wangyal is a teacher, acclaimed author, poet, and meditation master in the Tibetan Bön Buddhist tradition. As the founder and spiritual director of Ligmincha International, he has established numerous centers and institutes of learning in the United States, Mexico, South America, Europe and India. Fluent in English, Rinpoche regularly offers online teachings in the form of live webcasts, online workshops and YouTube videos. He is renowned for his depth of wisdom; his clear, engaging teaching style; and his dedication to making the ancient Tibetan teachings highly accessible and relevant to the lives of Westerners. Learn more