Jun 28, 2022
Understanding the rhythms of nature, the organic components that give life and the nature of behaviors that constitute life—this knowledge can inform simple daily habits that support body, mind, and spirit. In this free live Science & Spirituality dialog, Mauricio Obón Dent, M.D., and Menpa (Tibetan doctor) Phuntsog Wangmo will discuss their understanding about health and longevity with Tenzin Wangyal Rinpoche and host Alejandro Chaoul-Reich, Ph.D.
View on Facebook to join the chat.
Does the value of exercise grow when we do it mindfully, purposefully? Is medicine more powerful when combined with mantra recitation and visualization? How can a lifestyle that prioritizes good nutrition, healthy sleep habits, and regular exercise prevent disease and enhance spiritual practice? Join us for this engaging dialog for answers and inspiration.
The CyberSangha broadcast is part of "Bring Body, Speech & Mind to Life," a free yearlong program of live teachings, practices, and science & spirituality dialogs. Learn more
About the Presenters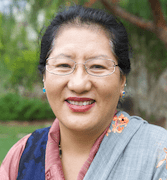 Menpa Phuntsog Wangmo is a doctor of traditional Tibetan medicine with over 30 years of experience in clinical practice as well as teaching. She received her advanced degree from the Lhasa University School of Traditional Medicine. Menpa Wangmo is the director of the Shang Shung Institute School of Tibetan Medicine. She was instrumental in the founding and development of this school and its programs. Menpa Wangmo organized and instructed its four-year Menpa training program, the first full-length, traditional Tibetan medicine training program offered in the Western World. Menpa Wangmo teaches Tibetan medicine programs around the world, from the East and West Coasts of the United States to Italy, Spain, Russia and more.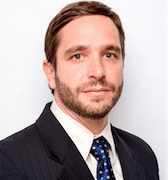 Mauricio Obón Dent, M.D. is Cardiology Director at Hospital Metropolitan in San José, Costa Rica. He was trained at the prestigious Texas Heart Institute, Baylor College of Medicine from 2006 – 2013. Dr. Obón is board certified in internal medicine, clinical echocardiography, and cardiology, as well as interventional cardiology, performing minimally invasive procedures in heart valve repair, heart attack treatment, and repair of cardiac pathologies. A fellow of the American College of Cardiology, his main research focus is structural heart disease, primary prevention, and longevity. Dr. Obón currently lives in Costa Rica with his wife and three children.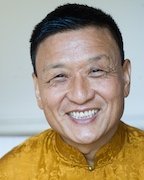 Geshe Tenzin Wangyal Rinpoche was born in India in 1961, following his parents' journey from Tibet to India in 1959. At age 11 he began formal studies as a monk at Menri Monastery near Dolanji, India, where he completed an 11-year course of traditional studies at the Bön Dialectic School. He was awarded his geshe degree in 1986. He now lives as a householder, and has been living and teaching in the West for more than 30 years. An accomplished scholar in all aspects of sutra, tantra and dzogchen, Rinpoche is an acclaimed author and a respected teacher of students worldwide. As the founder and spiritual director of Ligmincha International, he has established numerous centers and institutes of learning in the United States, Mexico, South America, Europe and India. Fluent in English, Rinpoche regularly offers online teachings in the form of live webcasts, online workshops and YouTube videos. He is renowned for his depth of wisdom; his clear, engaging teaching style; and his dedication to making the ancient Tibetan teachings highly accessible and relevant to the lives of Westerners.
More about Tenzin Wangyal Rinpoche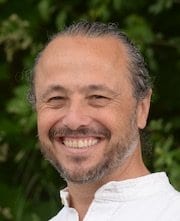 Alejandro Chaoul-Reich, Ph.D. (host) has studied in the Tibetan traditions since 1989, and for nearly 30 years in the Bön Tradition with Yongdzin Tenzin Namdak Rinpoche, His Holiness Lungtok Tenpai Nyima Rinpoche, and Tenzin Wangyal Rinpoche. He holds a Ph.D. in Tibetan religions from Rice University and is the director of the Mind Body Spirit Institute at the Jung Center of Houston. For the last 20 years he has been teaching and researching the benefits of Tibetan mind-body practices for people touched by cancer. Alejandro is a Contemplative Fellow at the Mind & Life Institute, and is the author of Chöd Practice in the Bön Tradition (Snow Lion, 2009), Tibetan Yoga for Health & Well-Being (Hay House, 2018), and Tibetan Yoga: Magical Movements of Body, Breath, and Mind (Wisdom Publications, 2021).