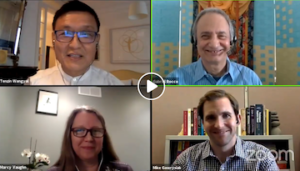 Tenzin Wangyal Rinpoche hosts a conversation with Michael Gawrysiak, assistant professor, Department of Psychology, West Chester University of Pennsylvania; and 3 Doors senior teachers Marcy Vaughn and Gabriel Rocco
What is the science behind how meditation and mindfulness meditation techniques can help to reduce suffering and increase well-being? In his research, Dr. Gawrysiak examines clinical interventions that serve to reduce the risk of relapse in drug and alcohol use, using functional MRI to assess brain changes associated with these interventions. He also collaborated with Marcy Vaughn and Gabriel Rocco to collect longitudinal data from a cohort of individuals who participated in a nine-month meditation program of The 3 Doors Compassion Project. In the conversation you will learn about the first insights gained from this research project, which were to be presented in more detail in October 23–24, 2017, at the Science and Spirituality Conference at Ligmincha International's Serenity Ridge Retreat Center in central Virginia.
Michael Gawrysiak, PhD, is an assistant professor at West Chester University of Pennsylvania, Department of Psychology; and at the University of Pennsylvania. He coordinates research focusing on post-traumatic stress disorder (PTSD) and substance use disorders and uses functional brain imaging to understand how the underlying neural substrates of these phenomena change in response to mindfulness-based interventions. A licensed clinical psychologist, in his practice Michael draws from evidenced-based approaches and psychodynamic theory to treat various psychiatric disorders. He also teaches mindfulness in group and individual formats to those with PTSD and depression, as well as those who are in recovery from addiction.
Gabriel Rocco has studied and practiced under the guidance of Tenzin Wangyal Rinpoche for 20 years. Gabriel earned his master's degree in contemplative psychotherapy from Naropa University. His personal meditation practice benefits from intimate study with leading meditation masters, spiritual teachers, and healing professionals from diverse healing traditions. Gabriel is a senior instructor for the University of Pennsylvania's Penn Program for Mindfulness, where he teaches mindfulness-based stress-management programs and advanced classes in meditation and leads group retreats. Gabriel is a senior teacher in the 3 Doors Academy. For 20 years he also served as the mind body specialist at The Wellness Community of Philadelphia, where he facilitated programs to support cancer patients and caregivers through the integration of mind, body, and spirit.
Marcy Vaughn has practiced Tibetan Buddhism for more than 40 years. Marcy earned her master's degree in contemplative psychotherapy from Naropa University, where she also taught and performed in a dance ensemble. She has a private therapy practice in Bryn Mawr, Pennsylvania, and is co-founder with Gabriel Rocco of Contemplative Arts Studio. A senior student of Tenzin Wangyal Rinpoche, Marcy works in close collaboration with Rinpoche and has edited his books Tibetan Sound Healing, Awakening the Sacred Body, and Awakening the Luminous Mind. She is a senior teacher in The 3 Doors Academy, and teaches throughout the United States, Mexico, and Europe on behalf of Ligmincha International.