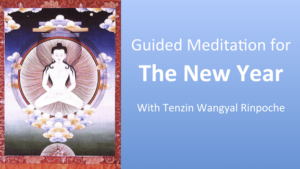 Jan 1, 2016
View full recording (41-minutes)
Introductory video, "For My Teachers" (3 minutes)
Teaching segment only (11 minutes)
Broadcast live from the Winter Retreat at Ligmincha International at Serenity Ridge.
Through a simple but powerful 30-minute meditation, Tenzin Wangyal Rinpoche helps you clear the negative karma of the old year and enter the New Year with more openness, awareness, and joyful spontaneity. Rinpoche guides you in resting deeply in the spaciousness, luminosity, and warmth of your true nature. In a brief teaching that follows, he discusses the importance of letting go of what interferes in your life and enhancing what enriches your life, while being strong and brave enough to confront your obstacles and seek help from both external and internal sources.
Streamed live on January 1, 2016, from the Experiential Transmission teachings at the annual winter dzogchen retreat at Serenity Ridge Retreat Center, central Virginia, USA.