December 14, 2021
A live online conversation with Wim Hof, Elissa Epel, Geshe Tenzin Wangyal, and host Alejandro Chaoul-Reich
Tibetan tummo is an ancient method for cultivating inner fire — the joy, bliss, and warmth of our being. We all naturally have these qualities within us, but they are often unreliably available because we have not learned to access them or to stabilize our attention in open awareness. With practice, tummo is said to produce the "inner fire of realization."
How is this inner fire produced? Does it manifest as actual heat?  How does this inner fire heal?
To find answers to these and other questions, Tenzin Wangyal Rinpoche, who among many Tibetan practices also teaches tummo, Alejandro Chaoul-Reich and their guests discuss these and other practices that generate inner heat. Dr. Epel shares some of her ongoing research into the Wim Hof Method and breathing practices. Wim Hof enthusiastically describes how breathing practices, in cold environments, improve the body's ability to handle stress and slow aging.
View live on the Facebook page of Tenzin Wangyal Rinpoche to join the chat. If the "play" button above doesn't work, try using a different browser. For example, Google Chrome often works when Firefox or Safari doesn't.
The CyberSangha broadcast was part of "A Year of Body, Speech, and Mind," a free 2021 online program of live teachings, practices, and science & spirituality dialogs. Learn more
About the Presenters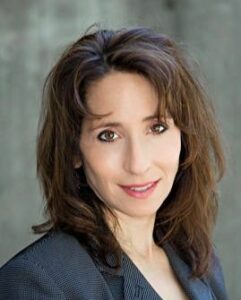 Elissa Epel, Ph.D., is a best-selling author and professor in the Department of Psychiatry at the University of California, San Francisco. She studies how chronic stress can impact biological aging, including the telomere/telomerase system,* and how mindfulness interventions may buffer stress effects and promote psychological and physiological thriving. Epel is a member of the National Academy of Medicine, co-chair of the steering council for the Mind and Life Institute, and president elect of the Academy of Behavioral Medicine Research. She co-wrote the New York Times best seller The Telomere Effect: The New Science of Living Younger Longer on the science of cell aging with practical daily tips to slow the process. Epel has won many awards for her research. Currently, she is testing short-term interventions to improve stress resilience and the body's ability to maintain homeostasis in order to slow aging. In addition to doing research, she enjoys leading meditation retreats with her colleagues.
* Telomeres and telomerase, the enzyme that adds nucleotides to telomere ends, have been linked to human aging and aging-related diseases.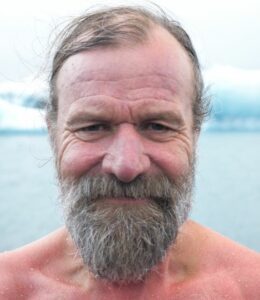 Wim Hof, also known as The Iceman, is a Dutch motivational speaker and extreme athlete noted for his ability to withstand freezing temperatures. He has set Guinness World Records for swimming under ice and prolonged full-body contact with ice. He previously held the record for a barefoot half marathon on ice and snow. He attributes these feats to his extensive training, using "cold, hard nature" as his teacher, enabling him to control his breathing, heart rate and blood circulation and to withstand extreme temperatures. Convinced that everyone can tap into their inner potential as he did, Hof developed his Wim Hof Method to teach people of all ages to control their bodies and minds. The method involves a combination of frequent cold exposure, breathing techniques, yoga, and meditation.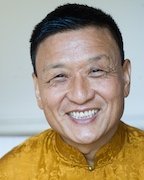 Geshe Tenzin Wangyal Rinpoche was born in India in 1961, following his parents' journey from Tibet to India in 1959. At age 11 he began formal studies as a monk at Menri Monastery near Dolanji, India, where he completed an 11-year course of traditional studies at the Bön Dialectic School. He was awarded his geshe degree in 1986. He now lives as a householder, and has been living and teaching in the West for more than 30 years. An accomplished scholar in all aspects of sutra, tantra and dzogchen, Rinpoche is an acclaimed author and a respected teacher of students worldwide. As the founder and spiritual director of Ligmincha International, he has established numerous centers and institutes of learning in the United States, Mexico, South America, Europe and India. Fluent in English, Rinpoche regularly offers online teachings in the form of live webcasts, online workshops and YouTube videos. He is renowned for his depth of wisdom; his clear, engaging teaching style; and his dedication to making the ancient Tibetan teachings highly accessible and relevant to the lives of Westerners.
More about Tenzin Wangyal Rinpoche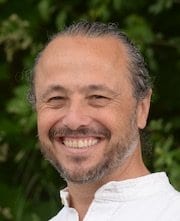 Alejandro Chaoul-Reich, Ph.D. (host) has studied in the Tibetan traditions since 1989, and for nearly 30 years in the Bön Tradition with Yongdzin Tenzin Namdak Rinpoche, His Holiness Lungtok Tenpai Nyima Rinpoche, and Tenzin Wangyal Rinpoche. He holds a Ph.D. in Tibetan religions from Rice University and is the director of the Mind Body Spirit Institute at the Jung Center of Houston. For the last 20 years he has been teaching and researching the benefits of Tibetan mind-body practices for people touched by cancer. Alejandro is a Contemplative Fellow at the Mind & Life Institute, and is the author of Chöd Practice in the Bön Tradition (Snow Lion, 2009), Tibetan Yoga for Health & Well-Being (Hay House, 2018), and Tibetan Yoga: Magical Movements of Body, Breath, and Mind (Wisdom Publications, November 23, 2021).