Apr 6, 2021
A live online discussion with Eve Ekman, Elisa Kozasa, Geshe Tenzin Wangyal, and host Alejandro Chaoul-Reich

Meditation can contribute to our emotional health. At the same time, a level of emotional balance is necessary for us to move past our worries and agitation and rest deeply in meditation. In the third of a series of 2021 Science & Spirituality Dialogs, invited panelists explore the close relationship between emotional balance and meditation, and discuss how psychological interventions can complement meditation practice. The dialog is part of a free yearlong online program related to body, speech, and mind. Learn more
View recording on Facebook to join the chat
About the Presenters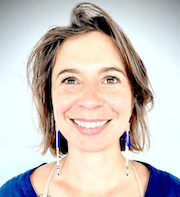 Eve Ekman Ph.D., MSW, is a senior fellow at the University of California Berkeley Greater Good Science Center, director of Cultivating Emotional Balance Training Program and volunteer clinical faculty at the UCSF Department of Pediatrics. Dr. Ekman draws from an interdisciplinary set of skills and knowledge from her professional work and personal practice in clinical social work, integrative medicine, emotional awareness, contemplative science, and meditation.
More about Eve Ekman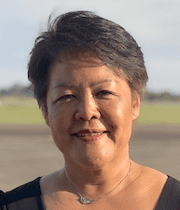 Dr. Elisa Harumi Kozasa is a researcher in the field of neuroscience and behavior and has been studying neurophysiology and behavioral mechanisms through neuroimaging, neuropsychological tests and gait. A pioneer in Latin America in the research of contemplative neuroscience, she has published articles about the effects of meditation, yoga, and tai chi in peer reviewed international journals. Dr. Kozasa has been training instructors in the Cultivating Emotional Balance program and has a post-graduate degree in business administration. She is the first Latin American fellow of the Mind and Life Institute, an honorary member of the Brazilian Air Force, and a member of the scientific advisory board of the Center for Contemplative Research.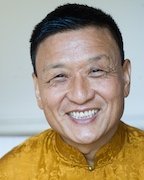 Geshe Tenzin Wangyal Rinpoche was born in India in 1961, following his parents' journey from Tibet to India in 1959. At age 11 he began formal studies as a monk at Menri Monastery near Dolanji, India, where he completed an 11-year course of traditional studies at the Bön Dialectic School. He was awarded his geshe degree in 1986. He now lives as a householder, and has been living and teaching in the West for more than 30 years. An accomplished scholar in all aspects of sutra, tantra and dzogchen, Rinpoche is an acclaimed author and a respected teacher of students worldwide. As the founder and spiritual director of Ligmincha International, he has established numerous centers and institutes of learning in the United States, Mexico, South America, Europe and India. Fluent in English, Rinpoche regularly offers online teachings in the form of live webcasts, online workshops and YouTube videos. He is renowned for his depth of wisdom; his clear, engaging teaching style; and his dedication to making the ancient Tibetan teachings highly accessible and relevant to the lives of Westerners.
More about Tenzin Wangyal Rinpoche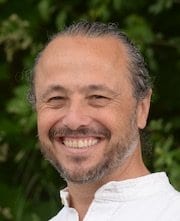 Alejandro Chaoul-Reich, Ph.D. (host) has studied in the Tibetan traditions since 1989, and for nearly 30 years in the Bön Tradition with Yongdzin Tenzin Namdak Rinpoche, His Holiness Lungtok Tenpai Nyima Rinpoche, and Tenzin Wangyal Rinpoche. He holds a Ph.D. in Tibetan religions from Rice University and is the director of the Mind Body Spirit Institute at the Jung Center of Houston. For the last 20 years he has been teaching and researching the benefits of Tibetan mind-body practices for people touched by cancer. Alejandro is a Contemplative Fellow at the Mind & Life Institute, and is the author of Chöd Practice in the Bön Tradition (Snow Lion, 2009) and Tibetan Yoga for Health & Well-Being (Hay House, 2018).