Jan 22, 2023
Join us for the public premiere of a recorded science/spirituality dialog featuring Menpa Phuntsok Wangmo, Dr. Sat Bir Singh Khalsa, Geshe Tenzin Wangyal, and moderator Alejandro Chaoul. The talk was first presented to an in-person audience at the Serenity Ridge Retreat Center (plus private online audience) during Serenity Ridge Dialogues, October 2022.
View on Facebook to join the chat.
Certain breathing practices, such as the tsa lung exercises of the Tibetan Bön Buddhist tradition, can serve as a powerful tool for balancing the elements and winds of one's body, speech and mind. Tibetan doctor and dzogchen practitioner Menpa Phuntsok Wangmo discusses the five elements from the perspective of Tibetan medicine, as well as the importance of breathing practice in balancing the elements and healing illness. Breath researcher and Kundalini practitioner Dr. Sat-Bir Khalsa Singh describes much of the research done on breathing practices and their health benefits. Dzogchen master Geshe Tenzin Wangyal describes the five elements from the perspective of the dzogchen tradition of Tibetan Bön Buddhism and responds to related research into the Tibetan breathing practices of tsa lung and trul khor (Tibetan yoga).
This dialog is a must watch for pranayama and tsa lung practitioners, as well as for those interested in the correlations between breathing practice and the five elements and their potential health benefits. It is presented here as part of the Month of Speech in the yearlong program "Bring Body, Speech & Mind to Life." Learn more about the yearlong program.
Related:
• Upcoming: Serenity Ridge Dialogues, fall 2023, on the topic of dreams and dream yoga. More information to be announced at ligmincha.org.
About the Presenters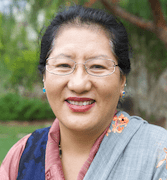 Menpa Phuntsog Wangmo is a doctor of traditional Tibetan medicine with more than 30 years of experience in clinical practice as well as teaching. She received her advanced degree from the Lhasa University School of Traditional Medicine. Menpa Wangmo is the director of the Shang Shung Institute School of Tibetan Medicine. She was instrumental in the founding and development of this school and its programs. Menpa Wangmo organized and instructed its four-year Menpa training program, the first full-length, traditional Tibetan medicine training program offered in the Western World. Menpa Wangmo teaches Tibetan medicine programs around the world, from the East and West Coasts of the United States to Italy, Spain, Russia and more.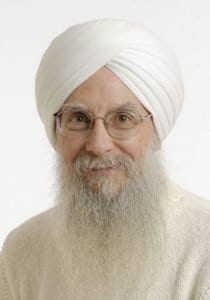 Sat Bir Singh Khalsa, Ph.D., is the director of yoga research for the Yoga Alliance and the Kundalini Research Institute, a research associate at the Benson Henry Institute for Mind Body Medicine, a research affiliate of the Osher Center for Integrative Medicine, and an associate professor of medicine at Harvard Medical School at Brigham and Women's Hospital in Boston. He has conducted research on yoga and yoga therapy since 2001 and has been a practitioner/instructor of kundalini yoga since 1973. His research has evaluated yoga interventions for insomnia, chronic stress, and anxiety-related disorders, including in workplace and public-school settings. He works with the International Association of Yoga Therapists to promote yoga research as scientific director for the annual Symposium on Yoga Research and as editor-in-chief of the International Journal of Yoga Therapy. He is medical editor of the Harvard Medical School Special Report An Introduction to Yoga and chief editor of the medical textbook The Principles and Practice of Yoga in Health Care.
More about Sat Bir Singh Khalsa, Ph.D.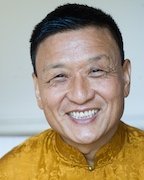 Geshe Tenzin Wangyal Rinpoche was born in India in 1961, following his parents' journey from Tibet to India in 1959. At age 11 he began formal studies as a monk at Menri Monastery near Dolanji, India, where he completed an 11-year course of traditional studies at the Bön Dialectic School. He was awarded his geshe degree in 1986. He now lives as a householder, and has been living and teaching in the West for more than 30 years. An accomplished scholar in all aspects of sutra, tantra and dzogchen, Rinpoche is an acclaimed author and a respected teacher of students worldwide. As the founder and spiritual director of Ligmincha International, he has established numerous centers and institutes of learning in the United States, Mexico, South America, Europe and India. Fluent in English, Rinpoche regularly offers online teachings in the form of live webcasts, online workshops and YouTube videos. He is renowned for his depth of wisdom; his clear, engaging teaching style; and his dedication to making the ancient Tibetan teachings highly accessible and relevant to the lives of Westerners.
More about Tenzin Wangyal Rinpoche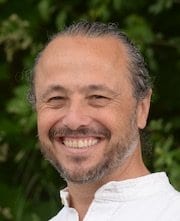 Alejandro Chaoul-Reich, Ph.D. (moderator) serves as director of research for Ligmincha International. He has studied in the Tibetan traditions since 1989, and for nearly 30 years in the Bön Tradition with Yongdzin Tenzin Namdak Rinpoche, His Holiness Lungtok Tenpai Nyima Rinpoche, and Tenzin Wangyal Rinpoche. He holds a Ph.D. in Tibetan religions from Rice University and is the director of the Mind Body Spirit Institute at the Jung Center of Houston. For the last 20 years he has been teaching and researching the benefits of Tibetan mind-body practices for people touched by cancer. He is a Contemplative Fellow at the Mind & Life Institute, and is the author of Chöd Practice in the Bön Tradition (Snow Lion, 2009), Tibetan Yoga for Health & Well-Being (Hay House, 2018), and Tibetan Yoga: Magical Movements of Body, Breath, and Mind (Wisdom Publications, 2021).