Accomplished artists from around the world perform Tibetan dance and music in this special CyberSangha concert. Featured performers are Giulia Yangcen Mimaciren, Salima Celeri, Tenzin Choegyal, Tsering Dorjee (Bawa) and Tsering Wangmo. Hosted by Tenzin Wangyal Rinpoche. The broadcast is in English with translation to multiple languages.
View on the Facebook (62 minutes) to join the chat
About the Performers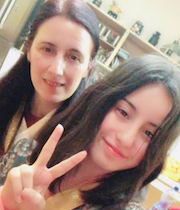 Giulia Yangcen Mimaciren was born in Tuscany, Italy, to a Tibetan father and Italian mother. She grew up in the Dzogchen community of Merigar, founded by Chögyal Namkhai Norbu Rinpoche. Now 19, from a young age Giulia has followed Tibetan culture, especially traditional Tibetan teachings. "Dancing helps my health and my mind," she writes. Since 2011, when Chögyal Namkhai Norbu Rinpoche created the Khaita "Tibetan Modern Dances" project, Giulia's love for Tibetan dance has grown immensely. Her greatest wish, she explains, is to engender as much interest as possible in the hearts of others for the precious Tibetan culture; and Tibetan dance is her medium for doing so. Giulia will perform together with her mother, Salima Celeri (left). The two have had performed together in many different countries.
On YouTube: Tibetan Dance — Thoghang Bodkyi Gorshay by Tsering Gyurmey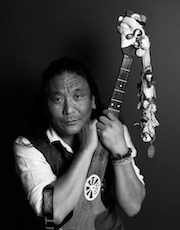 Tenzin Choegyal is a Tibetan artist, composer, activist, musical director, and cultural ambassador. Born to a family of Tibetan nomads, Tenzin Choegyal was forced into exile in India when his family fled repression in Tibet. As a child, Tenzin would listen to his mother singing in the nomadic style, and he attributes much of his passion for that genre to her. Tenzin channels the wisdom and traditions of his ancestors through his songs. In addition to engaging in acclaimed solo performances of soaring vocals and circling rhythms, Tenzin avidly collaborates with musicians from diverse cultures, traditions and genres. He embraces opportunities to take his music to uncharted territory both in the studio and on stage. Tenzin has had six independent albums released. He recently collaborated with Philip Glass on the breathtaking score for the film "The Last Dalai Lama?". Tenzin's latest album was released in 2019 by the Smithsonian Institution: Songs from the Bardo, with Laurie Anderson — an interpretation of The Tibetan Book of the Dead.
More about Tenzin Choegyal |  Festival of Tibet 2020 | Tenzin Choegyal on Facebook | on Instagram
On YouTube: Tibetan Nomadic Soul: Tenzin Choegyal & Metta String Ensemble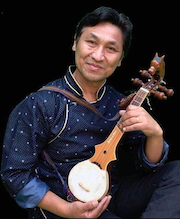 Tsering Dorjee (Bawa) is a producer, actor, dancer, musician, and award-winning artist. He has studied and engaged in Tibetan performing arts for close to three decades and earned his master's degree in Tibetan performing arts from TIPA, Dharamsala, India. To complement his work in traditional performing arts, he trained in acting in France, the Netherlands, India, and (in the USA) at the Barbizon International School of Acting and Modeling, San Francisco. He has worked in several notable films, including the Oscar-nominated movie Himalaya (1999). Tsering has collaborated with many notable composers, including Michael Becker, with whom he created the original soundtrack for the 2009 Emmy Award-winning documentary The Woman of Tibet – A Quiet Revolution. Especially during his stay at TIPA, Tsering has had the privilege of learning from legendary Tibetan artists of our time and has toured many parts of the world to perform. Tsering appeared in the off-Broadway show The Oldest Boy, by Sarah Ruhl, at the Lincoln Center Theater, New York, for the show's world premiere. He also worked with Marin Theater Company and San Diego Repertory Theatre in California, and with Jungle Theater, Minneapolis. He recently played the lead in an independently produced feature film, "My Son Tenzin," [https://vimeo.com/265074654] by Seykhar Films, available on www.vimeo.com. Tsering is also a regular guest on major Tibetan TV and radio stations, social media, and other platforms, where he discusses Tibetan arts and culture.
More about Tsering Dorjee (Bawa)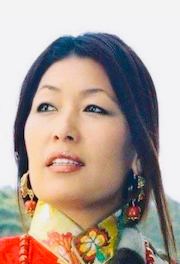 Tsering Wangmo is a master singer and dancer. A graduate of the Tibetan Institute of Performing Arts in Dharamsala, India, she is co-founder and artistic director of Chaksam-pa, a well-known Tibetan dance and opera company in California. The venues of her vocal and dance performances worldwide include Lincoln Center in New York and the Warner Theatre in Washington, D.C. She has made numerous recordings. She recently published Kongpo Ama Bhalu, a Tibetan song book whose lyrics she learned from her elders and which had never before been documented. A private chef for the past 15 years, Tsering Wangmo opened "Lhasa Moon," the first Tibetan restaurant in San Francisco in the Marina District, and has published a Lhasa Moon Cookbook.
On YouTube: Popular Song From Eastern Tibet. Live Concert in Oakland CA | Kham Lu by Tsering Wangmo and Raman Maharjan | "SA Le Ö Mantra" | Women of Tibet: Artist Satho Tsering Wangmo on Kongpo folk song and dance, 'Ama Bhalu' | How To Cook Tibetan Cuisine with Tsering Wangmo – #3 | Aki's Tibetan Cooking

About the Host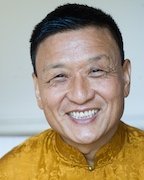 Geshe Tenzin Wangyal is an acclaimed author and a respected teacher of students worldwide. As the founder and spiritual director of Ligmincha International, he has established numerous centers and institutes of learning in the United States, Mexico, South America, Europe and India. Fluent in English, Rinpoche regularly offers online teachings in the form of live webcasts, online workshops and YouTube videos. He is renowned for his depth of wisdom; his clear, engaging teaching style; and his dedication to making the ancient Tibetan teachings highly accessible and relevant to the lives of Westerners.
More about Tenzin Wangyal Rinpoche