August 10, 2021
When coupled with awareness, physical movement can serve as an entryway to the joyful spontaneity of our true nature. In a live online conversation, Doctors Laura Schmalzl and Marieke van Vugt discuss with Tibetan meditation master Tenzin Wangyal Rinpoche how yoga, contemplative dance, and other forms of meditative movement can unlock the potential for healing in ourselves and others. Hosted by Alejandro Chaoul-Reich, the CyberSangha broadcast is part of "A Year of Body, Speech, and Mind," a free 2021 online program of live teachings, practices, and science & spirituality dialogs. Read more
View on Facebook to join the chat
About the Presenters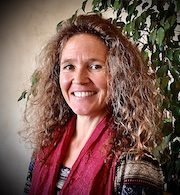 Laura Schmalzl, Ph.D., is a clinical neuropsychologist and cognitive neuroscientist, as well as a longtime yoga practitioner and certified yoga instructor. Born and raised in Italy, Laura obtained a B.A. in psychology from the University of Padua. She then completed a masters in clinical neuropsychology, a Ph.D. in cognitive science, and post-doctoral training in cognitive neuroscience at Macquarie University in Sydney, Australia. This was followed by further post-doctoral training and research at the Karolinska Institute in Stockholm, Sweden; and the University of California San Diego; as well as an associate professorship at Southern California University of Health Sciences. Laura's work over the past decade has largely been motivated by her interest in combining her clinical and academic training with her passion for practicing and teaching yoga. From a research perspective, her interests lie in furthering an understanding of the mechanisms through which yoga-based practices impact body awareness, emotional self-regulation, and cognitive functioning. In educational settings, Laura implemented yoga as an experiential learning tool within the neuroscience curriculum for medical students. She also served for six years as editor-in-chief of the International Journal of Yoga Therapy, and has been part of the contemplative faculty for the Mind & Life Institute for the past three years. Laura is now based in Santa Barbara, where she is currently completing her yoga therapy certification.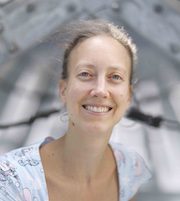 Marieke van Vugt, Ph.D., is an assistant professor in the Bernoulli Institute for Mathematics, Computer Science and Artificial Intelligence at the University of Groningen, the Netherlands. Marieke's research aims to understand how, when, and why we mind-wander. She is also fascinated by how this mind-wandering process becomes adaptive — as in the case of creativity — versus maladaptive, as in depressive rumination. Her multi-modal approach combines computational modeling, scalp and intracranial EEG, behavioral studies, and eye-tracking. In addition, she is interested in how meditation practice affects our cognitive system, and she investigates meditation in both Western practitioners and Tibetan monks. Marieke became a member of the Young Academy of Groningen in 2017. She has been a practicing Tibetan Buddhist since 1998, and is a semi-professional classical ballet dancer. She very much enjoys projects where science, art, and contemplation meet.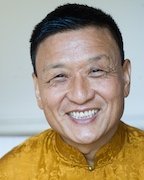 Geshe Tenzin Wangyal Rinpoche was born in India in 1961, following his parents' journey from Tibet to India in 1959. At age 11 he began formal studies as a monk at Menri Monastery near Dolanji, India, where he completed an 11-year course of traditional studies at the Bön Dialectic School. He was awarded his geshe degree in 1986. He now lives as a householder, and has been living and teaching in the West for more than 30 years. An accomplished scholar in all aspects of sutra, tantra and dzogchen, Rinpoche is an acclaimed author and a respected teacher of students worldwide. As the founder and spiritual director of Ligmincha International, he has established numerous centers and institutes of learning in the United States, Mexico, South America, Europe and India. Fluent in English, Rinpoche regularly offers online teachings in the form of live webcasts, online workshops and YouTube videos. He is renowned for his depth of wisdom; his clear, engaging teaching style; and his dedication to making the ancient Tibetan teachings highly accessible and relevant to the lives of Westerners.
More about Tenzin Wangyal Rinpoche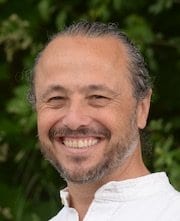 Alejandro Chaoul-Reich, Ph.D. (host) has studied in the Tibetan traditions since 1989, and for nearly 30 years in the Bön Tradition with Yongdzin Tenzin Namdak Rinpoche, His Holiness Lungtok Tenpai Nyima Rinpoche, and Tenzin Wangyal Rinpoche. He holds a Ph.D. in Tibetan religions from Rice University and is the director of the Mind Body Spirit Institute at the Jung Center of Houston. For the last 20 years he has been teaching and researching the benefits of Tibetan mind-body practices for people touched by cancer. Alejandro is a Contemplative Fellow at the Mind & Life Institute, and is the author of Chöd Practice in the Bön Tradition (Snow Lion, 2009), Tibetan Yoga for Health & Well-Being (Hay House, 2018), and the forthcoming Tibetan Yoga: Magical Movements of Body, Breath, and Mind (Wisdom Publications, November 23, 2021).