September 14, 2021
A conversation with Richard Freeman, Mary Taylor, Paul Dallaghan, Tenzin Wangyal Rinpoche, and host Alejandro Chaoul-Reich
For millennia, yogis have made the breath an integral part of spiritual practice. Even the simple, intimate practice of breath awareness can help us to quickly silence thoughts, calm nerves, soothe anger, and dispel fear. In a live CyberSangha broadcast, invited presenters look at pranayama and other breath practices from Ashtanga, Tibetan, and other forms of yoga. The group will also share scientific interpretations of what goes on as we bring light to our sacred bodies.
The CyberSangha broadcast is part of "A Year of Body, Speech, and Mind," a free 2021 online program of live teachings, practices, and science & spirituality dialogs. Learn more
About the Presenters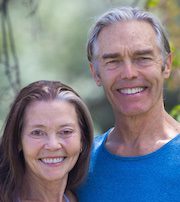 Richard Freeman has been a student of yoga since 1968. He spent nine years in Asia studying yoga asana, pranayama, Sufism, Sanskrit language, and Indian philosophy. He has studied asana with B.K.S. Iyengar and K. Pattabhi Jois and has worked with numerous Buddhist teachers to draw insights into the interfacing of Buddhism and yoga as a reflection of life. Richard's metaphorical, humorous teaching style appeals to students of many backgrounds and nationalities.
Mary Taylor began studying yoga in 1971 and her studies have inspired a deep interest into how yoga asana, meditation, and the interfacing of yoga with Buddhism combine to support us through complex times. Her main asana practice is in the internal forms of the ashtanga vinyasa tradition. She is part of the core faculty of the Being with Dying program at Upaya Zen Center and the UZIT training program, both of which apply contemplative practices to improve and sustain wellness within medical settings.
Together they teach workshops and trainings online and throughout the world. Richard's instructional videos and CDs on yoga set the gold standard for approaching yoga as a contemplative art. They've authored and co-authored numerous books, most recently When Love Comes to Light: Ancient Wisdom from the Bhagavad Gīta for Modern Life (Shambhala Publications, 2021).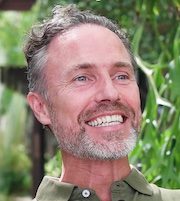 Paul Dallaghan will soon conclude a doctorate program (Emory University) and concomitant research into the proven effects of yoga and pranayama practices on stress and aging in a modern world. He was acknowledged by his teacher and lineage (Kuvalayananda) in India as a Teacher-of-teachers and a Master of Breath, identified to carry the Pranayama tradition.
Paul established the Centered Yoga program in New York City In 1999. In 2003, he began Samahita Retreat in Thailand, a place of practice, learning, and being. Paul is uniquely positioned to share his experiential teachings as well as his science-based research on effects of these practices. His sincere and ongoing role as teacher, writer, and researcher allows him to share his experienced and authentic understanding of these areas in a world full of confusion and conflicting messages, both off and online.
Paul's current emphasis in yogic asana is on lower impact dynamics and restful approaches that support pranayama practice as an aid to one's inner journey, meditative experience, and health.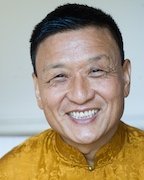 Geshe Tenzin Wangyal Rinpoche was born in India in 1961, following his parents' journey from Tibet to India in 1959. At age 11 he began formal studies as a monk at Menri Monastery near Dolanji, India, where he completed an 11-year course of traditional studies at the Bön Dialectic School. He was awarded his geshe degree in 1986. He now lives as a householder, and has been living and teaching in the West for more than 30 years. An accomplished scholar in all aspects of sutra, tantra and dzogchen, Rinpoche is an acclaimed author and a respected teacher of students worldwide. As the founder and spiritual director of Ligmincha International, he has established numerous centers and institutes of learning in the United States, Mexico, South America, Europe and India. Fluent in English, Rinpoche regularly offers online teachings in the form of live webcasts, online workshops and YouTube videos. He is renowned for his depth of wisdom; his clear, engaging teaching style; and his dedication to making the ancient Tibetan teachings highly accessible and relevant to the lives of Westerners.
More about Tenzin Wangyal Rinpoche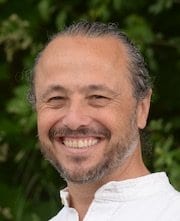 Alejandro Chaoul-Reich, Ph.D. (host) has studied in the Tibetan traditions since 1989, and for nearly 30 years in the Bön Tradition with Yongdzin Tenzin Namdak Rinpoche, His Holiness Lungtok Tenpai Nyima Rinpoche, and Tenzin Wangyal Rinpoche. He holds a Ph.D. in Tibetan religions from Rice University and is the director of the Mind Body Spirit Institute at the Jung Center of Houston. For the last 20 years he has been teaching and researching the benefits of Tibetan mind-body practices for people touched by cancer. Alejandro is a Contemplative Fellow at the Mind & Life Institute, and is the author of Chöd Practice in the Bön Tradition (Snow Lion, 2009), Tibetan Yoga for Health & Well-Being (Hay House, 2018), and the forthcoming Tibetan Yoga: Magical Movements of Body, Breath, and Mind (Wisdom Publications, November 23, 2021).