March 28, 2022
A live online conversation with Geshe Tsunma Phuntsok Tsultzin, Tenzin Wangyal Rinpoche, and host Jhama Lhamo. Conversation in Tibetan language only; introduction and closing words in English.

View on Facebook to join the chat, or view here on this page.
In the Tibetan Bön tradition, the graduation of new geshes is always considered an important event. But this year's March 11 ceremony at Menri Monastery near Dolanji, India, was historic. For the first time outside of Tibet, five women were among those receiving their Bön geshe degree, the equivalent of a doctorate in philosophy. One of the five, Geshe Phuntsok Tsultzin, shares her experiences and perspective in dialog with Jhama Lhamo and Geshe Tenzin Wangyal.
All five students — Phuntsok Tsultzin, Samten Palzin, Sherab Palzin, Tongnyid Wangmo, and Tsultim Zangmo — completed their education at Redna Menling Nunnery, where they studied all the same subjects and learned the same rituals as do male geshe candidates. The geshe program for nuns was the vision of H.H. the 33rd Menri Trizin Lungtok Tenpai Nyima Rinpoche and H.E. Yondgdzin Tenzin Namdak Rinpoche, and was brought to fruition by H.H. the 34th Menri Trizin, Lungtok Dawa Dhargyal Rinpoche.
About the Presenters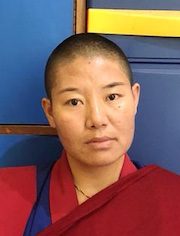 Geshe Tsunma Phuntsok Tsultzin was born in Chungpo Tengchen County, Tibet. From an early age she had a love for virtuous works, and was moved to take a nun's vows. She studied reading, writing, and the preliminary and primary Bönpo texts. In 2006 she entered Kongyul Palshen Tengyal Rigon Meditation School, where she graduated in 2010. That year she traveled to India and received an audience with His Holiness the 33rd Menri Trizin, spiritual leader of the Bön tradition. She then joined Ratnaling Nunnery, where she began her studies of collected topics, pramana and topology of signs and reasoning in five major subjects. In addition, she studied Tibetan grammatical texts, poetry, and astrology. She served the nunnery in general affairs and as its disciplinarian and lead chanter. She participated in a conference that aimed for the growth of Tibetan Women, as well as the 5th International Bönpo Conference.
བཙུན་མ་ཕུན་ཚོགས་ཚུལ་འཛིན་གྱི་ངོ་སྤྲོད་སྙིང་བསྡུས།
བོད་མདོ་དབུས་ཁམས་གསུམ་གྱི་ནང་ཚན་མདོ་སྟོད་བོད་ལྗོངས་ཆབ་མདོ་ས་ཁུལ་སྟེང་ཆེན་རྫོང་ཁྲི་རྡོ་གྲོང་འདབས་ལ་སྐྱེས་ཞིང་ཆུང་ནས་དགེ་བའི་ལས་ལ་བརྩོན་ནས་རབ་བྱུང་གི་སྡོམ་པ་ཞུས། དེ་ནས་ཡོན་ཏན་ཀུན་གྱི་གཞི་མ་ཡི་གེ་འབྲི་ཀློག་དང་། བོན་སྔོན་འགྲོ་དངོས་གཞི་ཚུལ་བཞིན་སློབ་སྦྱོང་ཉམས་ལེན་བྱས། ཕྱི་ལོ་༢༠༠༦ལོར་ཀོང་ཡུལ་དཔལ་གཤེན་བསྟན་རྒྱལ་རི་དགོན་ལ་སྒྲུབ་གྲྭ་ཞུགས་ནས་༢༠༡༠ལོར་སྒྲུབ་གྲྭ་མཐར་ཕྱིན་བྱས། ཕྱི་ལོ་༢༠༡༠ལོར་རྒྱ་གར་དུ་འབྱོར་ནས་ཞྭ་དཀར་བསྟན་པའི་མངའ་བདག་སྨན་རིའི་ཁྲི་འཛིན་སོ་གསུམ་པའི་གསེར་ཞལ་མཇལ་བའི་སྐལ་བཟང་ཐོབ།
དེ་ནས་བཙུན་དགོན་རདྣ་སྨན་གླིང་གི་སྒྲིག་ཁོངས་སུ་ཞུགས་ནས་ཐུན་མིན་ནང་དོན་རིག་པའི་གཞུང་ལུགས་བསྡུ་རྟགས་ཚད་གསུམ་ནས་གཞུང་ཆེན་བཀའ་པོད་ལྔ་སོགས་སློབ་སྦྱོང་བྱས་དང་བྱེད་མུས་སུ་མཆིས་ཤིང་། ཞོར་དུ་ཐུན་མོང་རིག་པའི་གནས་མིང་གཞི་བརྡ་དག་སྙན་ངག་འབྱུང་རྩིས་རིག་པ་བཅས་སློབ་སྦྱོང་ཚུལ་བཞིན་བྱས་པར་མ་ཟད། དགོན་པའི་སྤྱི་གཉེར་དང་ཚོགས་ཆེན་དགེ་སྐོས་ཚོགས་ཆེན་དབུ་མཛད་བཅས་དགོན་པ་ལ་ཞབས་ཕྱི་གང་ཐུབ་ཅི་ཐུབ་ཞུས་ཡོད། ཞོར་དུ་བོད་ཀྱི་བུད་མེད་ནུས་སྟོབས་གོང་འཕེལ་གྱི་ཚོགས་ཆེན་དང་། རྒྱལ་སྤྱིའི་བོན་གྱི་བགྲོ་གླེང་ཚོགས་ཆེན་ཐེངས་ལྔ་པ་སོགས་ཚོགས་ཆེན་གང་མང་མཉམ་ཞུགས་བྱས་ཏེ་དཔྱད་རྩོམ་སྤེལ་ཞིང་གཏམ་བཤད་བྱས་པ་དང་ཟབ་སྦྱོང་སོགས་སྤྱི་ཚོགས་ཐོག་ལས་དོན་མང་པོ་མཉམ་ལས་འགན་ཁུར་བྱས་པའི་ཉམས་མྱོང་དུ་མ་ཡོད་པ་བཅས་ཀྱི་ལོ་རྒྱུས་སྙིང་བསྡུས།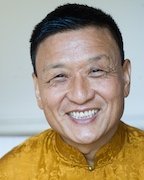 Geshe Tenzin Wangyal is an acclaimed author and a respected teacher of students worldwide. As the founder and spiritual director of Ligmincha International, he has established numerous centers and institutes of learning in the United States, Mexico, South America, Europe and India. Fluent in English, Rinpoche regularly offers online teachings in the form of live webcasts, online workshops and YouTube videos. He is renowned for his depth of wisdom; his clear, engaging teaching style; and his dedication to making the ancient Tibetan teachings highly accessible and relevant to the lives of Westerners.
More about Tenzin Wangyal Rinpoche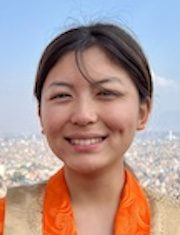 Jhama Lhamo (host) of Solan, India, completed her high school education at Tibetan Children's Village School in Bangalore, South India. She is now pursuing her bachelor of pharmacy degree at Shoolini University, Himachal Pradesh, India.