October 11, 2021
A conversation with Sarah Prinsloo, Julieta Galante, Tenzin Wangyal Rinpoche, and host Alejandro Chaoul-Reich
The last two decades have seen a rise in mindfulness-based interventions (MBIs) that support healing of mind and body. This Science &n Spirituality dialog gives us the opportunity to hear about the health benefits of mindfulness and other meditation practices, as well as promising results from relevant research at University of Cambridge and MD Anderson Cancer Center.
What is the healing potential for techniques that alter the way that the brain functions? What are the implications for reducing pain and speeding recovery from surgery? What is new in the MBI field? What is current research revealing about how these practices may improve mental health and prevent disease?
View on Facebook to join the chat
The CyberSangha broadcast is part of "A Year of Body, Speech, and Mind," a free 2021 online program of live teachings, practices, and science & spirituality dialogs. Learn more
About the Presenters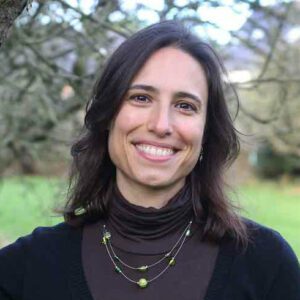 Julieta Galante, M.D., is a senior research associate at the Department of Psychiatry, University of Cambridge. Her background in medicine has informed her research in preventive medicine and the effects of lifestyle on health. She has conducted randomized trials and systematic reviews in public and mental health, worked on economic evaluations, and analyzed data from large population-based cohorts. Her main focus has been studying the effects of meditation on mental health, which was the theme of her Ph.D. at Cardiff University. She led the evaluation of a pilot scheme to provide mindfulness courses to students at the University of Cambridge (the Mindful Student Study), and is working on a two-part collaborative review and analysis of mindfulness-based programs for mental health promotion.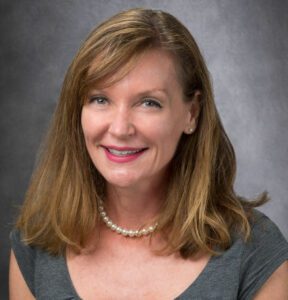 Sarah Prinsloo, Ph.D.,  is a licensed marriage and family therapist and licensed professional counselor. She maintains an appointment as Assistant Professor in research at MD Anderson Cancer Center, Houston, in the Department of Neurosurgery and the Department of Palliative, Rehabilitation, and Integrative Medicine.
Dr. Prinsloo's work at the MD Anderson Prinsloo Laboratory focuses on applied neuroscience, particularly the use of electroencephalographic (EEG) neuroimaging and non-invasive neuromodulation* techniques, including both neurofeedback (NFB) and repetitive transcranial magnetic stimulation (rTMS). Current research includes the determination of central nervous system effects of chemotherapy, the effects of neuromodulation on pain conditions such as chemotherapy-induced peripheral neuropathy, and the effects of rTMS on motor rehabilitation following tumor resection.
* Neuromodulation refers to techniques that alter the brain's functioning. Signals in the brain are transmitted both electrically (along the neuron) and chemically (across the synapse). The rhythmic electrical signals of neurons are referred to as brainwaves and are classified by frequency bands. Neuromodulatory techniques can influence and alter brainwave activity in targeted ways, resulting in improved function and symptom relief.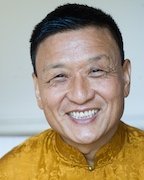 Geshe Tenzin Wangyal Rinpoche was born in India in 1961, following his parents' journey from Tibet to India in 1959. At age 11 he began formal studies as a monk at Menri Monastery near Dolanji, India, where he completed an 11-year course of traditional studies at the Bön Dialectic School. He was awarded his geshe degree in 1986. He now lives as a householder, and has been living and teaching in the West for more than 30 years. An accomplished scholar in all aspects of sutra, tantra and dzogchen, Rinpoche is an acclaimed author and a respected teacher of students worldwide. As the founder and spiritual director of Ligmincha International, he has established numerous centers and institutes of learning in the United States, Mexico, South America, Europe and India. Fluent in English, Rinpoche regularly offers online teachings in the form of live webcasts, online workshops and YouTube videos. He is renowned for his depth of wisdom; his clear, engaging teaching style; and his dedication to making the ancient Tibetan teachings highly accessible and relevant to the lives of Westerners.
More about Tenzin Wangyal Rinpoche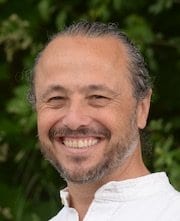 Alejandro Chaoul-Reich, Ph.D. (host) has studied in the Tibetan traditions since 1989, and for nearly 30 years in the Bön Tradition with Yongdzin Tenzin Namdak Rinpoche, His Holiness Lungtok Tenpai Nyima Rinpoche, and Tenzin Wangyal Rinpoche. He holds a Ph.D. in Tibetan religions from Rice University and is the director of the Mind Body Spirit Institute at the Jung Center of Houston. For the last 20 years he has been teaching and researching the benefits of Tibetan mind-body practices for people touched by cancer. Alejandro is a Contemplative Fellow at the Mind & Life Institute, and is the author of Chöd Practice in the Bön Tradition (Snow Lion, 2009), Tibetan Yoga for Health & Well-Being (Hay House, 2018), and the forthcoming Tibetan Yoga: Magical Movements of Body, Breath, and Mind (Wisdom Publications, November 23, 2021).