Feb 9, 2021
A live online discussion with Lorenzo Cohen, Sat Bir Singh Khalsa, Geshe Tenzin Wangyal, and host Alejandro Chaoul-Reich

In the first of a series of 2021 Science & Spirituality Dialogs on wellness of body, breath, and mind, invited panelists discuss the mind-body connection in movement-based practices such as hatha yoga, kundalini yoga, and Tibetan yoga (tsa lung trul khor). How can such physical practices serve us in transforming our state of mind? How can the research inform our practice? The dialog is part of a free yearlong online program related to body, speech, and mind, known in the Tibetan tradition as the "three doors to enlightenment. Learn more
View on Facebook to join the chat, or view here on this page. If the livestream doesn't appear at the scheduled time, try refreshing the page.
About the Presenters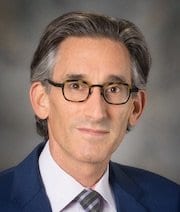 Lorenzo Cohen, Ph.D., is the Richard E. Haynes Distinguished Professor in Clinical Cancer Prevention and director of the Integrative Medicine Program at the University of Texas MD Anderson Cancer Center. He is a founding member and past president of the Society for Integrative Oncology and former vice-chair of the Academic Consortium for Integrative Medicine and Health. As most cancers are preventable, Dr. Cohen is conducting research to demonstrate that lifestyle factors including healthy diet, physical activity, stress management, and social support — in other words, leading a yogic lifestyle — can influence cancer outcomes. He also conducts research examining integrative medicine practices such as meditation, yoga (in collaboration with VYASA), acupuncture, and other strategies aimed at reducing the negative aspects of cancer treatment and improving quality of life. Dr. Cohen has conducted some of the first randomized clinical trials of yoga in cancer patients and continues this important research today. Being influenced by his grandmother, legendary yogini Vanda Scaravelli, he also has his own yoga practice and obtained his RTY 200. Dr. Cohen has published more than 175 scientific articles in top medical journals, edited two books on integrative medicine for cancer care, and co-edited The Principles and Practice of Yoga in Health Care. He is co-author the new book Anticancer Living: Transform Your Life and Health and the Mix of Six (Penguin Random House).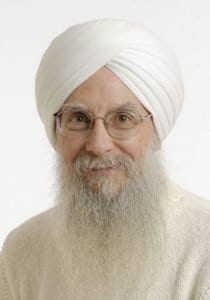 Sat Bir Singh Khalsa, Ph.D., has been fully engaged since 2001 in biomedical research on the efficacy of yoga and meditation practices in improving physical and psychological health. He has practiced a yoga lifestyle since 1972 and is a certified instructor in kundalini yoga. He is the director of yoga research for the Yoga Alliance, the director of research for the Kundalini Research Institute, a research associate at the Benson Henry Institute for Mind Body Medicine, a research affiliate of the Osher Center for Integrative Medicine, and an assistant professor of medicine at Harvard Medical School in the Department of Medicine at Brigham and Women's Hospital in Boston. He has conducted clinical research trials evaluating yoga interventions for insomnia, post-traumatic stress disorder, chronic stress, and anxiety disorders, including in both public school and occupational settings. Dr. Khalsa works with the International Association of Yoga Therapists to promote research on yoga and yoga therapy as the chair of the scientific program committee for the annual Symposium on Yoga Research and as editor-in-chief of the International Journal of Yoga Therapy. He is medical editor of the Harvard Medical School Special Report An Introduction to Yoga and chief editor of the medical textbook The Principles and Practice of Yoga in Health Care.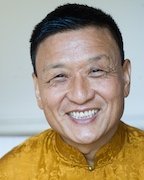 Geshe Tenzin Wangyal Rinpoche was born in India in 1961, following his parents' journey from Tibet to India in 1959. At age 11 he began formal studies as a monk at Menri Monastery near Dolanji, India, where he completed an 11-year course of traditional studies at the Bön Dialectic School. He was awarded his geshe degree in 1986. He now lives as a householder, and has been living and teaching in the West for more than 30 years. An accomplished scholar in all aspects of sutra, tantra and dzogchen, Rinpoche is an acclaimed author and a respected teacher of students worldwide. As the founder and spiritual director of Ligmincha International, he has established numerous centers and institutes of learning in the United States, Mexico, South America, Europe and India. Fluent in English, Rinpoche regularly offers online teachings in the form of live webcasts, online workshops and YouTube videos. He is renowned for his depth of wisdom; his clear, engaging teaching style; and his dedication to making the ancient Tibetan teachings highly accessible and relevant to the lives of Westerners.
More about Tenzin Wangyal Rinpoche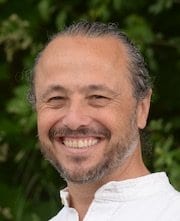 Alejandro Chaoul-Reich, Ph.D. (host) has studied in the Tibetan traditions since 1989, and for nearly 30 years in the Bön Tradition with Yongdzin Tenzin Namdak Rinpoche, His Holiness Lungtok Tenpai Nyima Rinpoche, and Tenzin Wangyal Rinpoche. He holds a Ph.D. in Tibetan religions from Rice University and is the director of the Mind Body Spirit Institute at the Jung Center of Houston. For the last 20 years he has been teaching and researching the benefits of Tibetan mind-body practices for people touched by cancer. Alejandro is a Contemplative Fellow at the Mind & Life Institute, and is the author of Chöd Practice in the Bön Tradition (Snow Lion, 2009) and Tibetan Yoga for Health & Well-Being (Hay House, 2018).