Nov 15, 2020
སྙིང་རྗེའི་སྟོབས། དྲི་བ་དྲི་ལན།
༢༠༢༠ སྤྱི་ཟླ་ ༡༡ ཚེས་ ༡༥ རེས་གཟའ་ཉི་མ། | ཨ་རིའི་གྲོང་ཁྱེར་ནེའུ་ཡོག་གི་ཞོགས་པའི་ཆུ་ཚོད། ༡༡
In a live Internet broadcast, esteemed teachers of six spiritual traditions of Tibet answer viewers' questions about the power of compassion in one's life and one's spiritual practice. The conversation is in Tibetan with simultaneous translation into English and multiple other languages, Hosted by Geshe Tenzin Wangyal and Khenpo Gyurmey Dorjee.
Note: The broadcast was interrupted partway through; it can be viewed in two parts, below
English translation | Other translations
View recordings on Facebook to join the chat — Part 1 | Part 2
Questions may be submitted in advance of or during the broadcast via the comments section of this page. Facebook members may also use the Facebook chat to submit questions during the live broadcast.
Participating in the conversation are:
Pönlop Trinley Nyima Rinpoche (Bön)
Sogan Rinpoche (Nyingma)
Khenpo Kunga (Kagyu)
Khenpo Gyurmey Dorjee (Sakya)
Gyaltsab Rinpoche Choekyi Nangpa (Jonang)
Yangten Rinpoche (Gelug)
Note: This broadcast builds on a previous conversation with the same teachers.
About the Teachers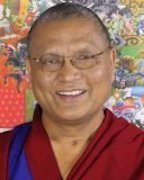 H.E. Menri Pönlop Trinley Nyima Rinpoche (Bön) is the head teacher at Menri Monastery in Dolanji, northern India. He is a renowned scholar and meditation master who teaches internationally as well as maintaining his many responsibilities at Menri Monastery. He was born in the remote, high-altitude village of Tsarka in Dolpo, Nepal, into the esteemed Yangton family. In ancient times, a priest of the Yangton lineage was considered a necessary presence in the royal households, including that of Tonpa Shenrap Miwoche, founder of the Bön tradition. H.E. Menri Pönlop Trinley Nyima Rinpoche began his training in 1976 at age 10, completing a series of three-month retreats focusing on tantric deities, as well as the preliminary practices of dzogchen. In 1979 his relative Lama Tashi Gyaltsen brought him to Menri Monastery to begin his formal studies. He received his geshe degree in 1989 from the Bön Dialectic School of Menri and began teaching soon thereafter. In 1992 he was appointed as the lopon (pönlop, head teacher) of the school by H.H. the 33rd Menri Trizin Lungtok Tenpai Nyima Rinpoche and H.E. Yongdzin Tenzin Namdak Rinpoche. In 2018 he led rituals for the selection of the 34th Menri Trizin, including the final selection ceremony of His Holiness Lungtok Dawa Dhargyal Rinpoche.
About Bön and its lineage | About Menri Monastery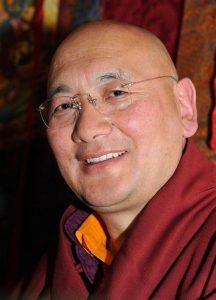 Ven. Sogan Rinpoche (Tulku Pema Lodoe, Nyingma) was born in the Golok region of Amdo, eastern Tibet. At age 17 he began his formal spiritual training at Bayan Monastery. He was recognized by H.H. the 14th Dalai Lama as the sixth Sogan Rinpoche, and as a young man was enthroned at Awo Sera Monastery in Serta region of eastern Tibet, the monastery he founded during his first incarnation as Sogan Rinpoche. Rinpoche also serves as the head of Bayan Monastery in Golok. He assumed responsibility there at the direction of his root guru, Khenpo Munsel, a 20th century dzogchen master and teacher of Tibet and a chief disciple of Khenpo Ngag Chung. Rinpoche has studied with many great masters of all four traditions of Tibetan Buddhism. After many years of study, pilgrimage and solitary retreat, Rinpoche left Tibet to continue his studies in India. While there, he studied extensively with prominent teachers and spent several more years in retreat. Rinpoche travels throughout North America and Europe to teach Buddhism. For many years he has taught in the San Francisco Bay region, where Tupten Osel Choling is based. Under his spiritual guidance, in 2012 his students in northern Italy founded the dharma center Tupten Osel Ling.
Autobiography of Ven. Sogan Rinpoche, Dreams and Truths from the Ocean of Mind | About the Sogan Foundation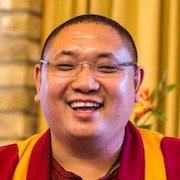 Khenpo Kunga (Kagyu) became a monk at a young age and began his education at Tergar Monastery in Bodhgaya, India, where he studied the rituals, prayers, and other traditional practices of the Tibetan Buddhist tradition. At age 15 he entered an extended meditation retreat and spent three years mastering the profound contemplative practices of the Kagyu lineage. Following this period of intense meditation practice, he entered the renowned Dzongsar Monastic College near Dharamsala in Northwest India. After studying there for 11 years and receiving his khenpo degree (roughly equivalent to a Ph.D.), he taught at Dzongsar College for three additional years. Khenpo Kunga's primary teacher is Yongey Mingyur Rinpoche, and he has studied with many other revered masters. In recent years Khenpo Kunga has taught in Asia, Europe, and the United States as one of the main teachers for the worldwide network of Tergar monasteries, meditation centers, and meditation groups. continents.
Tergar Meditation Community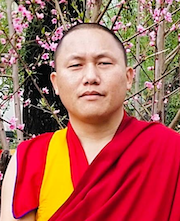 Khenpo Gyurmey Dorjee (Sakya) began reading, writing, and memorizing at the tender age of 5 or 6. In 1996 he was admitted to Sakya College, where he received his Shastri and Acharya degrees. For the past 13 years he has been teaching Buddhist philosophy at Dolma Ling Nunnery and Institute of Buddhist Dialectics, a non-sectarian nunnery near Dharamsala, northern India. On several occasions organized by the Department of Religion and Culture (Central Tibetan Administration), Khenpo Gyurmey Dorjee served as speaker and Sakya representative, as well as a member of a special committee for professional research. He is presently a standing member of the International Association of Non-Sectarian Tibetan Religious Traditions, and served as its chairman for the first and second terms. He considers himself fortunate to have this opportunity to serve the community and society at large. He writes, "My flesh, blood, and bone, and also my lung, heart and chest are cast of the Mugpo Dong lineage. My navel was cut in the land of snow. I polished my knowledge in the Holy Land of India."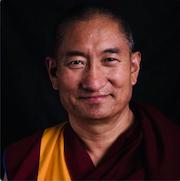 H.E. Choekyi Nangpa Rinpoche, the Gyaltsab of the Jonang Lineage, started his Buddhist studies as a monk at age 15. In 1986, he was recognized by the great master Yondan Zangpo as the reincarnation of the great master Sonam Zangpo, the manifestation of Neyten Bhakula who is one of the Seven Great Sons of Jonang. He has studied in several monasteries including Ghadhan monastic university in southern India and has received many teachings and empowerments of different traditions from some of the most celebrated masters, including many from H.H. the 14th Dalai Lama. In 1998 he was appointed as the abbot of the Jonang Main Monastery in Shimla by H.H. the Dalai Lama and H.E. Kalka Jetsun Dampa. In 2014, under the approval of His Holiness, he was enthroned as the Gyaltsab of the Jonang Lineage by all Jonang devotees. In the same year he founded the Kalachakra monastery in Dharamsala. Apart from teaching the monks of these two monasteries and others in India, he has been traveling throughout Europe, Asia, and North and South America to give teachings and empowerments.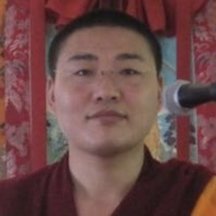 Yangten Rinpoche (Gelug) entered a monastery at an early age, and felt very fortunate there to be able to study Buddhism. In 1990 he was admitted to the prestigious University Monastery of SIRMA and was awarded the geshe degree with honor. In 2008 he was called to Dharamsala by His Holiness the 14th Dalai Lama and was appointed a religious attendant. Since then he has been in charge of a department where he looks after its Tibet section. His responsibilities include regular meetings to with eight masters from other major schools of Tibetan Buddhism, engaging in work and discussion and offering advice. Yangting Rinpoche and his team write and edit courses on Buddhism, for which they consult ancient texts and other reference materials. He works closely with His Holiness the Dalai Lama, who helps him to improve his work. Currently Yangting Rinpoche is teaching in France and has plans to teach all over the world.
Expanded biography | Yangten Rinpoche on Facebook
About the Host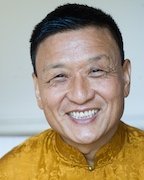 Geshe Tenzin Wangyal is an acclaimed author and a respected teacher of students worldwide. As the founder and spiritual director of Ligmincha International, he has established numerous centers and institutes of learning in the United States, Mexico, South America, Europe and India. Fluent in English, Rinpoche regularly offers online teachings in the form of live webcasts, online workshops and YouTube videos. He is renowned for his depth of wisdom; his clear, engaging teaching style; and his dedication to making the ancient Tibetan teachings highly accessible and relevant to the lives of Westerners.
More about Tenzin Wangyal Rinpoche