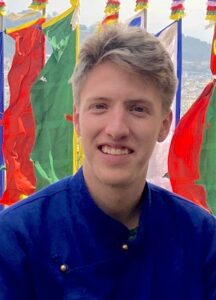 Tulku Ponse Yigme Tenzin was born in 1996 in in Chihuahua, Mexico, as Jorge René Valles Sandoval. He was soon recognized by H.H Lungtok Tenpai Nyima Rinpoche, the 33rd Menri Trizin, and by H.E. Yongdzin Tenzin Namdak Rinpoche as the reincarnation of the Bön master Lopon Sangye Tenzin Rinpoche (1917–1978), who served as head teacher of Menri Monastery in Dolanji, India, the main monastery of the Yundrung Bön tradition. In 1999 Jorge René traveled to Menri Monastery and then to Triten Norbutse Monastery in Kathmandu, Nepal, where he was enthroned as a tulku.
In the years afterward, several teachers appointed by His Holiness regularly traveled to Mexico to mentor the young tulku. At age 6 Tulku Ponse started to learn the basics of Tibetan language, to read both Tibetan scriptures (Uchen and Ume), and to learn basics of meditation. Later, he regularly visited Triten Norbutse and Menri monasteries for one to two months a year in order to learn about Tibetan culture and improve his Tibetan language skills by reciting the texts over and over. At age 12 he spent a full year living with the monks at Menri — his first time there without his parents — to gain a deeper knowledge of the Tibetan language and the teachings, rituals, and philosophy of the Bön tradition. Upon returning to Mexico he continued his Western studies while studying under a tutor appointed by His Holiness.
After completing his 12th year of Western studies, Tulku Ponse spent a few months at Lishu Institute in India, where he enhanced his knowledge of Bön philosophy and Tibetan language. Then he returned to Mexico to spend two years in university studies, followed by three years in Dharamshala, India, where he chose to attend a program to fully develop his knowledge of Tibetan language, as well as Buddhist philosophy, Tibetan debate, epistemology, the topic of signs and reasoning, as well as the study of mind and consciousness; and where he also continued deepening his practice of dzogchen, tantra, and sutra meditation. He then spent six months studying at Triten Norbutse Monastery in Nepal under the guidance of a geshe appointed by the abbot, Khenpo Tenpa Yundrung Rinpoche, occasionally meeting with the abbot to clarify doubts regarding his classes.
Tulku Ponse is now continuing his university studies of financial administration in Mexico, while also translating Tibetan texts into English and Spanish and developing his knowledge of the Yundrung Bön tradition.