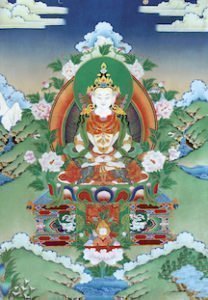 In many of his CyberSangha broadcasts, Tenzin Wangyal Rinpoche sings and/or plays a recording of a mantra commonly known as the SA LÉ Ö mantra, or the Mantra of Clear Light. The mantra is:
A OM HUNG  A A KAR SA LE Ö A YANG OM DU
The SA LÉ Ö mantra is one of the Three Heart Mantras (Essence Mantras) of Bon, and is specifically related to the dzogchen view. Each of its syllables has a particular meaning and energetic resonance. Ultimately, the mantra evokes the essence of one's own mind. Reciting it is recommended for meditation practitioners who need support in recognizing the true nature of their mind.
More information: