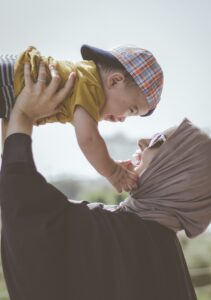 རིག་གཞུང་མི་འདྲ་བའི་ནང་བྱིས་པ་སྐྱོང་ཐབས་སྤྱི་དང་ཁྱད་པར་དུ་བོད་ཕྲུག་ནུབ་ཕྱོགས་སུ་འཚོ་སྐྱོང་གི་ཐབས་ལམ་སྐོར་བགྲོ་གླེང་།
༢༠༢༢ ཟླ་བ། ༡༢ ཚེས། ༡༨ རེས་གཟའ་ཉི་མ། ནིའུ་ཡོག་གི་སྔ་དྲོའི་དུས་ཚོད། ༡༢
A live online discussion with Tencho Gyatso, Tsering Dolkar Watermeyer, Tenzin Thosam, and host Geshe Tenzin Wangyal. Conversation is in Tibetan language; each presenter will offer a summary in English.
When raising children in a country that is foreign to you, not them, how do you help them to thrive without sacrificing your own, cherished cultural heritage and values? Our four panelists, all Tibetan immigrants to North America, discuss common parenting challenges of immigrants and their suggestions for building healthy, happy families. Part 2 in an ongoing series. View Part 1
View live on the Facebook page of Tenzin Wangyal Rinpoche to join the chat, or view here on this page. If the livestream doesn't appear at the scheduled time, try refreshing the page.
About the Panelists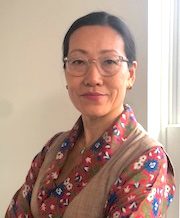 Tencho Gyatso is interim vice president of the Washington, D.C.-based International Campaign for Tibet (ICT). Born as a Tibetan refugee in the small hill town of Dharamsala, India, the seat of His Holiness the 14th Dalai Lama and the Tibetan Government-in-Exile, she was educated at the Tibetan Children's Village school, Dharamsala, and St. Bede's College in Shimla, India. Tencho Gyatso served as an elected member of the Tibetan Parliament-in-exile for two terms (1991-1997), during which she traveled widely to Tibetan settlements in India to strengthen understanding of the democratic system of the Government-in-Exile and to speak on Tibet to various governmental and NGO groups in Europe and the United States. After moving to the United States in 1998, she continued her activism as a private individual, and also served as a community leader and event organizer in raising awareness of Tibet. In 2008 she joined the staff of ICT as special assistant for advocacy, where she has helped to organize annual Tibet lobby action days at the U.S. Congress, Tibetan-American youth leadership training programs, and ICT member outreach.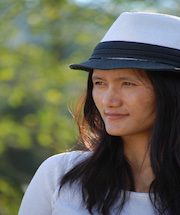 Tsering Dolkar Watermeyer is a native-born Tibetan who came to Canada from Lhasa. She is a settler living on the traditional lands of the Coast Salish People. Tsering's formative experiences were in international development projects in Tibet, where she lived and worked in the rural areas of Lhoka and Nagchu regions. In Canada, Tsering has worked as a research associate and project evaluator with international development consultancies on various multilateral initiatives, including projects funded by the World Bank, Canadian International Development Agency, and the Public Health Agency of Canada. In the past 12 years Tsering has been working in clinical and community settings as a registered M.S.W. social worker with marginalized groups including immigrants, refugees, and indigenous peoples in the areas of addiction, mental health, and HIV. Tsering is a Ph.D. candidate at the UBC School of Social Work and is currently finishing her dissertation. Her research explores the formation, development, and evolution of traditional kinship-based social help organizations in the Tibetan diaspora. Tsering teaches social work courses at the UBC School of Social Work and at Douglas Community College, and has conducted numerous workshops and guest lectures in both classroom and professional settings.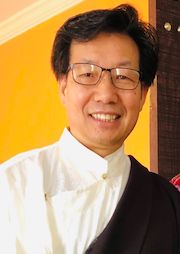 Tenzin Thosam is a native of Tibet. He has studied in Tibetan monastic universities both in and outside of Tibet for more than 15 years. He received his Master of Arts from the University of Virginia (UVA). He taught Buddhist terminology and Tibetan language at the University of Wisconsin–Madison; and Buddhist syllogism and Tibetan and Chinese language at UVA. In addition to working and conducting research at the UVA Library, he is teaching a course on Eastern religions at Piedmont Virginia Community College. Tenzin Thosam serves as an interpreter, and has been translating Buddhist philosophy and meditation practices for Tibetan monastic scholars as well as meditation masters from all six major spiritual traditions of Tibet. He has appeared on television programs of Washington, D.C.-based Voice of America, as well as Radio Free Asia Tibetan Service, to analyze the status quo of Tibet from both domestic and international viewpoints. Tenzin Thosam and his wife, Packmo Tsow, live in Charlottesville, Va.; their daughter is now enrolled in a U.S. university.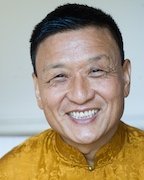 Geshe Tenzin Wangyal Rinpoche (host) was born in India in 1961, following his parents' journey from Tibet to India in 1959. At age 11 he began formal studies as a monk at Menri Monastery near Dolanji, India, where he completed an 11-year course of traditional studies at the Bön Dialectic School. He was awarded his geshe degree in 1986. He now lives as a householder in California with his wife and teenage son, and has been living and teaching in the West for more than 30 years. An accomplished scholar in all aspects of sutra, tantra and dzogchen, Rinpoche is an acclaimed author and a respected teacher of students worldwide. As the founder and spiritual director of Ligmincha International, Rinpoche has established numerous centers and institutes of learning in the United States, Mexico, South America, Europe and India. Fluent in English, he regularly offers online teachings in the form of live webcasts, online workshops and YouTube videos. He is renowned for his depth of wisdom; his clear, engaging teaching style; and his dedication to making the ancient Tibetan teachings highly accessible and relevant to the lives of Westerners. More about Tenzin Wangyal Rinpoche